When it comes to life goals, people often enumerate bagging their dream jobs, travelling the world, maybe getting married, and of course, building their dream home. All of which seems like a far off dream for normal, middle-class individuals, but not for celebrities. Hollywood celebrities got all of it in the bag, thanks to their talent and hard work.
If you're curious as to how the stars live here on earth, we're giving you a tour with the list below. Enjoy the glitz and glamor without worrying about the mortgage fee!
Jada Pinkett-Smith and Will Smith | $42 Million | California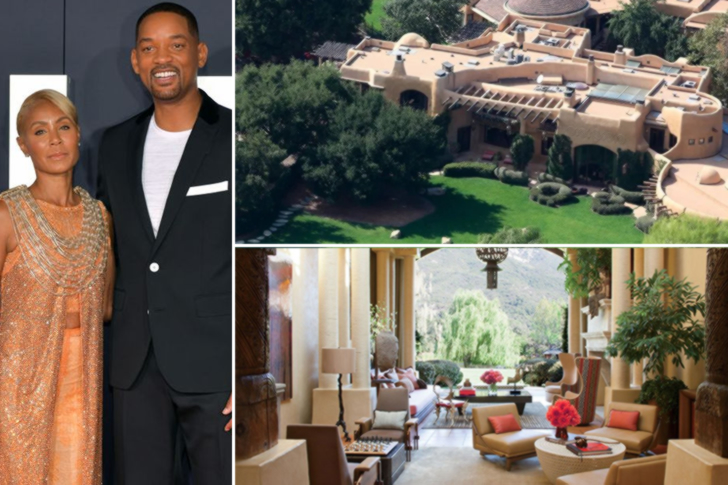 Will Smith wasn't called the Fresh Prince of Bel-Air for nothing! Will and Jada are successful in their own right and can afford the best luxuries in life. Will, for example, has a massive following on Instagram with over 50 million followers. Jada Pinkett Smith is no small star either. She currently has over 10 million followers on Instagram and has 37 films to her name.
As an actress she may not be as prolific as her husband, but Jada isn't lagging behind either. She even hosts her own online show, the Red Table Talk. According to sources, the construction of their luxury compound took seven years. The property boasts of its own basketball, tennis, and volleyball courts for exercise and leisure. The best and most impressive part? The property is so massive that it has its own ZIP code!
Bill Cosby | more than $4 million | Shelburne Falls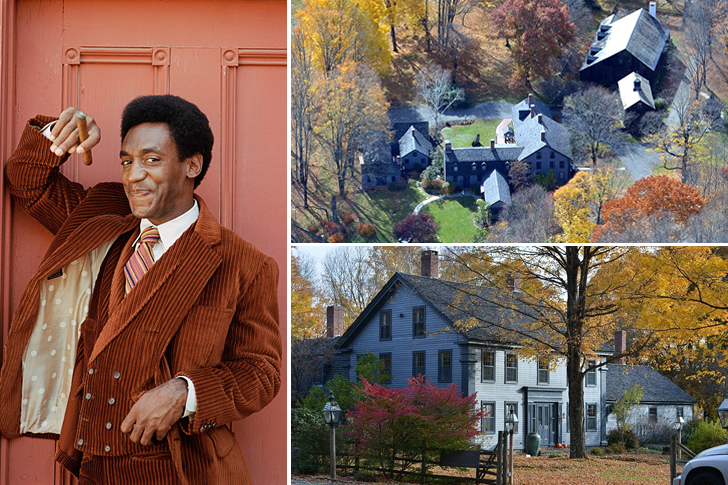 The famed Bill Cosby is the man behind an equally famous show in the 1980s, The Bill Cosby Show. Many of the stars who were original cast members went on to become successful celebrities on their own, thanks to the training they received in the top-rated show. As a result of the show's success and his earnings from other films like Uptown Saturday Night and Mother, Jugs & Speed, the actor gained a significant net worth.
The previously celebrated performer built his home there in the mid-1970s. The compound is actually comprised of a few different houses. This includes the principal building, along with five other structures. Aside from this, the property also comes with a pool, and a tennis court arranged close to the Deerfield River. He and his wife, Camille, have purchased a lot of land in the area for conservation. There's plenty of nature surrounding the residence, creating a relaxing atmosphere.
Aaron Rodgers | $28 Million | Malibu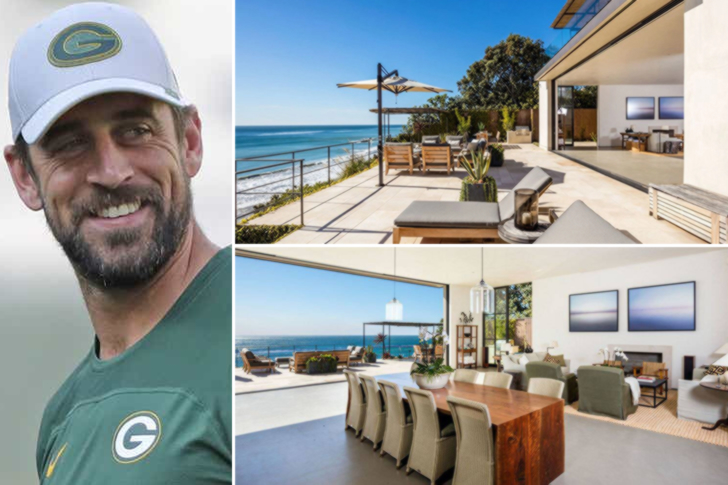 Aaron Rodgers is a quarterback who plays for the Green Bay Packers of the NFL. When he was starting out, he played college football for the California Golden Bears where he mastered his craft. This football star has led the NFL four times when it comes to touch-to-interception ratio for the years 2011, 2012, 2014 and 2018. However, he is not only a football player, but also an entrepreneur.
Formerly owned by another personality in our list, Aaron and Danica Patrick bought their beachfront Malibu property from Robbie Williams. It is quite the storied property, which was previously owned not only by Williams but also by Janet Jackson and Netflix's Content Chief, Ted Sarandos.Aside from the beach view, it also comes with 4,636 square feet of living space, four bedrooms and four bathrooms. There is also a guest house on the property, making it perfect for beach parties.
Beyoncé and Jay-Z | $88 Million | Bel-Air, Los Angeles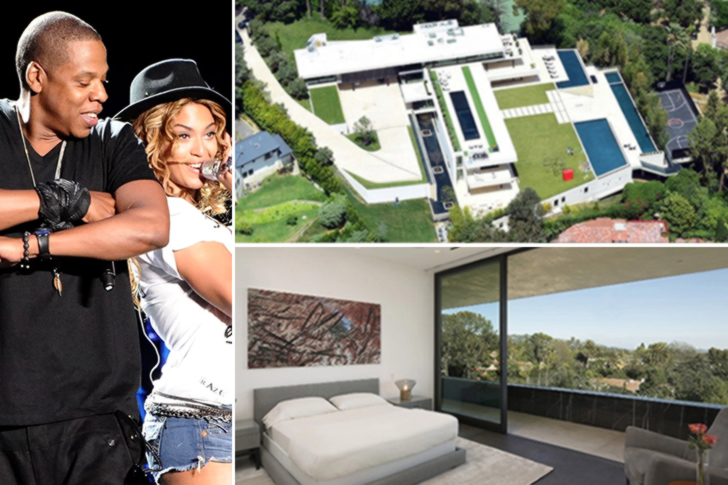 Beyoncé first came to public attention as part of the band Destiny's Child, but what propelled her to stardom was when she landed a big screen film role and debuted in the wildly popular in Austin Powers in Goldmember. Meanwhile, Jay-z is regarded as one of the most influential hip-hop artists in current history. His first claim to fame was with the album "Reasonable Doubt" released in 1996, which was well received by listeners and critics alike.
Queen Bee and Jay-Z are also two of the highest-paid artists in the world. Their estate in Bel-air residence consists of, not one, not two—but six different buildings!  These six buildings provide the family a total of 30,000 square feet of living space. It's got to be one of the most expensive real estate deals in the locale.
Clint Eastwood | $9.75 Million | California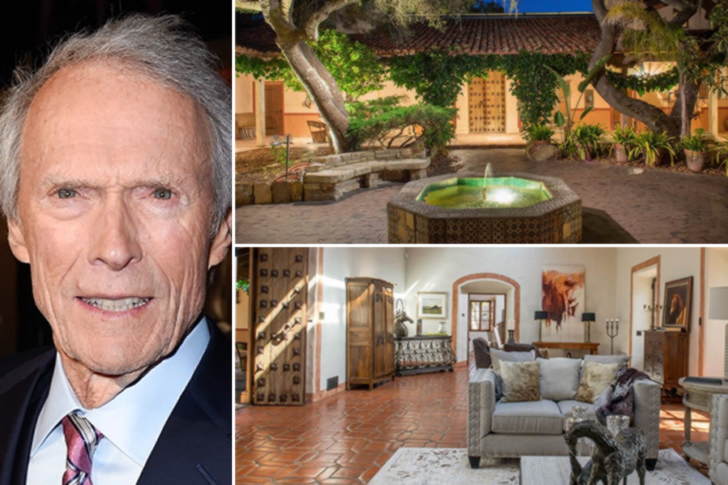 Clint Eastwood became one of the most popular actors of the 1960s and went on to become a highly-respected director and producer. Because of the great degree of success of his movies, the actor has amassed a significant amount of wealth. He has come a long way from his days as a lumberjack and later on, a military man! Eastwood owns Mission Ranch, in California, which he had restored.
It sits on 6,900 square feet of land. The main property also comes with beamed ceilings and beautiful Spanish doors, which open to a stunning view of the ocean. Although Eastwood let go of this property, he still has other real estate properties in Monterey County. Eastwood also owns Mission Ranch, in California, which he had restored. The Inn boasts of 31 rooms that are located in 10 buildings scattered in the estate.
Celine Dion | $27 Million | Florida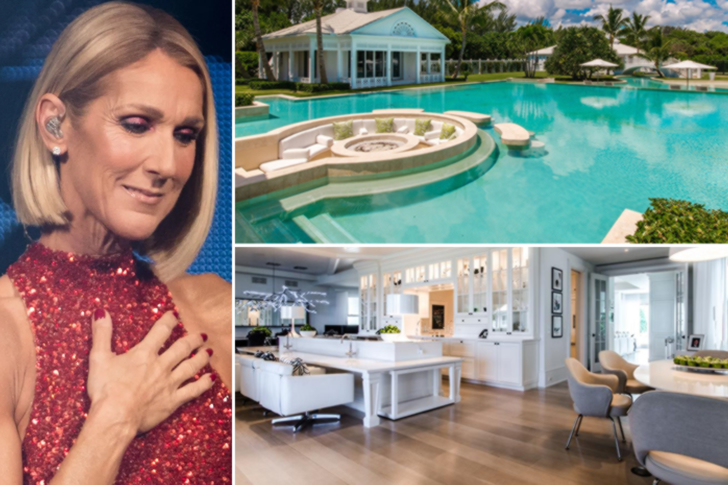 The Canadian singer, who was born on March 30, 1968, is quite popular for being one of the best-selling recording artists of all time, managing to reach $200 million sales worldwide. It comes as no surprise given that her vocals are very technically-skilled and powerful. She acquired a property on Jupiter Island, but it seems it wasn't completely to her liking. When she bought the Florida property for $12.5 million and its adjacent mansion for $7 million, she had the house renovated.
She had it listed for $72 million initially. However, the property spent a long time on the market before it was finally bought. What was sad, however, was it was purchased for only a third of the initial price, at $27 million. Whoever bought it will enjoy its eight bedrooms, massage room, water slides, and a 415-foot private beach.
John Travolta | $12 Million | Florida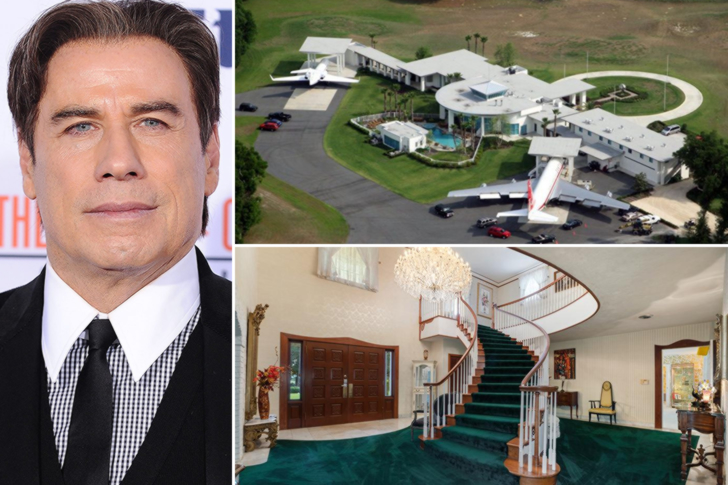 Ever dreamed of being a pilot? There are countless kids who dreamt of it, but grew up to do different things. However, John Travolta's out there living his childhood dream of parking planes in his front yard at his home in Florida. Located in Jumbolair Aviation Estate, the actor's property comes with its own runway and hangars, housing five different aircrafts. He now only owns four because he recently donated a plane to the Historical Aircraft Restoration Society (HARS).
The plane was supposed to have been delivered to HARS in Australia in 2018, but has been delayed. Before living a pilot's life full-time, however, John was an actor, and a singer. He first became famous in the 1970s after starring in TV series like "Welcome Back, Kotter" and playing various roles in movies like Saturday Night Fever, Grease and Carrie.
Oprah Winfrey | $50 Million | California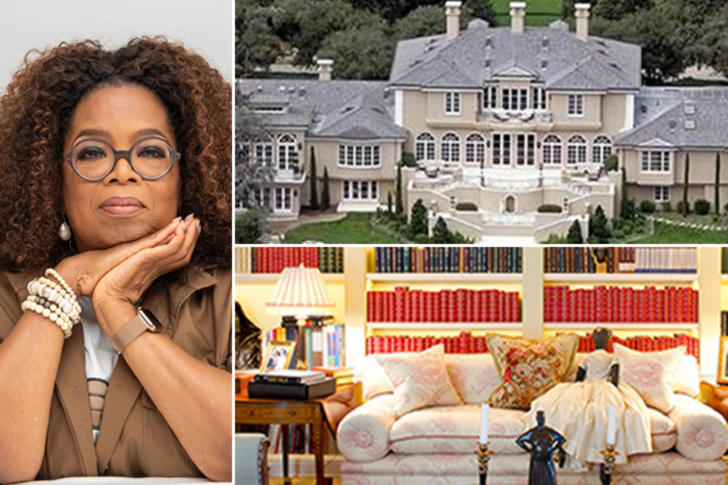 Oprah remains to be one of the most influential people in media today but still, she remains as humble as ever. Given her history, Oprah definitely deserves the credit of being known as one of the richest self-made women in history. Anyone familiar with her story will know the struggle the lady had to go while growing up. She and her mother grew up very poor in rural Mississippi, with barely two pennies to rub together.
It was, perhaps, at this time that she realized what she could do and what she could potentially achieve. Several years later, Oprah would be known as the "Queen of All Media". Oprah definitely enjoys the fruits of her hard work by investing in different real estate properties. This includes her $50 million mansion in California. Her property covers 23,000 square feet of living space, situated on 40 acres of land.
Tiger Woods | $60 Million | Jupiter Island, Florida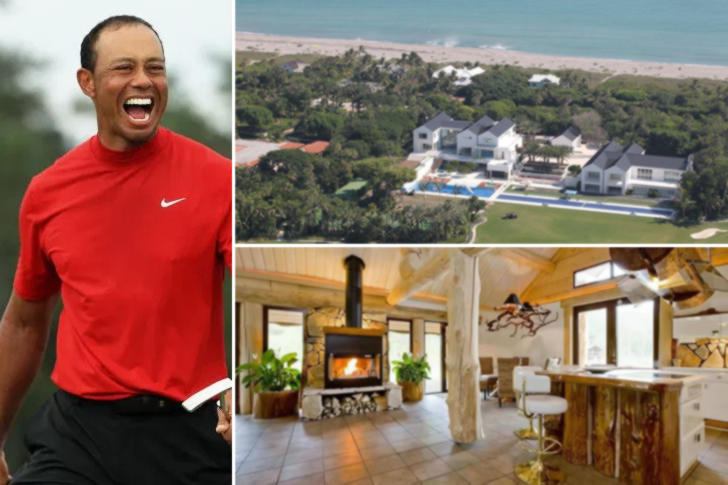 Tiger Woods' career has seen its ups and downs. He has also seen his fair share of victories and losses—whether it be in golf or in other matters. While he went through a tough time dealing with personal issues, Woods bounced back and focused more of his investments towards expanding his real estate portfolio. Among the athletes in the world, Woods is actually among the wealthiest.
It is a blessing, then, that he is also a smart businessman. As you might already know, he has investments in various businesses. His $60 million island residence covers 10,000 square feet of living space and sits on 12 acres of land. It was first bought for $40 million back in 2006 and its value only continued to rise since then. It comes with a golf course, running track, and two outdoor pools.
Rihanna | $22 Million | Barbados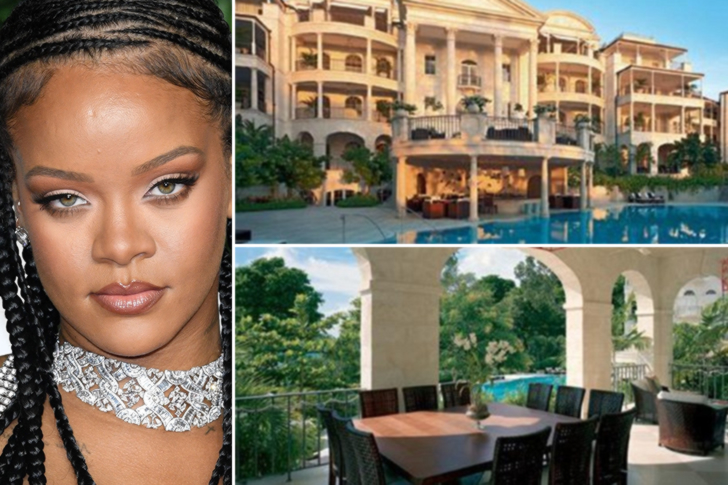 Rihanna is considered by many as one of the top music personalities in the entertainment scenes. A lot of her current success can be attributed to her undeniable talent and unique sound. If you think that she's just a one-trick pony, then you're sorely mistaken. Aside from the reputation she established as a music icon, she's also a successful businesswoman. We're talking millions in earnings, just from her ventures in fashion and beauty.
Few other artists can manage that kind of success. Her property includes a spa, a private gym, and even a private dock. All of these amenities are perfect for unwinding and relaxation after a long day of work. Perhaps it's for her celebrity friends who need privacy as well. It could also be in preparation for her next investments. Yachts, maybe? Well, only Rihanna would know.
Adele | $9.5 Million | Los Angeles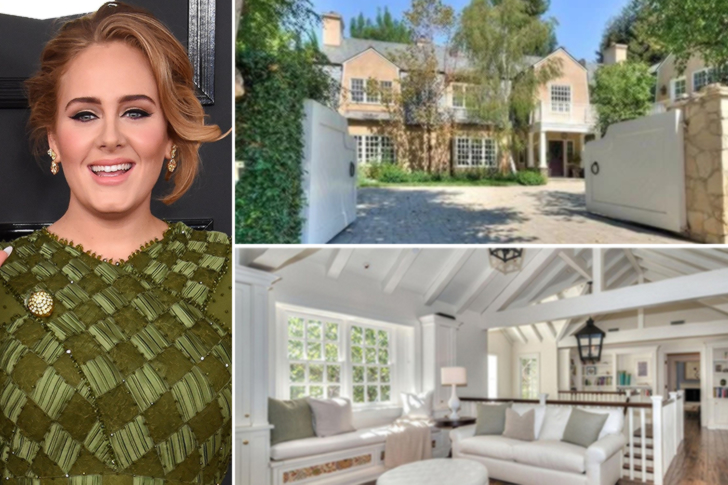 Adele is best known for many songs, but her first hit was "Hometown Glory", which she wrote when she was 16. It was a far cry from the rather emotional songs that we know her for today. When she released her album 21 in 2011, she instantly gained recognition. Her sprawling Beverly Hills mansion is reminiscent of an English cottage with its French doors and gazebo. This is combined with that old Southern California charm—take note of the open space pool, and high ceilings.
The mansion clocks in at 6,595 square feet of space, and sits on a gigantic 17,000 square foot lot. It's a good property to add to her investments. Adele is known to be a very private person and she has kept most of her properties under wraps. Apart from her house in the US, though, it is reported that she also owns two townhouses in Kensington, London.
Patrick Dempsey | $14.5 Million | Malibu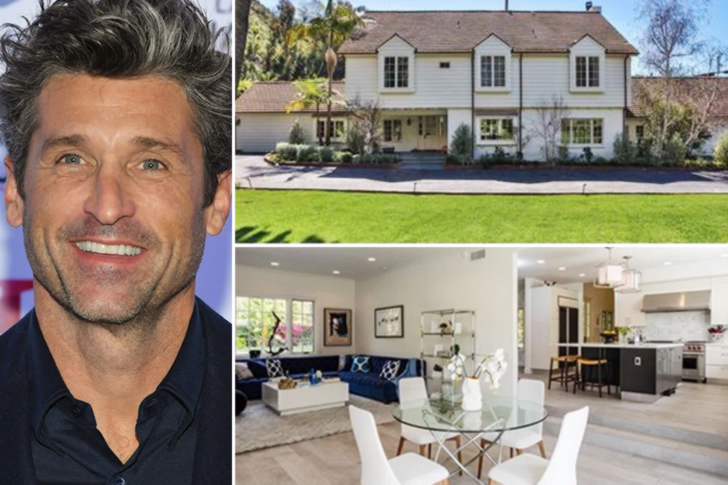 Born on January 13, 1966, Patrick Dempsey is best known for his roles as Derek Shepherd in the TV series, Grey's Anatomy. Prior to the medical show, Patrick had been starring in films back in the 1980s like Loverboy and Can't Buy Me Love. He was also part of the cast for Scream 3 in 2000. McDreamy is living the dream in his $14.5-million Malibu property.
The actor took a short semi-hiatus from Hollywood to focus more on his children and racing career, thus spending most of his time in the property. With over five acres of land, Dempsey makes the most of it by growing his own vegetables at home. The living space covers about 4,415 square feet, including four bedrooms and four bathrooms. Dempsey made a great move investing in this property as he initially bought it for $7 million.
Pierce Brosnan | $3 Million | Santa Monica, California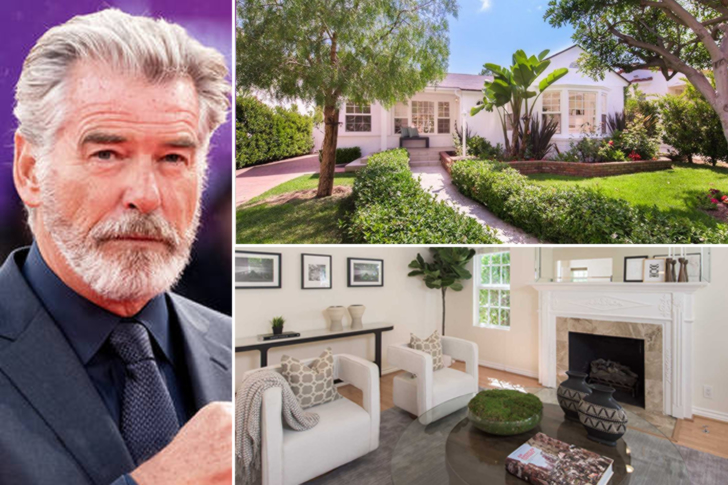 Pierce Brosnan considers himself a steward of the environment. Apart from being known as James Bond, he has also defended the environment. He is an advocate for whale protection, especially against those who abuse them. With his wife, Keely Brosnan, they bought this $3 million property. The single-story home was built back in 1941 and comes with 2,319 square feet of living space, four bedrooms, three bathrooms, a breakfast nook, and a modern kitchen.
Needless to say, it went under a lot of changes throughout the decades. Brosnan really knows how to manage his investment money as he was able to transform the property into something that real estate agents would keel over to list on the market. As evidence of this, he also owns another home in Malibu, a single-story oceanfront home, which he is now selling for $100 million.
Tina Turner | Price Unknown | Küsnacht, Switzerland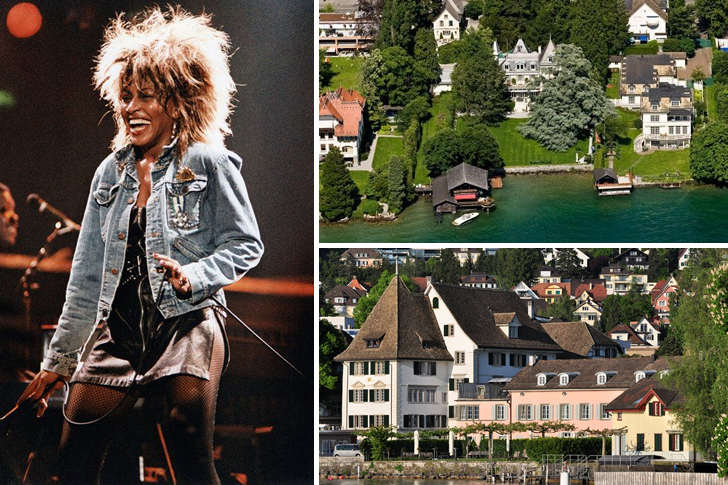 The American rock singer, Tina Turner, became a Swiss citizen in 2003. She first rose to prominence as the frontwoman of musical duo, The Ike & Tina. When she launched her career as a solo performer, Tina became an instant hit.  Turner has been living near Zurich since 1994, making a mansion in Küsnacht, overlooking Lake Zurich, her principal residence. "I am very happy in Switzerland and I feel at home here," she said, "I could not imagine a better place to live."
What drew Tina to Switzerland was the cleanliness, orderliness and four seasons of the country. She is also reportedly still learning German "diligently". She's told the Swiss-German newspaper Blick that after touring the world over, she would never again live elsewhere, and is enjoying being a "private person".
Kathie Lee Gifford | $3.7 Million | Franklin, Tennessee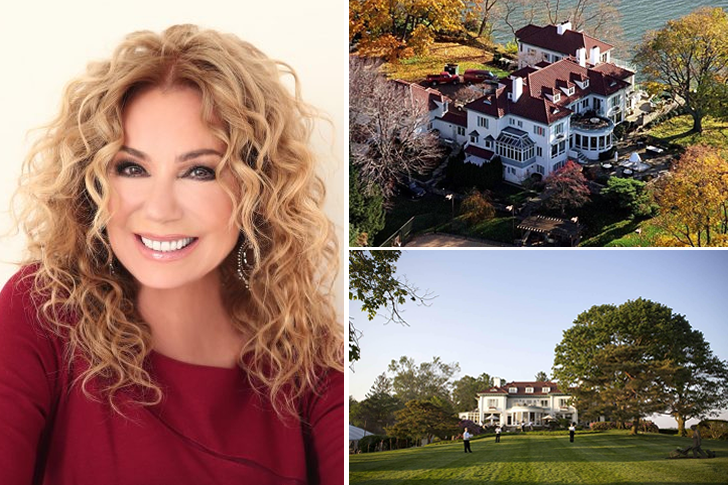 Kathie Lee Gifford is a famous host, playwright, producer, singer, songwriter and actress. In 2019, she moved from Connecticut to a new apartment in Nashville, Tennessee. Kathie Lee Gifford bought the 7,965-square-foot brownstone sandstone building in Franklin in July for $3.7 million. The house is located in an affluent suburb of Nashville, where many celebrities live. Since relocating, Gifford has had the opportunity to meet many local musicians.
In fact, it's this community that welcomed her warmly and helped her cope with the sadness of losing a loved one. The host's new home is as beautiful as its surroundings. It resembles a Spanish Revival style home with white stucco and red roof tiles. The house was located at the very tip of the area, almost like a very private island of its own. Of course, it also has a pool and a tennis court, as well as staff parking.
Heidi Klum | $10 Million | Bel-Air, Los Angeles
Over the years, many models have managed to transition from the runway to having a film and TV career—thanks to their undeniable popularity. One such star who has achieved this degree of worldwide fame is Heidi Klum. Supermodel Heidi Klum's decision to sell her $24 million residence was perfectly timed. After the deal, she diverted her investments to an 11,000 square feet Georgian style mansion located in the Stone Ridge neighborhood of Bel-Air.
Although it's not as big as her previous mansion, this nine-million-dollar brick-and-stone-themed haven definitely has more than enough room for her family. Besides the model's additional creative touches to its décor, it also comes with the 12-square-foot residence also comes with eight bedrooms, nine bathrooms, a country kitchen, a wine cellar, a den with fireplace, a media room, and a gym/dance studio on the third floor.
Courteney Cox | $33 Million | Malibu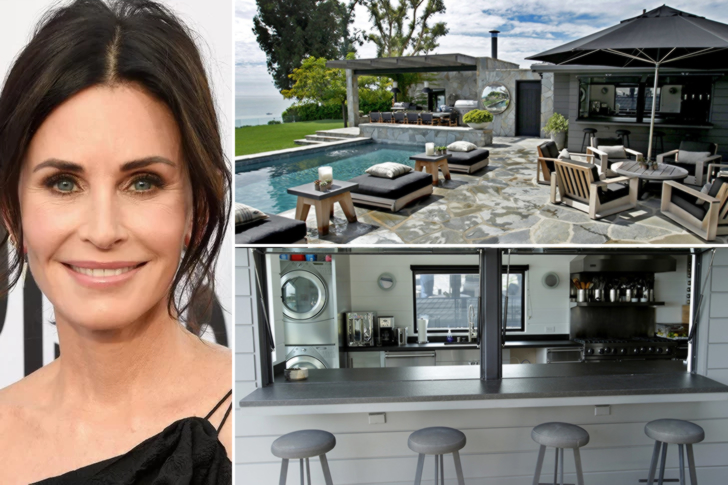 Her first acting credit came from a music video, but it was enough to get Courteney Cox in the public's radar. Eventually, she received the chance to appear in films, including Masters of the Universe, I'll Be Home for Christmas, and Mr. Destiny. Cox's residence is located in an exclusive neighborhood in Malibu, offering a stunning view of the sea. But to really achieve the look that she wants, the actress received help from the famed architect Michael Kovac.
Aside from this, Cox's home also comes with its own private beach access, a swimming pool, and a tennis court. Furthermore, this tropical abode also has guest cottages. In fact, one fortunate guest got to rent one of these rooms – and for free, too! Of course, if you're Ed Sheeran you can more than afford to do so. Instead, not only did he get a free stay, he was also able to work on one of his albums there, back in 2013!
Jane Fonda | Est $8.5 Million | Beverly Hills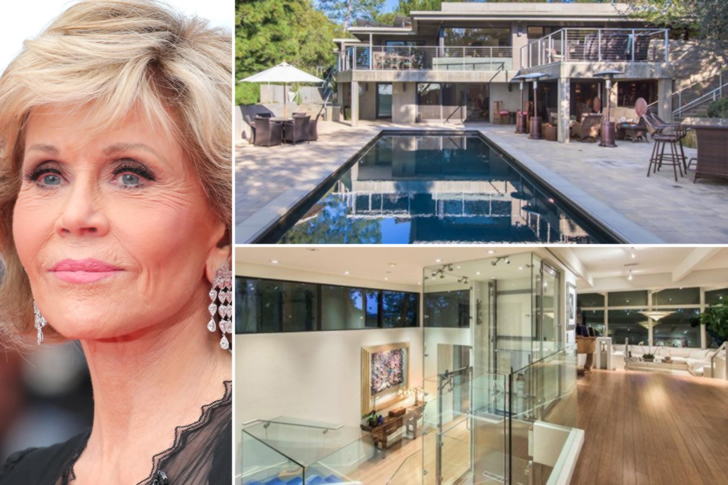 Jane Fonda has never been known to stay in one place, given her passion for change and societal issues. It's not too surprising that she isn't too attached to property. For example, the actress didn't hesitate much when selling her gorgeous Beverly Hills mansion. Letting go is one thing, but she actually sold it for an estimated $8.5 million, a small step down from its initial market price!
We're sure Fonda has no need to worry about money. She has a significant net worth, thanks to her work on film and TV. The new owner got a 7,100 square-feet mansion with three bedrooms, high ceilings, and hardwood flooring. The mansion also allows air and light to freely move with its open layout. Outside, there is a heated pool and a large space for landscaped gardens. It is located in the Trousdale Estates neighborhood.
Miley Cyrus | $2.4 Million | Malibu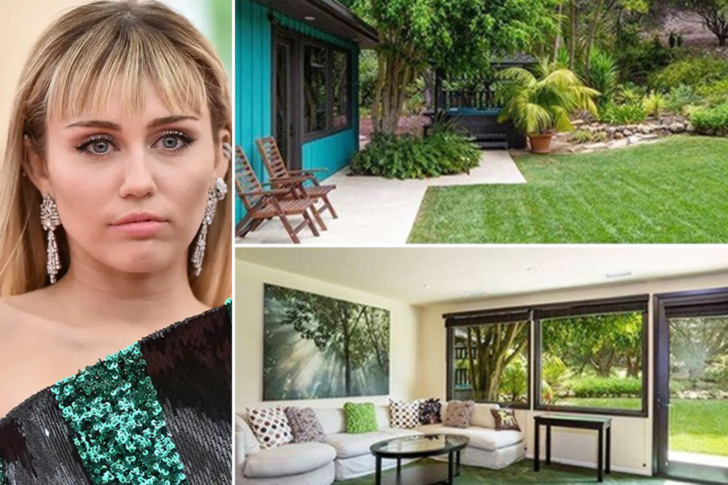 If writing a song called Malibu isn't proof enough, then owning a home in the area seals the deal for Miley Cyrus' love of the beach city. The artist may have other properties located in Tennessee and Los Angeles, but she considers Malibu as her home base. Located in Blue Anchor, the property is imbued with Miley's personality. It's a 70s inspired home with three bedrooms, a two-car garage, a pool, and a large open living space. But of course, there's a touch of quirkiness in its interiors.
This includes the gothic style bathroom and Spiderman murals. Customizing one's home is always worth the investment money. This masterpiece of a house also offers an open living/dining room with super high ceilings, heated floors to provide more comfort in the cold days. There's also a custom-made glass door so that you would be able to see the beauty of the outside world while staying indoors.
Jonathan Scott | Est. $10 million | Las Vegas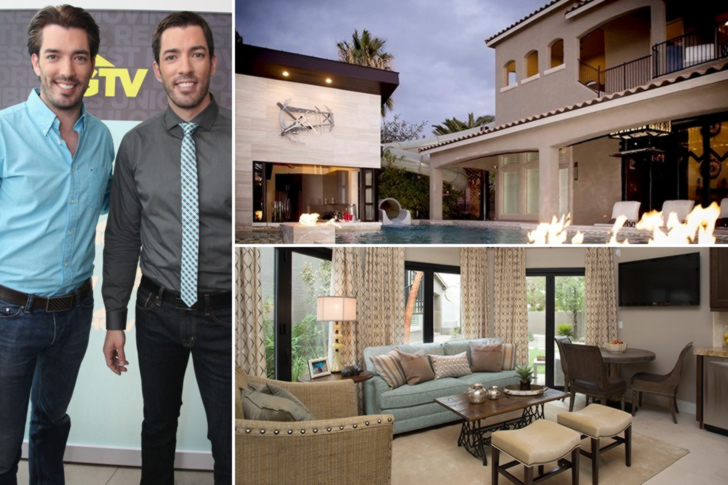 As the other half of the Property Brothers, it's not surprising that Jonathan Scott knows his way around real estate and property investments. As a talented and licensed contractor, he was definitely hands-on on doing the renovations for his own home. His home is Mediterranean-inspired, with 5,000 square foot of living space. Scott admitted that his home was designed around the concept of socializing.
This fact is evident in the sheer size of his dining room, which is actually big enough to fit 18 people. The property also has a separate guest house, a sports center, theater, and a pool. That's some great investment planning! Some would even call it a bachelor pad, given all the fun stuff. However, for Jonathan, he dislikes using the term as it feels more like a proper home to him.
Taylor Swift | $17 Million | Rhode Island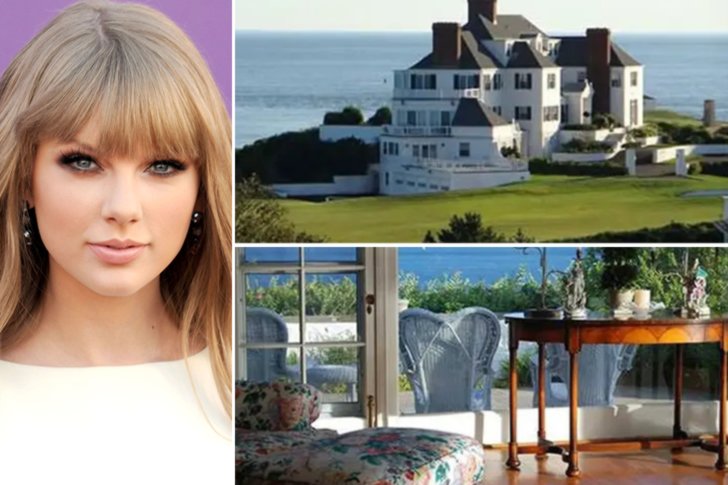 Taylor Swift's Rhode Island home is as storied as they come. So much so that she wrote an entire song about it in her new album, Folklore, entitled The Last Great American Dynasty. According to reports, Swift's purchase of the old Holiday House is just one of her many investments in real estate. Reportedly, she has spent over $40 million on various properties in the States. All of that and she's only thirty years old!
Taylor Swift meant business when she paid $17 million in cash for the historic mansion. Her Rhode Island home sits atop of Watch Hill and has 12,000 square feet of living space, seven bedrooms and a great 360 degree view of the sea.  Aside from the beautiful architecture, the residence boasts of other amenities. It was built in 1930 and from its many windows, you'll find a picture perfect horizon.
Neil Patrick Harris and David Burtka | $5.5 Million | East Hampton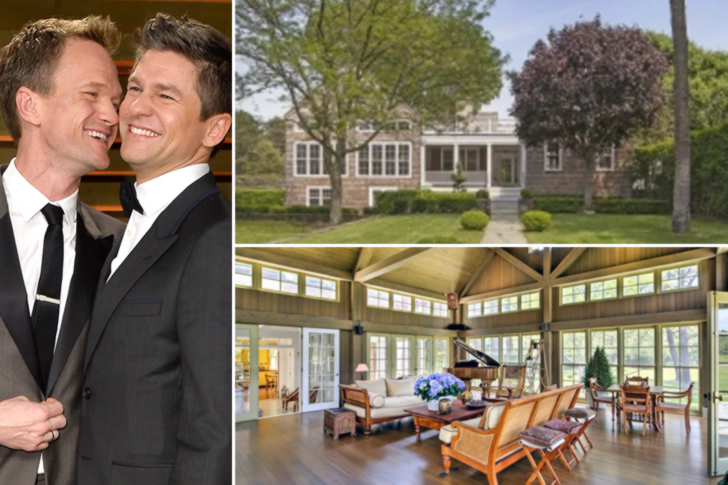 There's one family people always look forward to every Halloween, and that's the Harris-Burtka family! Aside from making amazing costumes for themselves and their children every year, this couple has also put in a lot of effort in expanding their real estate investments. Among which is a lovely East Hampton house costing $5.5 million.
It comes with 13.5 acres of land with lush greenery, mini forests, a lily pond, and a quaint tea house. The living space covers 5,250 square feet, and has four bedrooms, six bathrooms, a wine cellar, a chef's kitchen, four fireplaces, and a roof-top hot tub. They certainly got a great deal in buying this house since it was first sold to them for more than $6 million, but they managed to negotiate the price to just 5.5 million. A legendary score, if you ask us.
Amy Robach | $9.975 Million | Florida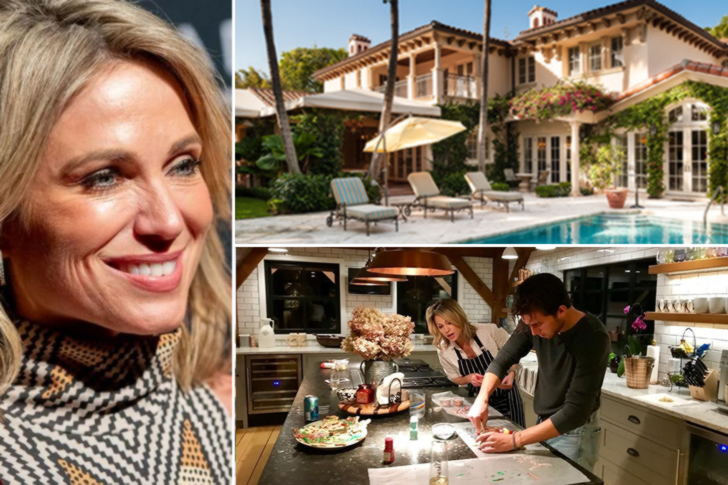 Robach is a well-known television personality, having appeared on Good Morning America and Today. The family's Florida mansion was likely a joint purchase with her husband, Andrew Shue. The couple bought it back in 2008 and lived in it for a length of time before selling. The mansion has five bedrooms and a private pool.
Some years after the purchase, they listed the property in the market for $9.975 million, a little lower than the price they paid. Considering the loss, we wonder what her financial advisor said. While there was a significant reduction when it comes to the price of her house, we're sure it isn't such bad thing for Amy Robach and her family. After all, they did make a lot of memories in their mansion and that is priceless in itself.
Laura Ingraham | $1 Million | Connecticut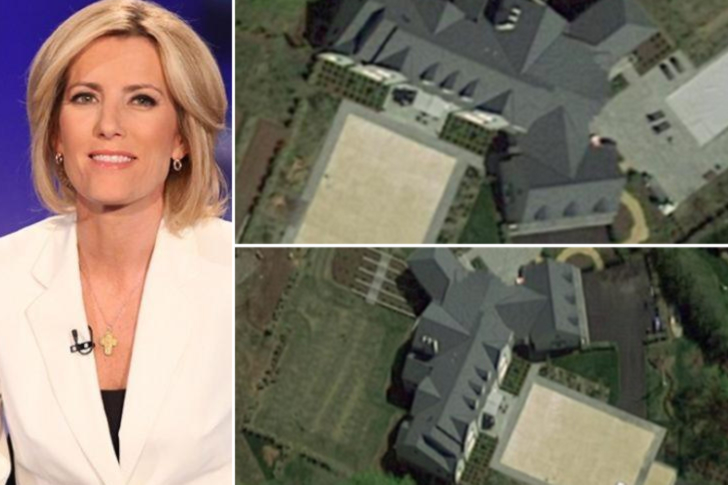 Her Connecticut property comes with 6,336 square feet of living space. This includes five bedrooms, eight bathrooms, and an expansive pool. With gorgeous views surrounding the property, it really is a great getaway spot. This $1 million residence is worth every penny of her investment money. Aside from a spacious drive way, there's also a patio where she can spend time with family or friends.
Who wouldn't want to come over with how fresh the environment here is? The tall trees don't just provide shade, they also create a sense of privacy. Even if the house was purchased back in 2004 at about $1.6 Million, this real estate did not depreciate. In fact, it is now valued at about $3.3 million. Investing in it was certainly a wise choice for Ingraham, both personally and financially.
Matthew McConaughey | $4 Million | Austin, Texas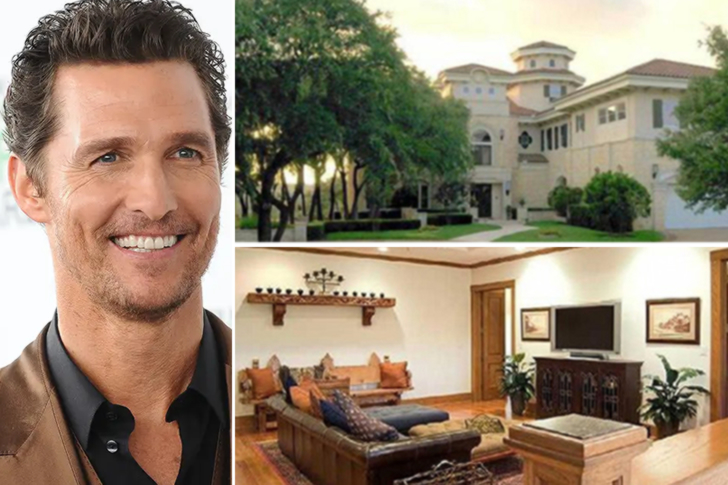 Matthew Mcconaughey's fame and acting credit led him to a comfortable life with his wife, Camila Alves, in their mansion in Austin, Texas. The home covers 10,800-square-feet of space and comes with seven bedrooms, eight bathrooms, as well as a guest house. This Spanish-Mediterranean style mansion goes well with the chill and laid-back personality of Matthew McConaughey.
There is no exact amount for how much the actor paid for this mansion, but the estimated value of this estate should be around $4 million (that is a lot of money). Given the work he does and a need for flexibility in lifestyle, this house is the best choice for him. But what captured the attention of both the media and his fans is the fact that this place sits just a few meters away from a stunning lake! Talk about having the best location for one's home—he certainly lucked out.
Lisa Bonet and Jason Momoa | $3.6 Million | Topanga, California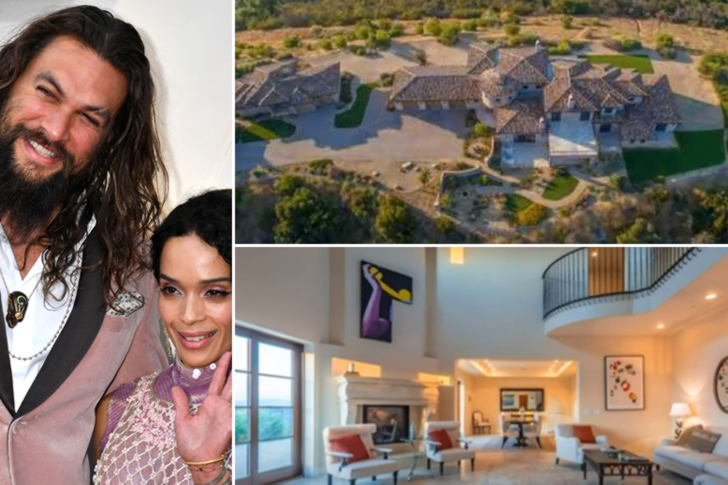 This dreamy couple is known to be easygoing, and perhaps many didn't expect them to settle down in California, of all places. Most people think they would opt for a more unique or foreign place to settle in because of their adventurous vibe. However, they chose a quiet and secluded place for them and their children. Their home was also the site of their wedding in 2017, a long-time coming event given that marked their almost a decade-long relationship.
Talking about their property, their home covers 6,759 square feet and is located right in the middle of a 10.1-acre parcel of land. The exterior may look grand and imposing because it sits in the middle of nowhere, but the interior shows a more relaxed décor, portraying the family's personalities with various art displays.They also have the latest home security systems. It is a must for them, not just because they are celebs, but also because their home is pretty isolated from neighbors.
Barbara Eden | Undisclosed | Beverly Hills
With decades of acting and dozens of projects under her belt, Eden has amassed a net worth of $10 million, and that figure is still growing as years pass by. Given her hit movies and her investments, it's not surprising that she lives in a beautiful home located in Beverly Hills. The sheer size of the property is one thing, but its décor really seals the deal. With just one look at the property, people can easily guess who the estate owner would be. That's how strong her personality and her vibe.
For those who don't know, her home features all kinds of lovely stuff that appeals to the actress, and the overall look of her Beverly Hills mansion mixes both elegance and sophistication. It's got her signature all over it! Unfortunately, it looks like there are no numbers available for the curious fans who want to know how much the estate is currently valued.
Britney Spears | $7.4 Million | Thousand Oaks, California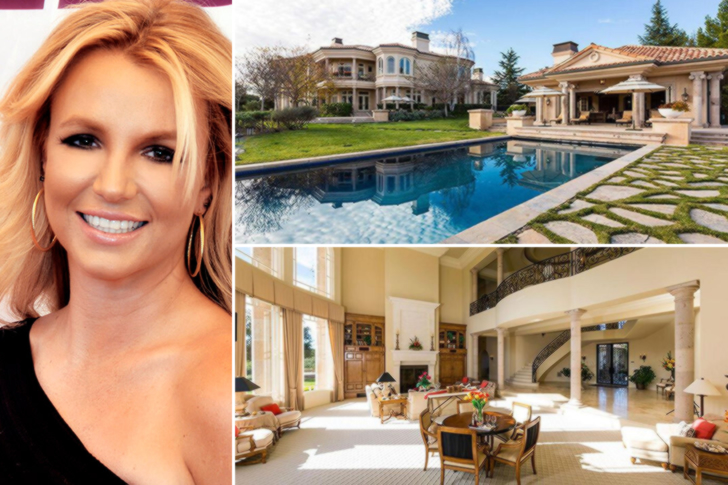 Britney Spears's home sits on 20 acres of land, with 12,464 square feet of living space. It isn't too far away from her other home. In fact, if the singer wanted to move places for a day—all she needs is a few minutes' drive. Coincidence or just excellent planning?  Either way, good for her! Her current mansion has five spacious bedrooms and seven and a half baths.
Breakfast would also be elevated to another level thanks to the glamorous breakfast room and modernized chef's kitchen. She repurchased the home in 2015 for $7.4 million. It's hefty but it didn't even leave a mark in her credit report. The best thing we could say about her new mansion is the privacy it provides. We're sure it is also equipped with the latest home security system.
Danica Patrick | Undisclosed Price | Scottsdale, Arizona
When talking about the fastest women on the planet, a lot of people would definitely put Danica Patrick's name on the top of their list. Patrick broke many records during her active years in NASCAR, and those feats gave her a lot of credits which earned her a spot as one of the most successful women in the history of American racing. During her downtime, Danica Patrick retreats to her home turf in Scottsdale, Arizona.
Another nice feature of her lavish home is her wine cellar and her open kitchen. Of course, being a race car driver, her property wouldn't be complete without her rides. For those who want to know, her garage can hold seven cars, and with the kind of money she got from her previous races, she can easily afford them without batting an eyelid and without resorting to any types of loans.
Michael Strahan | $17 Million | Los Angeles
The American television host and former professional football player's home screams of lavishness, luxury, and style. As proof of that, he managed to score a great deal for his Los Angeles mansion that has the size of a football field! Strahan's $17 million home in Los Angeles comes with a state-of-the-art theater, complete with a 15-foot screen and 20 seats. As if built for accommodating guests, the home also has more than enough for people to stay over.
This is thanks to the nine bedrooms and fourteen baths strategically located around the house. He keeps fit with his own gym at home, with a massage table ready for his use. Aside from this, the mansion also comes with a wine cellar and a drinking lounge. It's evident that Strahan put in a lot of investment money in this property to make it perfect for his tastes, and he did it with style!
Meg Ryan | $19.95 Million | San Francisco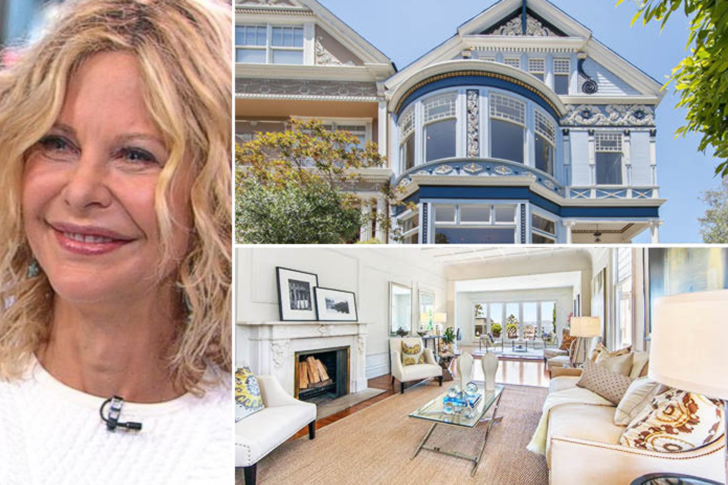 Even while she was still in school, Meg Ryan had already started working on her career. After appearing in a few commercials and starring in the As the World Ends soap opera, the actress decided to forego getting her degree to focus more on acting. Fortunately, things worked out for the actress and she shot to fame with her performance in the classic rom-com film, When Harry Met Sally. This established her as one of the most successful actresses of the 1990s and early 2000s.
Ryan used to live in San Francisco with her former husband, Dennis Quaid. The home they used to share is now on the market for $19.95 million. Built back in 1889, the 7,050-square-foot house comes with a view of Alcatraz and San Francisco Bay. The residence comes with four floors, five bedrooms, a temperature-controlled wine room, a covered heated patio, a three-car garage, and a beautiful penthouse room with a bar. The residence also comes with an elevator, to make every floor accessible to every resident.
Robert Downey Jr. | $11.9 Million | East Hamptons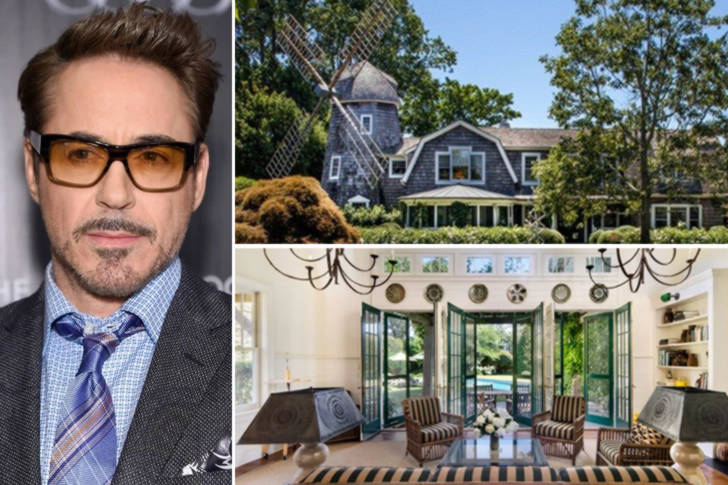 In the film industry, there are plenty of actors whose stories we are often inspired by. One such noteworthy star is Robert Downey Jr. Throughout his childhood, the actor would often have minor roles in his father's films. He appeared in Downey Sr.'s film Pounds when he was just five. Despite the seemingly easy path, Downey Jr. experienced many difficulties when it comes to his personal life and career.
Even so, that didn't keep him out of the game for long. Today, Robert Downey Jr. is one of the most in-demand actors in the industry. Few know, however, that actor's home is actually a historical relic. He and his family live in a comfy 19th-century East Hampton residence known as the Edward DeRose Windmill cottage. It was love at first sight for the actor when it comes to this property. In fact, he didn't even hesitate dropping multi-millions in investment money for it. How much, you ask? A whopping $11.9 million!
Adam Sandler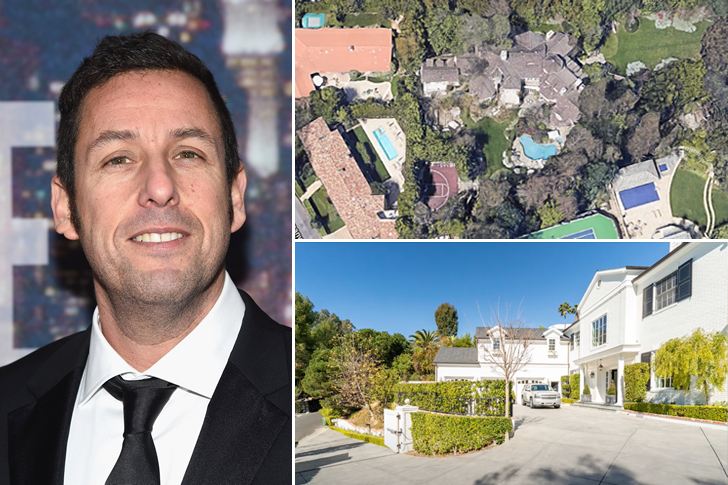 Adam Sandler is a well-known American film actor, filmmaker, and an accomplished comedian. In the earlier years of his career, Sandler would often perform in comedy gigs. Eventually, his performances got the attention of comedian Dennis Miller, who subsequently recommended him to Saturday Night Live's producer, Lorne Michaels. Thanks to his successful career, Sandler was able to make investments in an exquisite house in Los Angeles—amounting to $12 million back in 2004. This was after his film Spanglish was released.
Originally built in 1990, the 12,860-square-foot house was also once owned by celebrity power couple Kurt Russell and Goldie Hawn. It actually covers two-thirds of an exclusive street in the Brentwood area of Los Angeles! The house has seven bathrooms and 14 bedrooms, as well as a very spacious backyard. The adjoining home, also owned by him, is 3,971 square feet with four bedrooms and four bathrooms. Together, the two properties are estimated to be worth $28 million.
John Travolta | $10.5 million | Ocala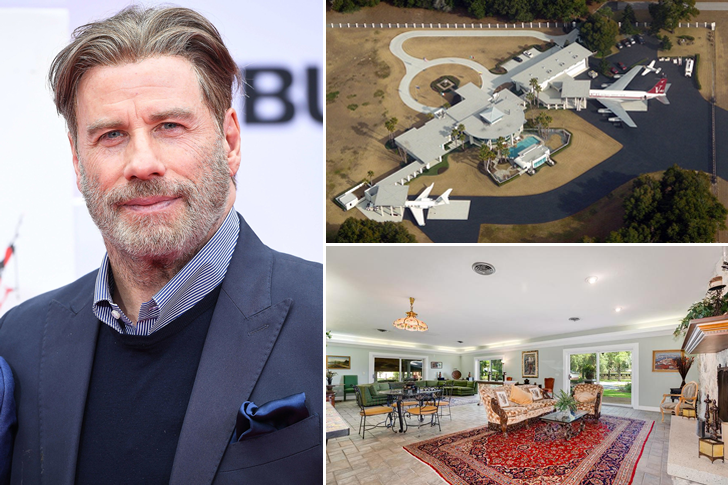 John Joseph Travolta is an American actor, dancer, and singer, best known for his work in the 1970s on the television series Welcome Back Kettle and was revived by the Quentin Tarantino film Pulp Fiction. John Travolta and his wife were one of the first couples to purchase the land at Jumbolair Aviation Estates, a residential airpark.
He's a flying enthusiast and certified private pilot who owns five airplanes and an amazing 16-car garage, so it's fit for the house to have two runways leading directly to the front door. The 550-acre community in north Ocala was priced at $10.5 million. With old-school aesthetics mixed with modern-day technology, the property includes the largest privately lit airstrip in the country, a five-bedroom mansion with a pool and fitness center with original Nautilus equipment, a conference center/banquet hall, and a pilot's lounge.
Kirstie Alley | $11.97 Million | Los Angeles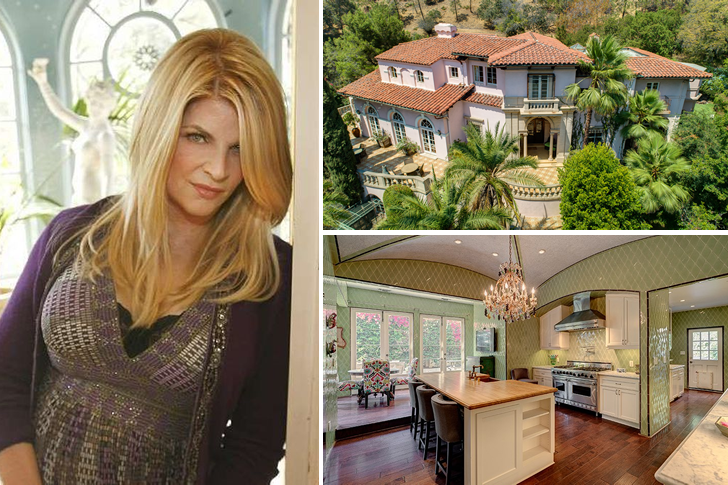 Veteran actress Kirstie Alley once won a Golden Globe and an Emmy Award for her role on the American sitcom Cheers. However, like other celebrities, Alley's career didn't come easy. By 1987, however, the actress was appearing in a steady stream of projects, including the comedy film Summer School. Alley also starred in other movies, including Look Who's Talking and David's Mother, which also gave the actress her second Emmy.
Records show that Alley bought her Los Angeles estate in September 2000 for $2,998,000. The Italian-influenced villa was renovated over seven-years, which cost $75,000. It has six bedrooms, five and a half bathrooms, a library, a music room that also functions as a game room, a kitchen with a garden-view breakfast area, three hand-carved stone fireplaces, and two balconies overlooking an adjacent park. She initially put her former home in Los Feliz on the market for $11.97 million. However, it took quite a bit of time to sell, so she eventually reduced the property's selling price to $10.75 million.
Steve Harvey | $15 Million | Atlanta, Ga.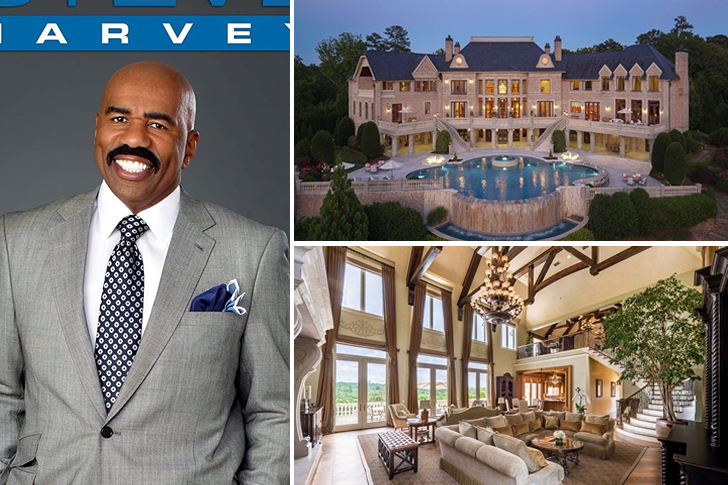 For the first few years of Steve Harvey's career, he was at a low point in his life – he would often sleep in his car whenever a performing gig didn't provide him a hotel. Over the years, the comedian-host has won six Daytime Emmy Awards and even wrote four books. At present, Steve Harvey has real estate investments in California, Chicago, and Texas. Recently, he also purchased a mansion, formerly owned by Tyler Perry, in Atlanta for $15 million.
Although he already owns one other property in the city, this one is undoubtedly the fancier between the two. The 7-bedroom, 14-bathroom estate sits on 17 acres on the banks of the Chattahoochee River, on the north side of the city. The 34,688-square-foot residence, is a beautiful sanctuary. Outdoors, surrounded by lovely trees and features a 70,000-gallon infinity-edge pool, a spa, and tennis courts. Furthermore, with the property having multiple guest houses, it's safe to say that Steve Harvey can host both family and friends with ease.
Betty White | Undisclosed Amount | Los Angeles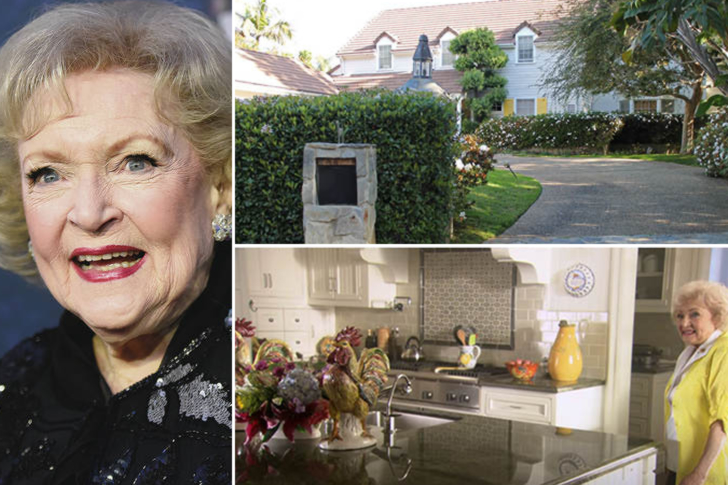 In her eight-decade-long career, White has had the chance to host radio programs, appear in game shows, and even earn an award for her role in The Mary Tyler Moore Show and The Golden Girls! Both shows have since become part of the 101 Best-Written TV Series of All Time. To this day, the actress continues to do what she loves the most – performing.
She's also been keeping up with the times, thanks to her recently made Instagram account. This is where she shared her home for the first time. Although the value remains undisclosed, it doesn't take a finance degree to know that White's house is worth millions.  Furthermore, not only is it cozy-looking, but the TV personality's lovely abode also reflects her radiant and wholesome personality. This just goes to show a house's resident can play a big part in its overall charm.
Eva Mendes | $1.27 Million | Hollywood Hills, California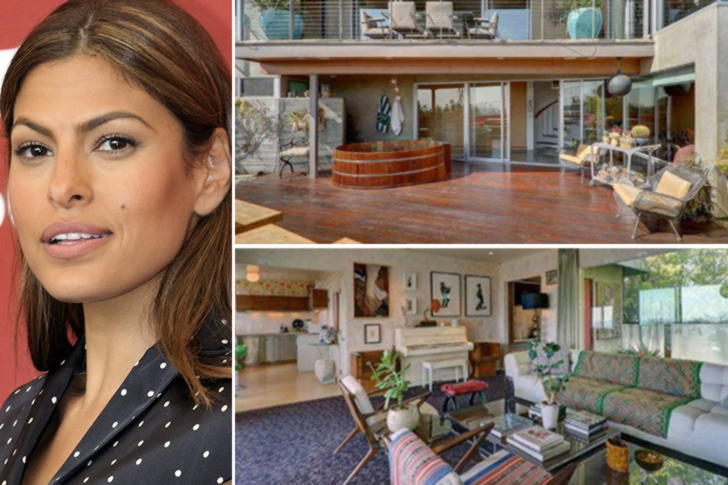 Eva Mendes rose to fame in the early 2000s with films such as Training Day, 2 Fast 2 Furious, Hitch, and Ghost Rider. Although she hasn't appeared in any recent movies or shows, she's made the most out of her earnings from the film industry. After all, through her career, she has partnered with big brands like Calvin Klein, Cartier, Reebok, and Pantene, by investing it in properties.
She bought her first Hollywood Hills property in 2002 for only $584,000. It's a beautiful mid-century residence with three bedrooms, two bathrooms. The property also comes with a cedar hot tub, a nice and cozy living room, and an open layout that allows plenty of natural light. Built in 1953, the 1,732-square-foot property is reminiscent of a tropical home, surrounded by a lovely garden, hanging vegetable boxes, and an outdoor shower. In 2014, Eva Mendes sold it for $1.27 million – it doesn't take a finance degree to know that that's a win.
Norah O'Donnell | Undisclosed Price | New York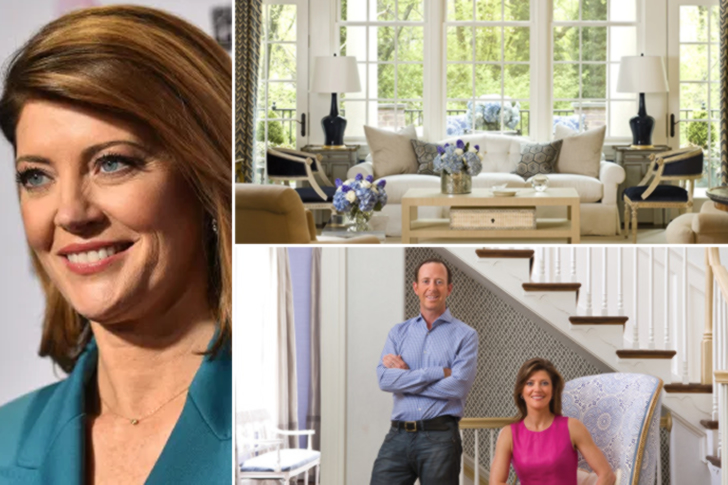 Norah O'Donnell is one of the most recognized and admired journalists in the United States. She's an anchor for the CBS Evening News, a correspondent for 60 Minutes, and has been in the industry for over two decades. Aside from becoming a successful figure in the business, Norah O'Donnell and her husband, Geoff Tracy, also released a cookbook titled Baby Love: Healthy, Easy, Delicious Meals for Your Baby and Toddler.
She and her family spend their days in a beautiful light-filled apartment in New York City. Norah is also fond of collecting different kinds of items. In fact, she proudly shows them off around her cozy unit.  Among these are artwork from North Carolina artist Ann Conrad, whose works the journalist discovered during a vacation trip. The artist has done many portraits for them since. Currently, Norah's family divides their time between Washington DC and New York, likely costing them a large amount of money for home insurance.
Wolf Blitzer | $1.3 Million | Maryland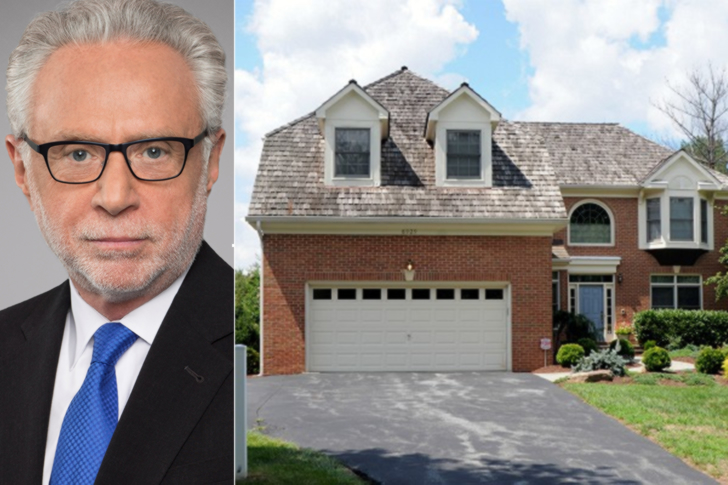 Wolf Isaac Blitzer is a pillar of American journalism and television news. He's also an Emmy Award winner and has been a reporter for CNN since the 1990s. The journalist is best known as the lead political host of The Situation Room with Wolf Blitzer. Despite the fame he developed throughout his whole career, Wolf Blitzer has lived in the same Maryland home for years. The two-story residence sits just a block away from the Congressional Country Club. His initial investments in this property amounted to $710,000 some three decades ago.
The famed journalist currently lives there with his wife, Lynn Greenfield, and their daughter, Ilana Blitzer Gendelman. After seeing other celebrities' houses, getting a peek at Wolf Blitzer's humble abode is actually quite refreshing. However, don't let its appearance fool you. Although Blitzer may have purchased it for barely a million in 1989, this beautiful home is currently estimated to be worth $1.34 million.
Sean Hannity | $8.5 Million | Long Island, New York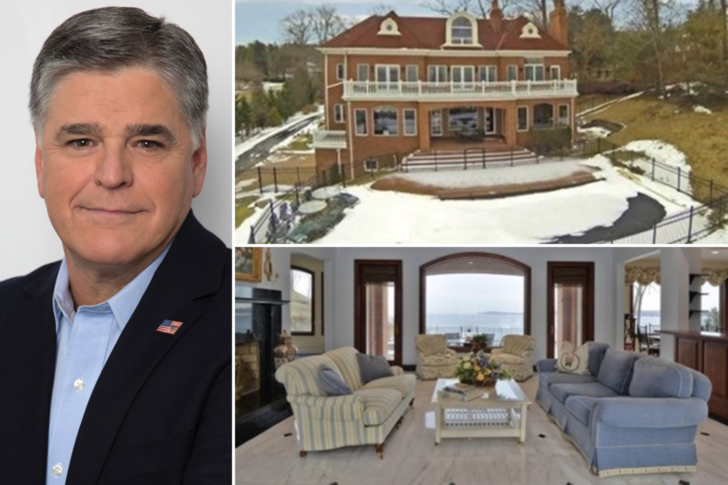 Sean Hannity reportedly earns $40 million per year from his radio and television appearances alone. However, it actually took a while before he found success in this line of work. These days, though, the host gets to spend his leisure time at his home in Long Island, though he also owns another house in Florida. He owns quite a lot of real estate, which was estimated to be worth $90 million back in 2018. Out of all his properties, he chose to live close to his "workplace."
Hannity's home – or mansion, more like – covers 11,000 square feet and has seven bedrooms, seven fireplaces, and of course, its own tennis court. Other noteworthy amenities include a swimming pool, and a private dock on a nearby lake. Although Hannity bought the property in 2008 for $8.5 million, recent estimates state that it is now worth around $9.5 million. With its sheer size and the taxes in New York, mortgage fees must be through the roof.
Barbara Walters | $10.35 Million | New York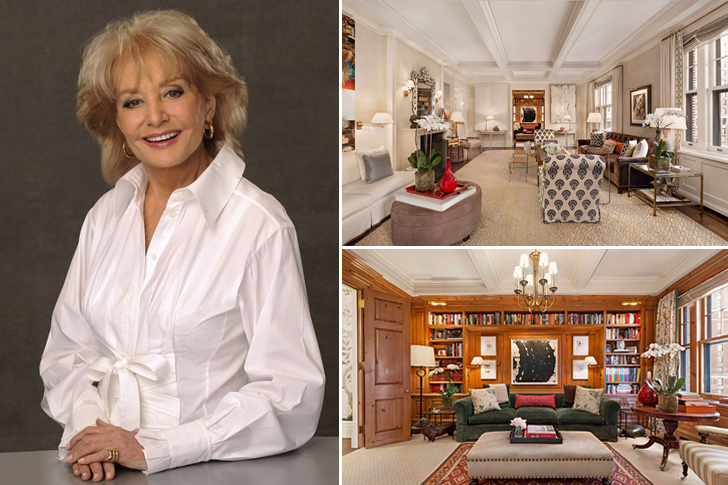 Barbara Walters is a respected American broadcast news journalist, best-selling author, and iconic television personality. Back in 1997, Walters received credit for creating a successful female-led talk show for ABC, which is still on the air twenty years later! With all the achievements she has had in her career, it's safe to say that she finished her journalism work on quite a positive note.
Before retirement, she lived in this four-bedroom home for many years. With cities and their infrastructures often changing in time, taking a step inside this gorgeous apartment can feel like a glimpse into the past. The main floor has 60 feet of entertainment space that includes a dining room, music room, and living room. It is located in one of the most prestigious corners of the Upper East Side, at 555 Park Avenue. Currently, the property is listed on the market for $10.35 million. However, it could also be rented for $37,500 per month.
Michael Jordan | $14.9 Million | Chicago
When it comes to basketball, even non-fans of the sport know about Michael Jordan. Throughout his 15-season run, Jordan played for the Chicago Bulls and the Washington Wizards. He is also a prolific entrepreneur. Aside from his various business ventures, his collabs with various sports brands seem to be the most lucrative. Even today, Air Jordans have a huge market and can sell for upwards of a few hundred dollars!
Michael Jordan keeps it ballin' with his property in Chicago. His $14.9 million mansion comes with personal touches, including a huge 23 displayed on its main gates. The estate was listed in the market back in 2012 and has since received a major price cut – it was originally up for $29 million. This hefty price tag comes with a 14-car garage, nine bedrooms, twelve bathrooms, a tennis court, card room, game room, wine cellar, a workout room, and, of course, a regulation-sized basketball court – can't forget about that.
Mo Rocca | Est. $1 Million | Greenwich Village, New York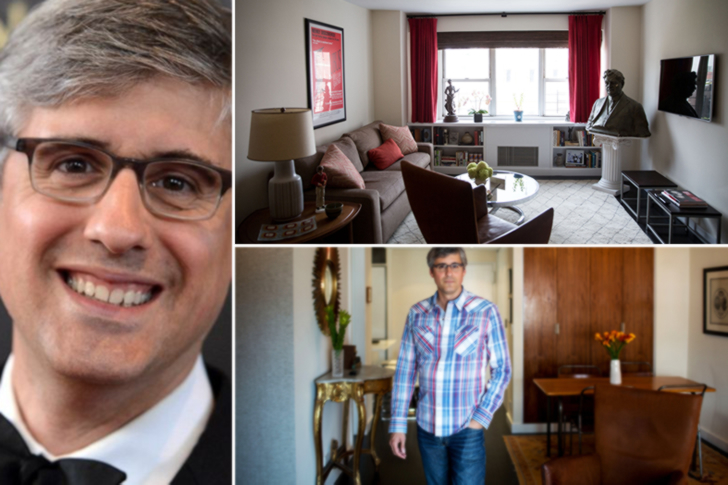 Mo Rocca, or Maurice Alberto Rocca to his friends and family, is an American humorist, journalist, and actor, best known as a correspondent of CBS Sunday Morning. He is also the creator and host of My Grandmother's Ravioli. Over the years, aside from providing a touch of lightheartedness in news programs, Mo Rocca has also written two books, titled Mobituaries and All the Presidents' Pets.
After years of jumping from one rental to another, Mo Rocca finally settled on a two-bedroom co-op in Greenwich Village, New York, in 2012. The area is known as the home of the city's finest creatives and Mo Rocca fits right in. Although it's a fairly small unit, it has more than enough space for the comedian-journalist. We're glad he finally took his father's advice, though. In a New York Times piece, Mo Rocca shared how his father once told him that he should chose paying off the mortgage to his own place instead of renting non-stop.
Geraldo Rivera | $2.8 Million | Cleveland, Ohio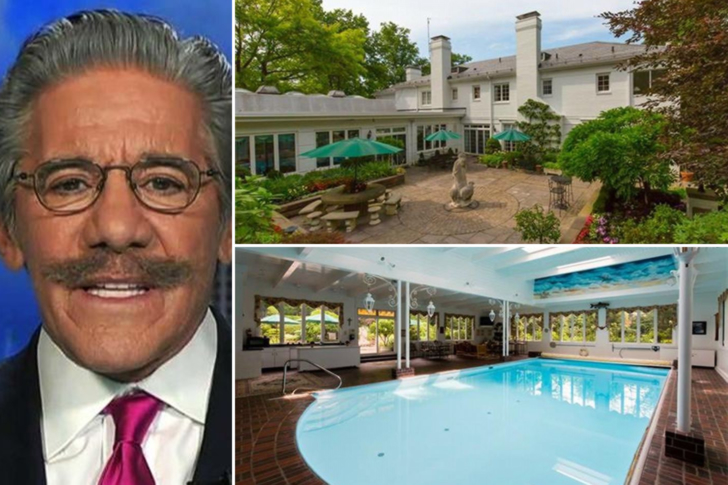 Geraldo Rivera worked a variety of jobs throughout his younger years. In between going to university, Rivera also worked as either a clothing salesman or a cook. After graduating with a degree in Journalism, Rivera landed a reporter spot for Eyewitness News. Two years after, the then-rising reporter received widespread recognition and a Peabody Award. Since then, Geraldo Rivera found widespread success and he is now a regular in Fox News' The Five.
It is often that people find a home they fall in love with at first sight. Rivera's property covers 13,000 square feet of land and has six bedrooms, a wine closet, a bar, and a living room with a fireplace. It also boasts of a library that also poses as an office, and a private swimming pool. The display of opulence begins from the driveway, with guests greeted by the home's lush lawn and creek-spanning private bridge. The property was built in 1968 and purchased for $2.8 million.
Chris Wallace | Undisclosed Price | Washington, DC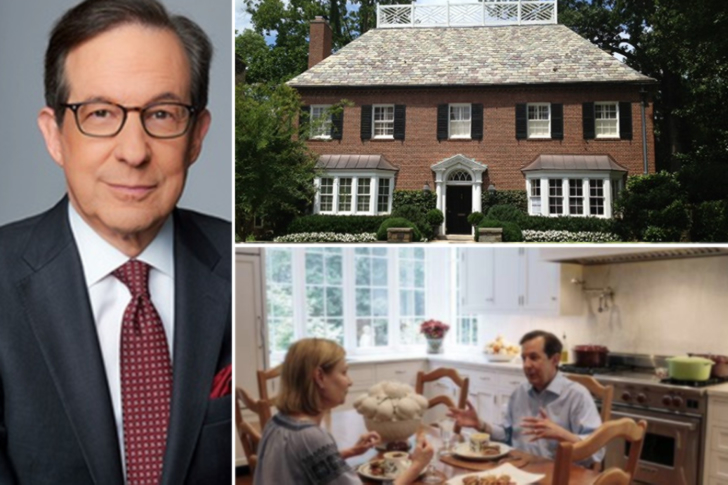 Chris Wallace is a veteran television journalist and current host for Fox News Sunday. His career highlights include working as a White House correspondent for NBC Nightly News from 1975 to 1988. He has had the opportunity to interview high-ranked figures like Barrack Obama and Vladimir Putin. Chris Wallace has also won several awards for his work, including a Peabody Award, three Emmy Awards, duPont-Columbia Silver Baton Award, and a Paul White lifetime achievement award.
He currently lives in a beautiful two-story home located in Washington, DC. The house is in the Tudor-style of architecture and is surrounded by greenery. According to public records, the 4,809-square-foot property was built back in 1929 and features three bedrooms and five bathrooms. Like many other celebrities in the industry, Chris Wallace prefers to keep a good portion of his personal life behind curtains – quite the understandable decision, especially in his line of work. As a result, just like his credit report, the house's actual cost remains unknown.
Shepard Smith | $3.9 Million | Greenwich Village, New York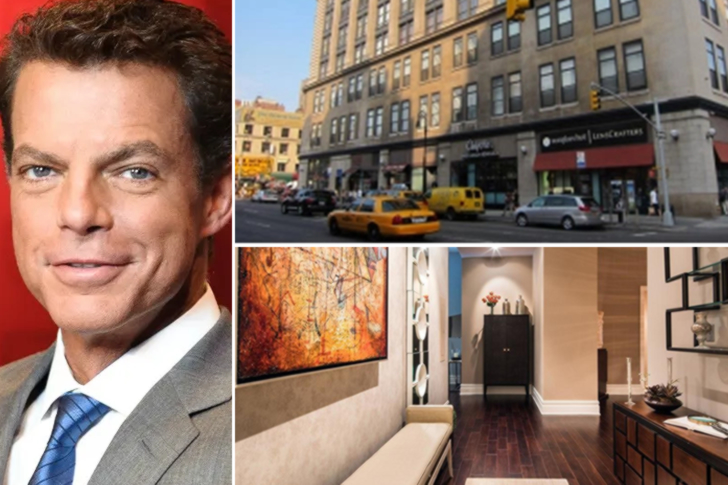 After leaving Fox News, a company he has been with since its inception in 1996, Shepard Smith signed a contract with CNBC as its new chief general news anchor and chief general breaking news anchor on July 8, 2020. He might be starting over, but it's clear his finances didn't struggle. In fact, he was reported to have donated $500,000 to the Committee to Protect Journalists not too long after.
In more recent years, apartments have become the favored type of housing, especially in the bigger cities where living space is scarce. For Shepard Smith, he decided to spend some of his investment money on this gorgeous apartment in Greenwich back in 2004. It has two bedrooms, two bathrooms, an eight-seater dining room, and a cozy living room. However, in 2017, he placed the apartment up for sale. It was initially priced at $4.9 million. By the following year, its price was dropped to $3.9 million to attract more potential buyers.
Mike Ditka | $3 Million | Florida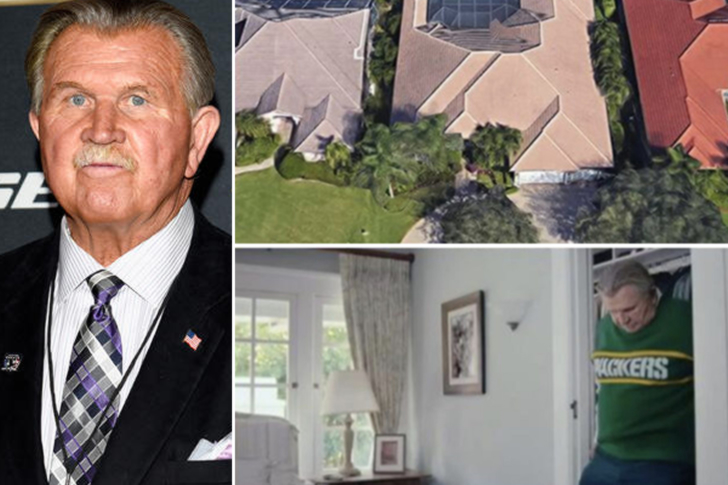 Michael Keller Ditka is a former football player, coach, and television commentator. Along with his team, the Chicago Bears, they won the championship game back in 1963. They would later go on to become three-time Super Bowl Champions! After retiring, it seemed that Ditka couldn't leave the sport entirely and started coaching. He has coached teams like the Dallas Cowboys, Philadelphia Eagles, and Chicago Bears.
Ditka purchased $3 million home with his wife. It may not be as big as other celebrity houses, but it's enough for the couple. This peaceful sanctuary is located in North Naples, Florida, a place that is perfect for those seeking rest and relaxation. Should Iron Mike ever need to unwind or enjoy some outdoor time, he can always go golfing at one of the nearby courses. With all the savings and investments he's made in his career, he can rest easy and not worry about his finances for years to come.
Novak Djokovic | $15 Million | Miami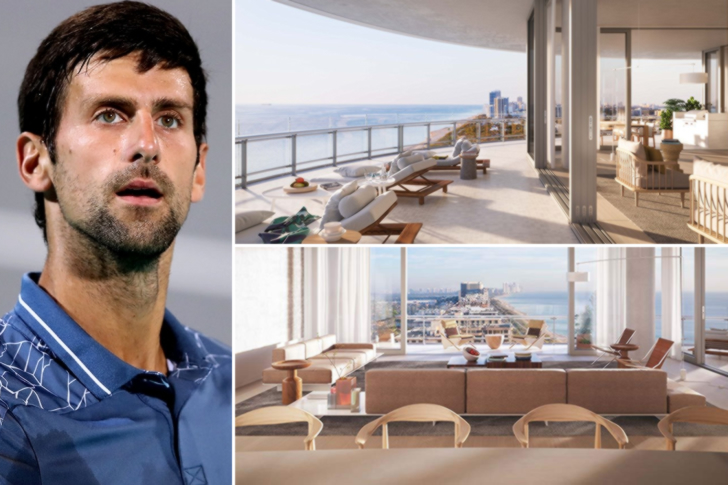 Athletes are celebrities in their own right and can have thousands of fans around the world as well. Djokovic is a 17-time Grand Slam champion, who has amassed a significant net worth through brand endorsements and tournament wins over the years. However, his talent and skill is not limited to tennis alone but also extends to real estate investments. His $15 million home is proof of this.
It is a Miami Beach villa, which is located at the Eight Seven Park, a new beachfront landmark. The property has floor-to-ceiling glass windows, sleek lines, minimalist décor, and offers a magnificent view of the ocean 24/7. The sound of its waves become his soothing lullabies at night. For amenities, it has five bedrooms, three and a half bathrooms, a spa, swimming pools, and a gym. Furthermore, thanks to its top-class facilities and equipment, it's safe to say this world-famous athlete has all the things he needs to unwind after a tough tennis season.
Eddie Murphy | $85 Million | Beverly Hills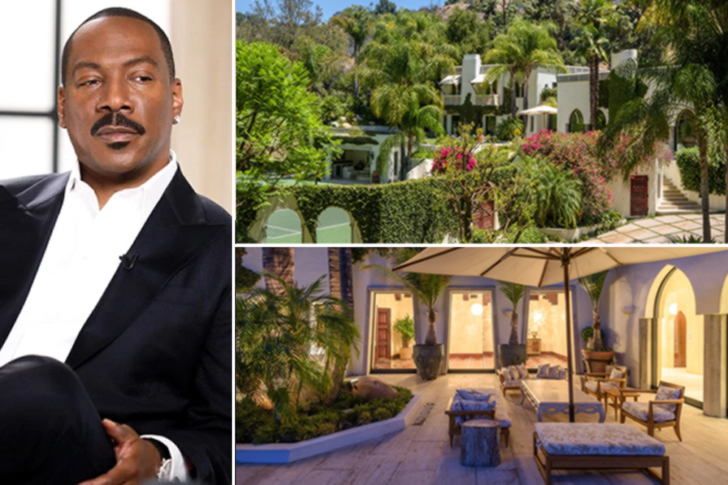 With decades to his name in the industry, there's no doubt that Eddie Murphy has made it—just like his childhood idols. Even newer comedians like Russell Brand, Dave Chappelle, and Chris Rock, all cite Murphy as their inspiration. It's safe to say his career has come full circle. Funny guy Eddie Murphy is also winning the real estate game. The comedian has been flipping houses for years and has made big bucks from it. This is a side hustle many other celebrities love to do outside their main line of work.
Back in 1988, he bought his Beverly Hills Home for $6.3 million, a hefty price tag during that time. However, the investment paid off beautifully as the sprawling property is now on the market for $48 million – though it was initially for sale for $85 million. The property comes with 32,000 square feet of living space, 11 bedrooms, 17 bathrooms, a pool house, and even a stable that can house four horses!
Rob Lowe | $47 Million | Montecito, California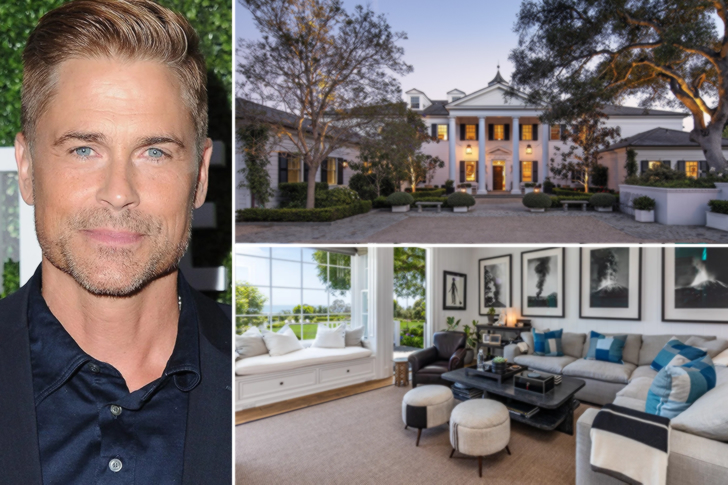 Lowe found newfound fame with thanks to his breakthrough role in the TV series The West Wing. To this day, aside from working both in front and behind the camera, Lowe has also begun hosting his own podcast called Literally! With Rob Lowe.  His Montecito home is straight out of an old American dream, with its huge pillars, beautifully tiled roofing, and white façade. In fact, its architecture is actually inspired by Lowe's childhood home in Virginia.
It was designed by architect Don Nulty, mixing both East Coast traditionalism and West Coast modernity. Lowe and his family lived in it for several years before putting it on the market for $45.5 million – it was initially priced at $47 million. The home sits on 3.4 acres of land and offers beautiful views of the Pacific Ocean and the Santa Ynez mountains. It has six bedrooms, eleven bathrooms, a home gym, several dining and living areas, and a wine cellar.
Christina Aguilera | $13.5 Million | Los Angeles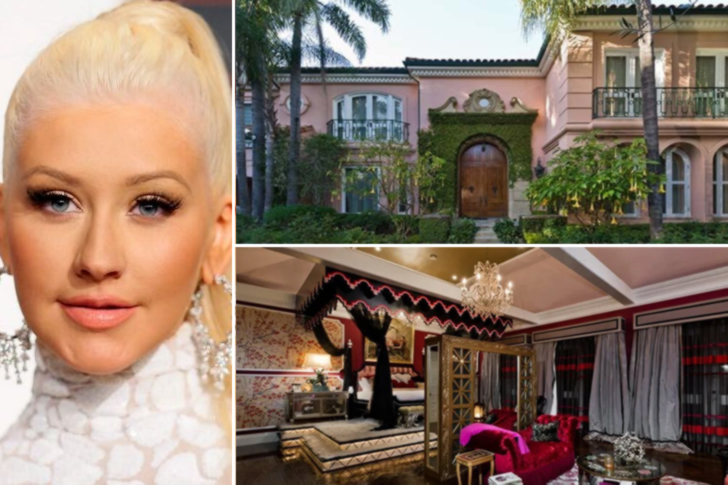 Christina Aguilera's albums and performances definitely show off her colorful personality. The same could be said about her former Los Angeles home, which was previously owned by another music icon, Ozzy Osbourne.  Given the difference in style between the two, Aguilera made investments into turning the house into an extension of her. It now has a boudoir-inspired interior with vibrant patterns and luxe furnishings. The mansion also covers 11,000 square feet of living space and has six bedrooms and nine bathrooms.
Furthermore, it also has a game room, a movie screening room, a gym, a beauty salon, and of course, every girl's dream, a walk-in closet.  However, in 2013, before moving to her new – and arguably – lovelier abode, the singer placed the property up on the market for $13.5 million. With that said, just like the previous one, Christina Aguilera didn't waste any time when it came to adding her own creative touch to the design of her and her family's new sanctuary.
Prince Harry and Meghan Markle | EST $18 MILLION | CALIFORNIA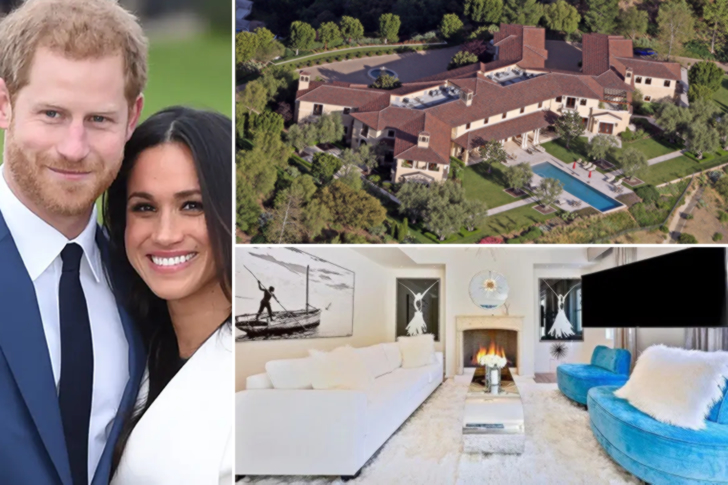 Meghan Markle met Prince Harry through a mutual friend of theirs. Even from their first date, the feelings they share were already sparking like fireworks. After resigning from their posts as senior royals of the British Royal family, the couple settled down in the United States within an exclusive community of Beverly Ridge Estates. The new property is worth $17 million and covers 18,000-square-feet of space and was previously owned by Tyler Perry.
This property has nine bedrooms, 16 bathrooms, a beautiful nursery for their child, and a guest house for their friends. Their home sits on 22 acres of land, providing a large outdoor space and plenty of fresh air for the family. After moving from a few other houses throughout the years, the couple have finally decided to call this one their home. With all things considered, although the two left their royal positions, it seems that their credit score did not suffer that much.
Jennifer Aniston | $21 Million | Bel-Air, Los Angeles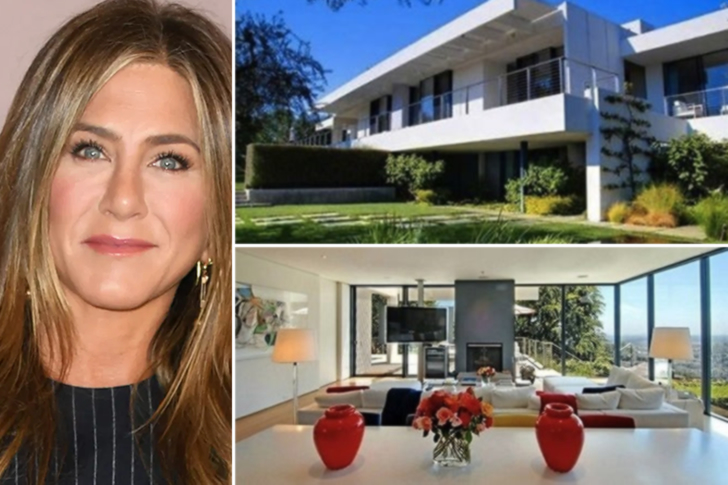 In the earlier years of her career, Aniston performed in stage plays while also working side jobs – she used to work as a bike messenger and telemarketer. Eventually, Jennifer was given an opportunity to star in the now-iconic sitcom Friends. Since then, aside from maintaining her good looks through exercise and proper diet, Anniston also made good decisions for herself financially. These decisions paid off, as proven by her $21 million Bel-air mansion.
The property covers 8,500 square-feet of space and has four bedrooms, six and a half bathrooms, and a guest house. It was built in 1965 and was purchased by Anniston in 2011. Her gorgeous abode also comes with a wine cellar, a pool, and a lovely view of both ocean and the city all around the two-acre property. Through the years, Jennifer Aniston has made a lot of investments in the property, especially on the first year of her residing in it. She has added a few personal touches to make it truly her own.
Bruce Willis | $12.95 Million | Bedford, New York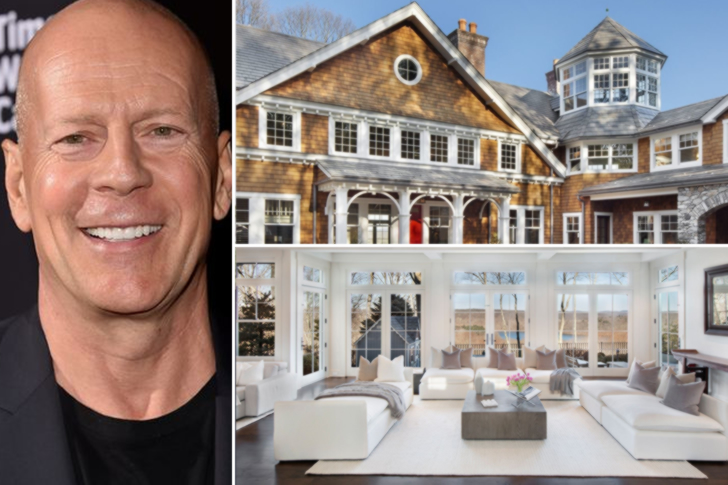 After starting his career as a stage actor, Bruce Willis received recognition for his performance as the lead in the comedy-drama TV series Moonlighting. In more recent years, the actor became well-known for his role in films like The Sixth Sense, and Unbreakable. Much like many of his colleagues in Hollywood, this A-lister dove headfirst into creating and expanding his real estate portfolio throughout the years.
Maintaining one often involves buying and selling the property at the right time to get the most profit. This is why Willis let go of his Bedford mansion for $12.95 million, a place he called home from 2014 to 2019. However, the property was sold at a lower price, for $7.66 million. Nonetheless, it was a good investment for the actor. The 8,958-square-feet residence has five bedrooms, eight bathrooms, a chef's kitchen, a children's playroom, a tennis court, a saltwater pool, and a view of the Croton Reservoir.
Gisele Bundchen and Tom Brady | $20 Million | California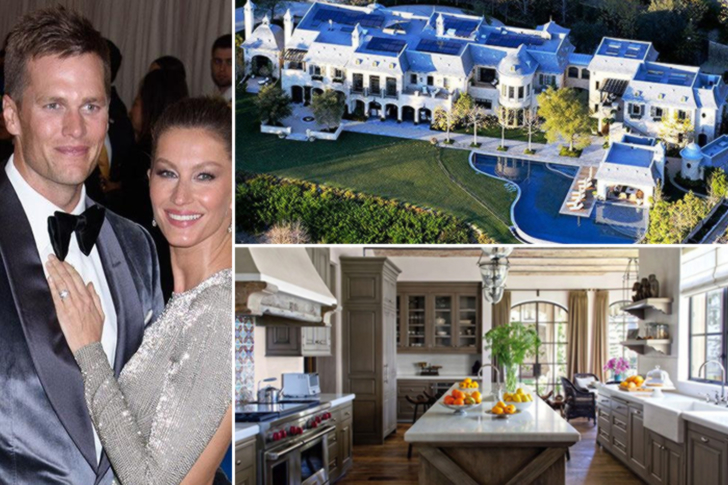 In modeling, Bündchen is considered as the one who redefined the scene. Meanwhile, in the world of sports, many consider Tom Brady to be the greatest quarterback in the game. Since the start of his career, Brady has been making record-breaking achievements left and right. This Hollywood power couple's $20 million mansion in California covers 22,000 square feet of space and features eight bedrooms, a six-car garage, a swimming pool, a weight room, and a wine cellar.
Before they took ownership of this lovely abode, it was just a plot of land the couple passed by one time. However, what made it special was the view they saw: the Pacific Ocean at its finest. With some help from architect Richard Landry, interior designer Joan Behnke, and, of course, a moving company, Brady and Bündchen finally got themselves a home that best fits their family needs. The home is also equipped with environmentally-friendly equipment, including solar panels on the roof and by the garden.
Justin Bieber | $8.5 Million | Beverly Hills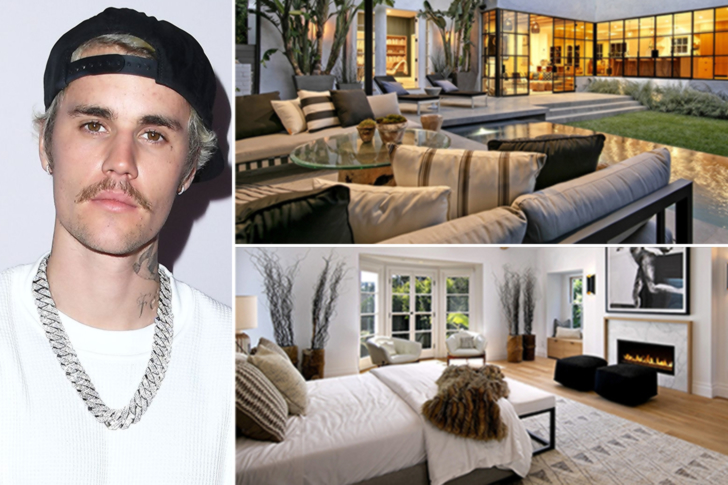 In more recent years, the internet has made it possible for many people to achieve popularity. One such celebrity is Justin Bieber. Even from childhood, Justin already showed his inclination for music. The former child singer turned record-breaker has since settled down, following his marriage to Hailey Baldwin. Bieber used to rent a Hollywood mansion during his bachelor years, but figured now is a good time to get serious about real estate. He has the investment money for it, after all!
Nowadays, Bieber is living in his $8.5 million Monterey Colonial home with his wife. The house got an update from Charles Infante, a famous production designer. It has five bedrooms, seven bathrooms, a wine cellar, and a library. Outside, this lovely abode features a cabana that sits on top of a zero-edge swimming pool and a front courtyard filled with olive trees. With the sheer size of the property, it's perfect for any future children. However, until then, the two can enjoy some time raising their little cat family.
Jennifer Lawrence | Est. $8 Million | Beverly Hills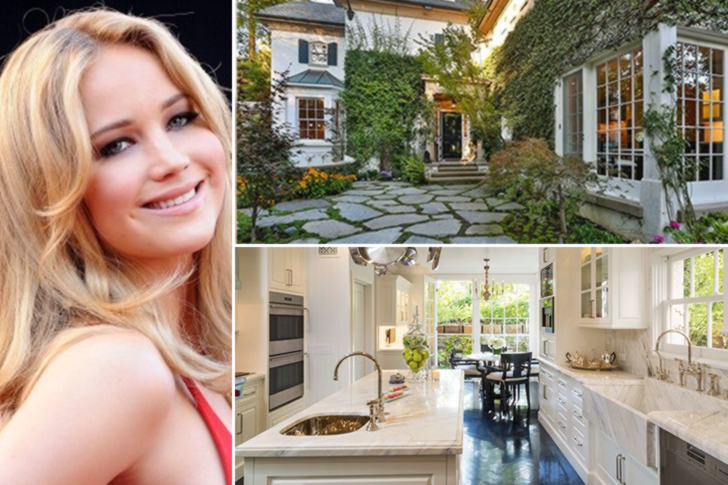 Hunger Games alumna Jennifer Lawrence is now a 90210 resident, following the steps of Jessica Simpson and Ellen DeGeneres, who, coincidentally previously owned her new home! Being a highly successful actress, Jennifer became the highest paid celebrity for 2014 and 2016, which has helped her acquire various properties in the US. Lawrence stays in her Beverly Hills mansion which came with a price tag of $8 million and 5,500 square feet of living space.
It has five bedrooms and six bathrooms, a mega walk-in closet, and a flagstone path that leads to the gorgeous backyard oasis. She's neighbors with Cameron Diaz and Mila Kunis and Ashton Kutcher. Lawrence's performances and wins for films like The Silver Linings Playbook helped raised her credit score along with her net worth, which has reached $130 million. Perhaps she is contemplating purchasing another home or a probably a shorefront villa?
Ed Sheeran | $10 Million | South London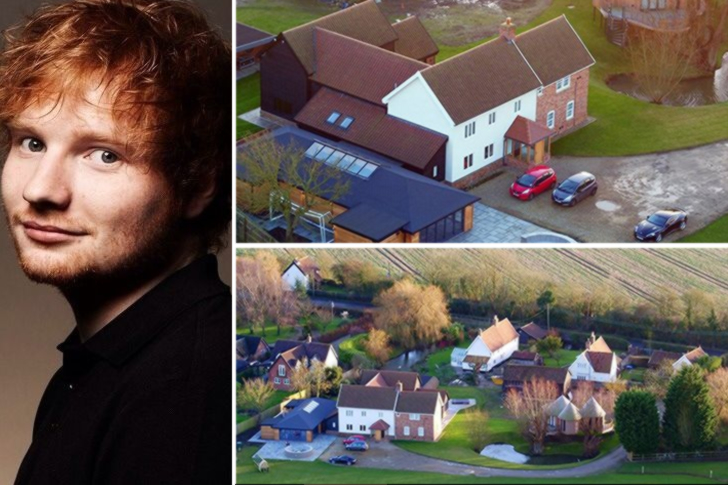 From roughing it out by busking at the side of the road to living mortgage-free and selling out arenas and coliseums, Ed Sheeran has certainly gone far. He began recording music in 2004, but it was not until he gained attention on YouTube that the singer became popular. We can say that he was among the first generation of singers, celebrities and influencers that were made popular by the video platform.
The talented singer and songwriter has his investments spread out in different places all over UK. His properties in his home country include 27 different houses, flats, and mansions worth $115 million in total. If at any time he needs inspiration to write a song or record one, Sheeran can simply go to one of his countryside properties and be alone.  For his own home, Ed keeps it simple— as simple as a $10 million house gets. It comes with four bedrooms, five bathrooms, a wine cellar, and of course, a music studio and his own underground pub.
 Adam Levine and Behati Prinsloo | $18 Million | Holmby Hills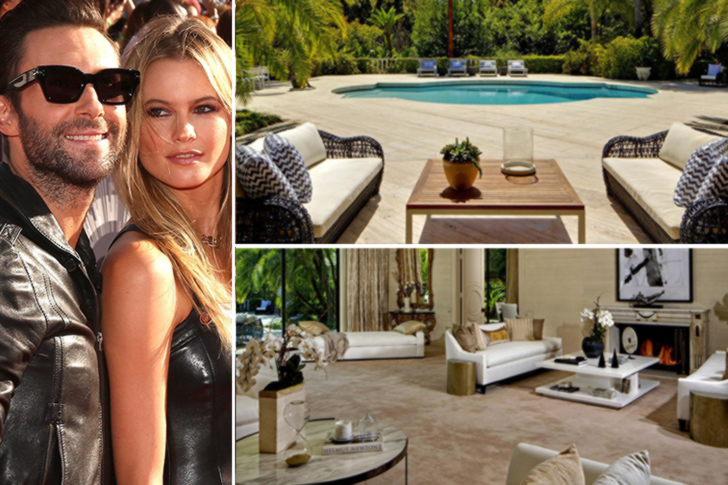 Here's the thing, rockstars and models live many of our dream lives. They get to travel the world and earn while also having fun. This is very much apparent in the relationship between Adam Levine and Behati Prinsloo. Not only are they considered to be relationship goals for many, they are also individually successful. One's the front man for Maroon 5 and the other is famous Victoria's Secret model.
They recently sold one of their properties to Ellen DeGeneres, earning quite a significant amount. Currently, they are living with their children in their Holmby Hills home. Holmby Hills is just outside Bel-Air Country Club, thus providing the couple and their children privacy and good home security. Their residence covers 9,200 square feet of living space and comes with five bedrooms, a pool, and two master suites. Its layout allows plenty of natural light and lots of space for the kids to play in!
Playboy Mansion | $100 Million | Los Angeles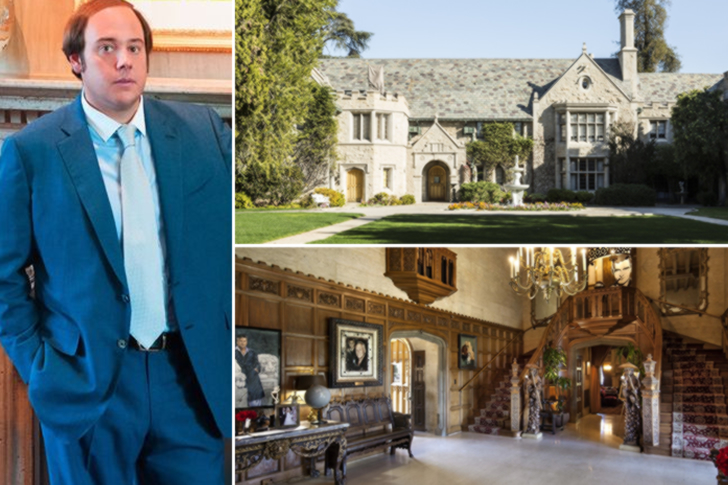 Previously owned by the late Hugh Hefner, the Playboy Mansion is a landmark in Los Angeles. It was featured in its own reality show and has an estimated market value is of $100 million. The mansion has a rich history and countless parties were hosted within its walls, which were well-attended by celebrities and socialites.  It is currently owned and used for various business operations by Daren Metropoulos, the son of billionaire businessman Dean Metropoulos.
It is also used for television recording, charity activities, and public functions. Given its historical significance, Metropoulos has asked the City of Los Angeles to gazette the area, preventing the demolition of the place, and in effect preserving its legacy. The mansion comes with 22,000 square feet of living space, a spa, a gym, a screening room, a game room, and even several offices. Truly the perfect mix of work and pleasure, don't you think so? Given its association with the Playboy Empire, this home is worth the investment money.
Blake Shelton | $2.3 Million | Brentwood, Tennessee
Blake Shelton is a well-renowned country music singer who started his career in 2001 with his debut song "Austin", which spent five weeks at the top spot on the Billboard of Hot Country Song Charts. He was described by the New York Times as "the most important and visible ambassador from Nashville to the American mainstream". He has also ventured into restaurant franchising and owns Ole Red.
While Blake might be considered successful with his career, he was not as lucky with his love life. Such is the case for Blake and Miranda's home in Brentwood, Tennessee. After their separation was finalized with lawyers, the two decided to sell their old home for $2.3 million. The property has five bedrooms, eight bathrooms, a gorgeous all-wood study, and other modern amenities. It sits on 10,627 square feet of living space and an acre of land. The mansion also comes with a tennis court and a spa.
Mila Kunis and Ashton Kutcher | $10 Million | Carpinteria, California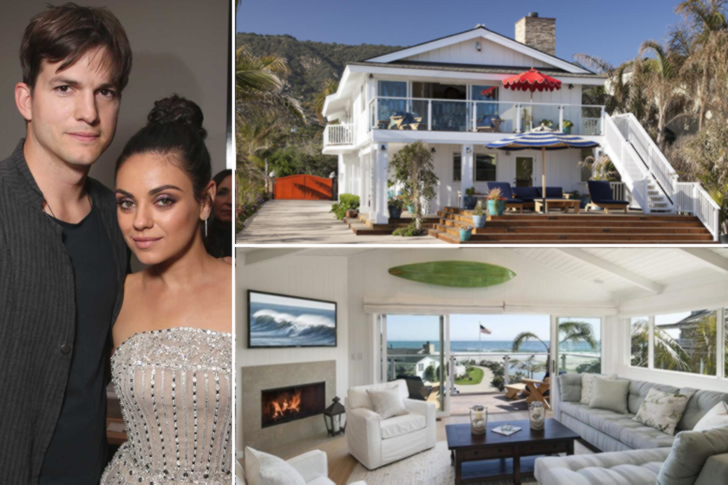 Our next couple is another powerhouse, both individually and together. Mila Kunis has come far from her humble beginnings. Her breakout TV role helped her land big film projects, including Black Swan. Kutcher, on the other hand, isn't just a talented actor and comedian, but also a prolific businessman. He has investments in a number of start-ups.
The two live in a quaint beach house along the coastal community of Carpinteria in California, just outside Santa Barbara. It's the perfect spot to raise their little family, with the view of the ocean and plenty of privacy. The home itself may not be as grand as the others on this list, but it suits them just the same. The beach house has an outdoor deck for viewing the sea and sky during breakfast and other meals. If they feel like having breakfast in bed, they can also do that. The interior is full of wood furnishings and high roofing. Very Zen.
Drake | $7.7 Million | Hidden Hills, Los Angeles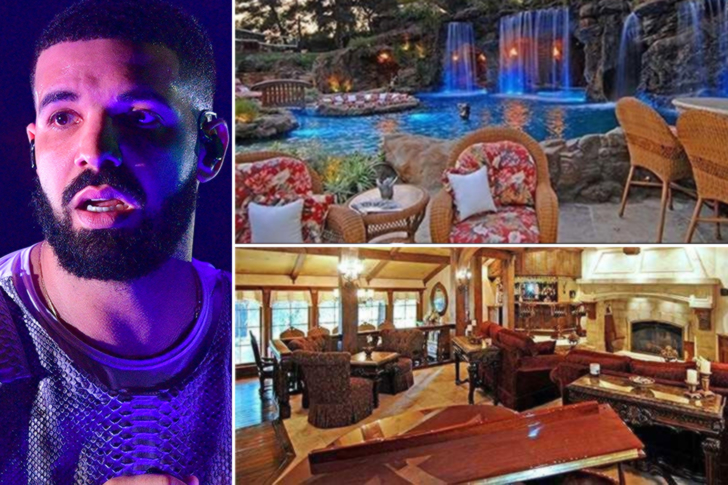 The Canadian rapper's truly made it, with millions of records sold and countless of sold out tours. He is among the world's best-selling music artists, having sold 170 million records worldwide. Drake was also the highest certified digital singles artist by the Recording Industry Association of America. Now that he has his own child, it's evident that he's getting more serious about his money management.
As a Canadian-native, most of his properties are located in Toronto, Canada, but this gorgeous Hidden Hills, Los Angeles property might just be his favorite. Valued at $7.7 million, the home boasts of 2,449 square feet of living space while sitting on 6.7 acres of land. He calls it his "mini-Ponderosa". He has owned this property since 2012. In 2017, he also built a house on a 35,000 square foot property in Toronto.  This one was nicknamed "The Embassy", which could be seen in the video to his song "Tossie Slide".
Minnie Driver | $2.5 Million | Hollywood Hills, Los Angeles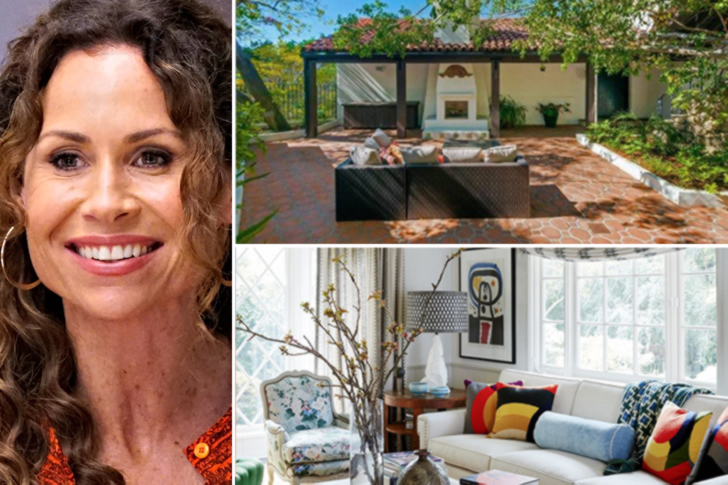 Minnie Driver has appeared both in films and on TV. She also featured in American shows as well as in British shows. Perhaps her most famous work is Good Will Hunting, in which she played Skylar and was nominated for the Screen Actors Guild Award and the Best Supporting Actress Academy Award for her performance. Los Angeles is home to the stars. After retiring from acting, Minnie Driver settled down in her home in Hollywood Hills.
Putting a touch of her gypsy upbringing in her home's interior design, Driver's residence has made it to a number of home and lifestyle magazines including Elle Décor. Her $2.5 million 2,768 square feet residence contains a number of vintage furnishings, including an old-fashioned bathtub. One could really tell that Driver spent a lot of time on details. Everything has a personal touch, down to the choice of flooring.
Tommy Hilfiger | $27.5 Million | Golden Beach, Miami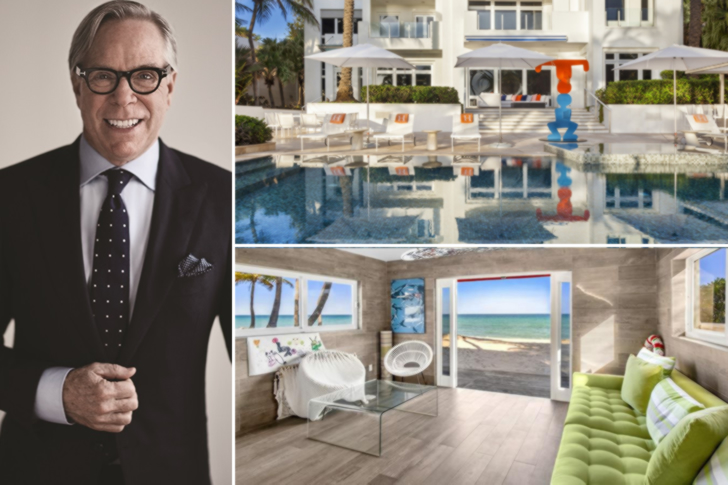 Hilfiger is the founder of the eponymous Tommy Hilfiger Corporation and is known for having a very distinct design when it comes to the clothes he creates. In 2012, he received the Geoffrey Beene Lifetime Achievement Award. However, only a few of them come close to Tommy Hilfiger's skill in color, patterns, and detail. This is evident in the design of his $27.5 million mansion in Golden Beach, Miami.
It's clear he had everything planned out well, just like how he handles his business. We won't be surprised if he has the latest home security system installed, too, to ensure his privacy and safety. Far from typical, each room in his mansion is different from each other, each resembling a gallery rather than someone's living space. Just as expected from this fashion designer. His home has 14,079 square feet of living space as well as seven bedrooms, eight baths, a game room, a pool and gardens.
Kendall Jenner | $8.5 Million | Beverly Hills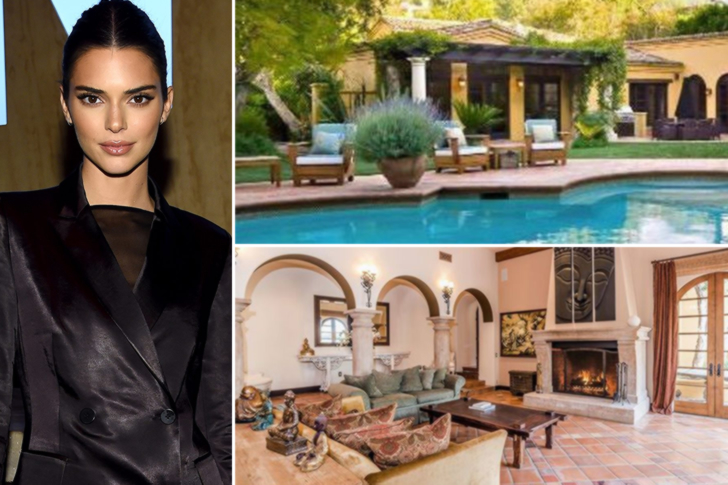 At 25, Kendall Jenner is among the richest women in the world. She has even made it to Forbes' list of top earners in fashion. Jenner's claim to fame is appearing in the TV series about "Keeping Up with the Kardashians", alongside her family, where every aspect of their life was chronicled. For a time, the supermodel was also involved in a Pepsi commercial that received online backlash. This did not hold her down, though, and she persevered.
Just like the rest of the Kardashian family, Kendall's living it big in her own mansion in Beverly Hills. Her current residence is valued at $8.5 million and comes with 6,626 square feet of living space. It has five bedrooms, six bathrooms, as well as a grand home cinema. It's also surrounded by nature in the form of lush greenery and a classic courtyard with a centerpiece fountain. It also has a playground for her nephews and nieces – the perfect place to throw a party!
Lester Holt | $6.4 Million | Manhattan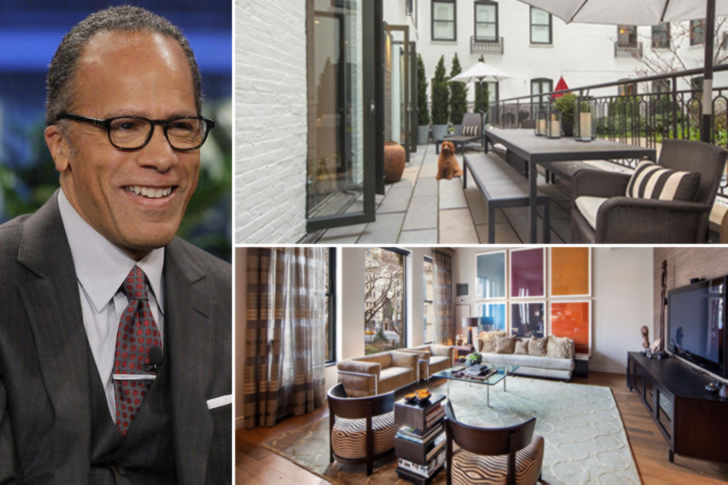 Lester Holt holds the title of being the first African-American journalist and news anchor to solo host a weekday network nightly broadcast, NBC Nightly News. He also hosted Dateline NBC and was lauded for his moderation of the Presidential Debate in 2016. Newspaper outlets like the Washington Post praised him for fact-checking false statements that were made during the debate. It was in 2000 that he joined MSNBC, his gateway to a full-time career with NBC, where he achieved his success.
Holt used to live in a park-fronting Nomad condo located in Manhattan, with his wife and two children. They sold it back in 2017, for $6.4 million. It spans 2,168 square feet and has three bedrooms and 2.5 bathrooms. The family turned in great profit from all their investments in the property, seeing as they only bought it for $3.3 million in 2007.  Interestingly, the news anchor had also been working from home, just like many of the rest of the world, and broadcasting from his Manhattan home.
Bill Hemmer | $1.75 Million | Sag Harbor, New York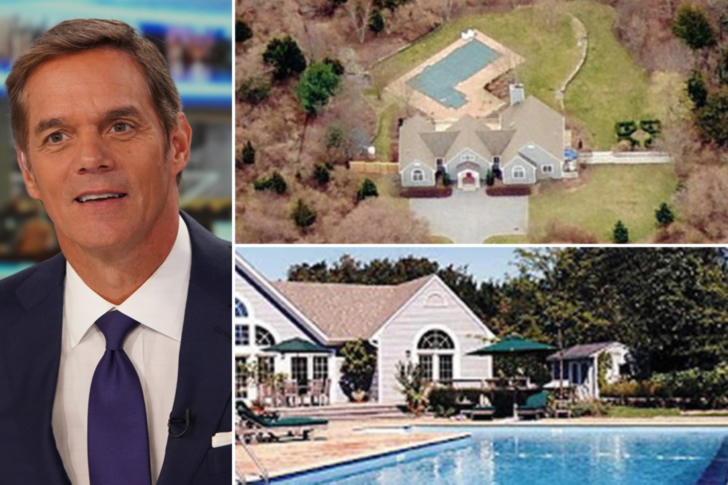 Bill Hemmer made his most significant career move yet, by taking over Fox News' 3pm hour-long news slot after the departure of Shepard Smith. Hemmer has been with Fox News for 15 years and he is now its chief anchor, as well as the host of the show, Bill Hemmer Reports. He began his career in the mid-1980s in a sports production at WLWT-TV. What makes Hemmer stand out from the rest is his ability to take calculated risks.
Before he did this though, he first took a year-long hiatus and travelled the world with only a backpack.  In 2005, he transferred to Fox News and that is when his career bloomed. It's an intense job, given Fox News' special place in the American media industry. This is why it's no surprise that Hemmer retreats to his home in Sag Harbor, New York to de-stress. His home has an outdoor pool, outdoor lounge, manicured gardens, beautiful roof, spacious driveway, and panoramic windows. A great personal investment, we think.
Andrew Napolitano | Undisclosed Price | New Jersey
Andrew Napolitano is an American syndicated journalist, whose work appears in The Washington Times and Reason. He's also a respected analyst for Fox News, after serving as New Jersey Superior Court Judge from 1987 to 1995. Before becoming a well-known columnist, he was an attorney who entered the bar in New Jersey back in 1975. He entered both private practice and academia, honing future legal professionals. Napolitano, however, fell in love with writing and that is when he pursued a career in teaching, writing and TV.
With the intensity of his job, where does he go to escape and relax? It's no surprise that he chooses to spend it away from New York City and in his home in New Jersey. The amount of greenery can make anyone, including the former judge, relax.  The cost of his home in New Jersey remains unknown, but we can make a multi-million guess, given with the property's size. With Napolitano's credit score, it's sure to be well within his budget.
Martha MacCallum | Undisclosed Price | Cape Cod, Massachusetts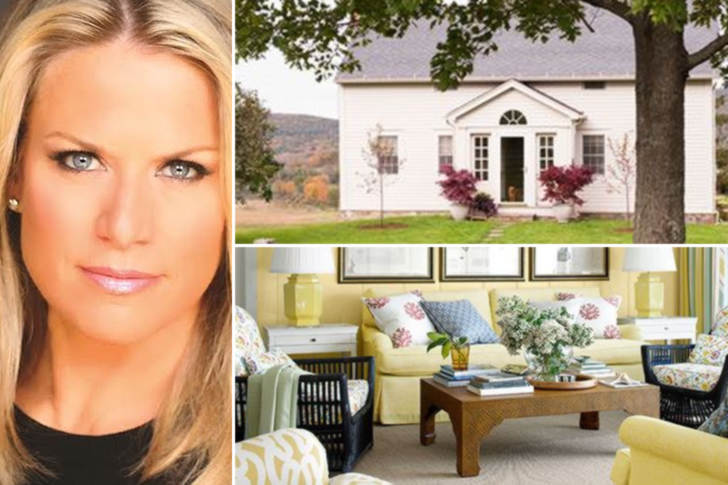 MacCallum is a known Fox News anchor and headliner of her own show, The Story with Martha MacCallum. The host is known for her honest opinions whenever she interviews high profile personalities. She has interviewed people like former President Barack Obama, presidential candidate John McCain, General Petraeus and New Jersey governor Chris Christie. When she joined Fox News in 2004, she hosted The Live Desk and from 2010 to 2017, America's Newsroom where she first showed her journalistic skills and insightful takes on critical events.
When it comes to personal retreats, Martha MacCallum's property in Cape Cod, Massachusetts fits the bill to a T.  The house appeared dated when she took over, but knowing her modern style preferences, she had it renovated and freshened up the interior. Being a reporter is an intense job, so it's only understandable that she chose a home away from the city. The cost remains undisclosed, however, it's evident that MacCallum's investments in the property paid off.
Brit Hume | $1.925 Million | Hume, Virginia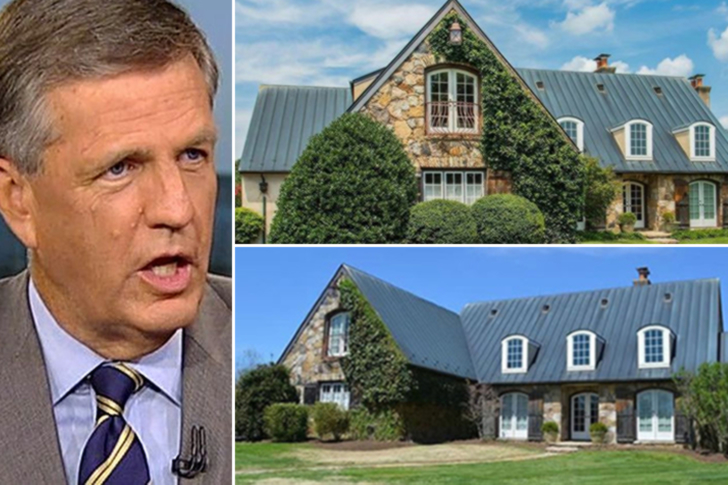 Brit Hume is a journalist who is known for his conservative political stand on most issues. He spent 23 years with ABC News in various roles, with the highlight being the channel's chief White House correspondent from 1989 to 1996. This assignment has exposed him to the multiple events happening at the White House. In 1979, Hume received an Academy Award nomination for his work on "Close-up", a documentary made by ABC.
His $1.925 million home was listed back in 2014. The house sits on 72-acres of land, guaranteeing privacy for the journalist and whoever purchases it next. What makes the house stand out is its exposed wooded beams and gourmet kitchen. His former home in Virginia had been a welcome break from his high-stress job thanks to its view of the mountains, stone exterior, cabin-like appearance and beautiful roofing.
Greta Van Susteren | $3.1 Million | Manhattan, New York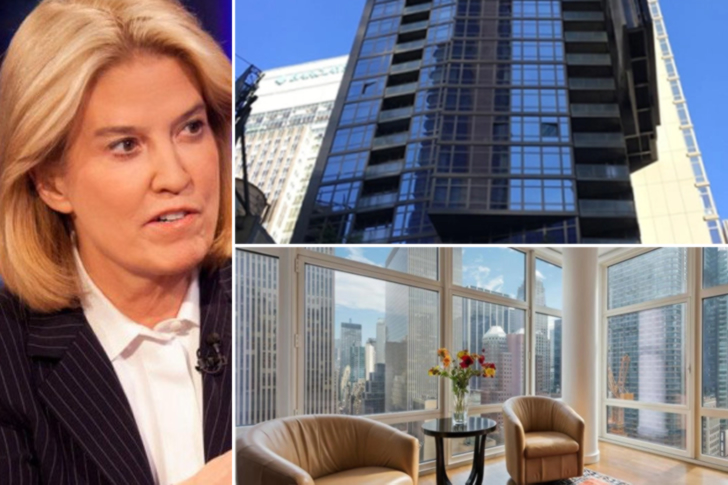 Greta Van Susteren is a veteran American commentator, lawyer, and former television anchor for CNN, Fox News, and NBC News. Her career and coverage of several of the most controversial news breaks landed her in the 94th spot of the most powerful women in the world back in 2016. Due to her legal background, she also appeared as a legal analyst for CNN and co-hosted "Burden of Proof" with Roger Cossack from 1994 to 2002.
Since then, she has listed her Midtown Manhattan Condo for $3.1 million, which covers 1,582 square feet, with 2 bedrooms and 2.5 bathrooms. This is not the only property she has sold. In 2016, she also relisted her Annapolis home for $1.05 million, a million less than its original asking price but still worth the investment money. The Annapolis home was built in 1776 and was considered prime property. Real estate agents raved about the property's private courtyard and historical significance. It was listed originally for $1.8 million, quite a steal if you ask us!
Charles Osgood | Undisclosed Price | South of France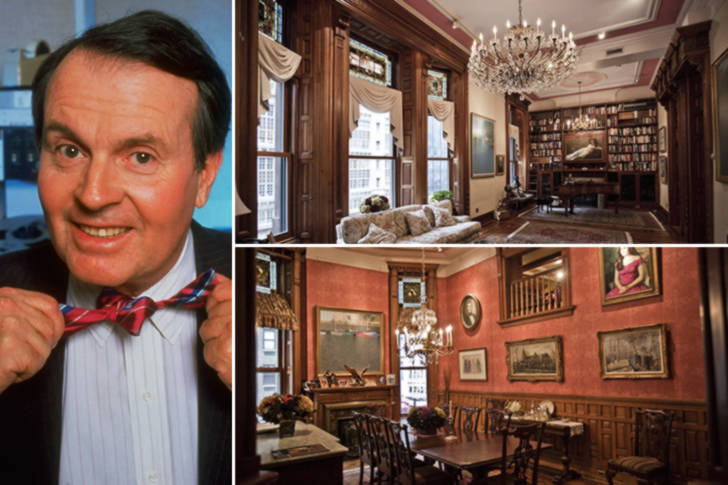 Charles Osgood is a retired TV and radio commentator who was best known for hosting CBS News Sunday Morning for more than 22 years, from April 10, 1994 until September 25, 2016. He likewise helmed The Osgood File on the radio from 1971 until 2017. Osgood's experience in media commentary has made him a respected figure among his peers. After a long and fruitful career, Osgood decided to settle down away from work and chose a home in the south of France.
Reportedly, he loves the food and ambience of the region the most. His house has an entire library of books and a view of nature. Although away from the hustle and bustle of the city, Osgood has investments in New York properties as well. He probably has left them under the care of trustees as it looked like he settled in Europe quite well. Europe's always exuded a certain kind of charm and is a good place for retirement, given its laid back lifestyle and beautiful sceneries.
Jane Pauley | $2.2 Million | New York City
Jane Pauley is the anchor of the news magazine TV show CBS Sunday Morning. Before CBS, she spent 13 years with NBC on the Today program, and then as co-host of Dateline NBC for 12 years. She also received multiple accolades including the Walter Cronkite Award for Excellence in Journalism and various Emmy Awards, serving as a testament to her contribution to the media industry.
After Jane Pauley and her husband, Garry Trudeau, traded in their lavish $13 million Central Park West abode, the happy couple decided to downsize to a quaint co-op located in New York. The investment cost $1.6 million, in order to buy the co-op situated in Turtle Bay. Aside from fitting their lifestyle and philosophy better, it also provides a beautiful view of the park and the panoramic skyline. Besides, downsizing does not always mean financial struggles. It could mean they were optimizing their life so that they could focus on what really matters, enjoying it and pursuing happiness.
Bill Gates | $127 Million | Washington, DC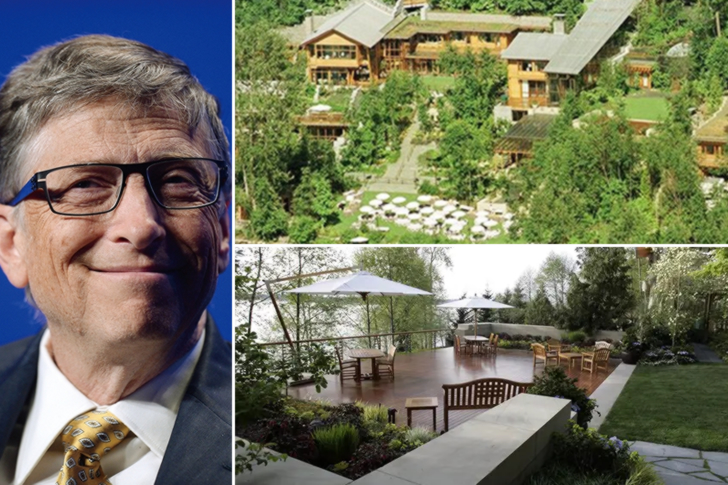 Bill Gates needs little to no introduction because almost everyone knows a thing or two about him. He's one of the most popular entrepreneurs in modern times and is best known as the man behind Microsoft. Bill is also one of the richest men in the world. His property, that he affectionately named Xanadu 2.0, after the home of the fictional character from Citizen Kane, is exactly what you would expect from a man with a $95.3 billion net worth.
Over the course of the seven-year construction, it is said that he needed to shell out around $63 million to cover the costs for the massive 66,000 square feet estate. One of the property's coolest features is its high-tech sensor that monitors lighting and temperature around the vicinity. Guests are handed out a high-tech pin that coordinates with various sensors around the house. You'd think this consumes a lot of energy, but the home is eco-friendly and saves a lot on electricity.
Robbie Williams | $17 Million | London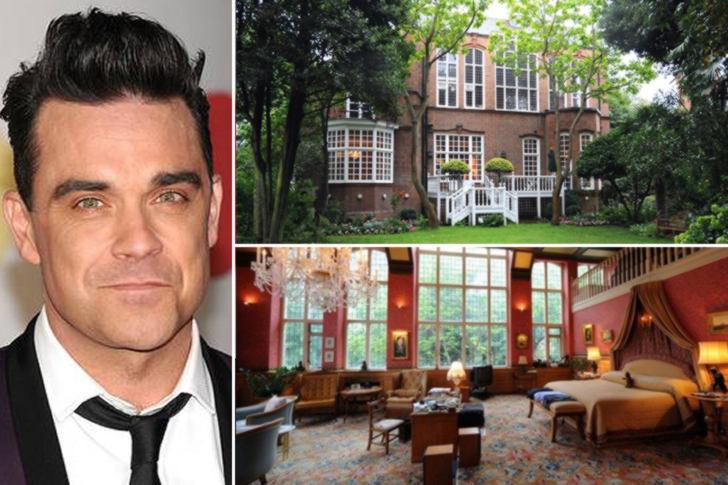 Robbie Williams and his wife, Ayda Field, have different properties all over the US and UK. In fact, they have properties in Los Angeles, Malibu, and London. After all, it makes sense since Williams was born in Staffordshire, England, while Field was born in Los Angeles, California. While they spend most of their time in sunny Los Angeles, their gorgeous London home remains to be in a league of its own.
Valued at £17 million, the castle-like mansion is located in Kensington. The couple spent a considerable sum of investment money to get it renovated to match their tastes and style. The property has a total of five floors and forty-six rooms, so they could definitely hold a party of 100 there. Fun fact, William's real estate property is popularly known as the Woodland House, and it has seen plenty of historical events. The property had also been the home of many famous people before, including the director and food critic Michael Winner.
Mark Wahlberg | $30 Million | Beverly Hills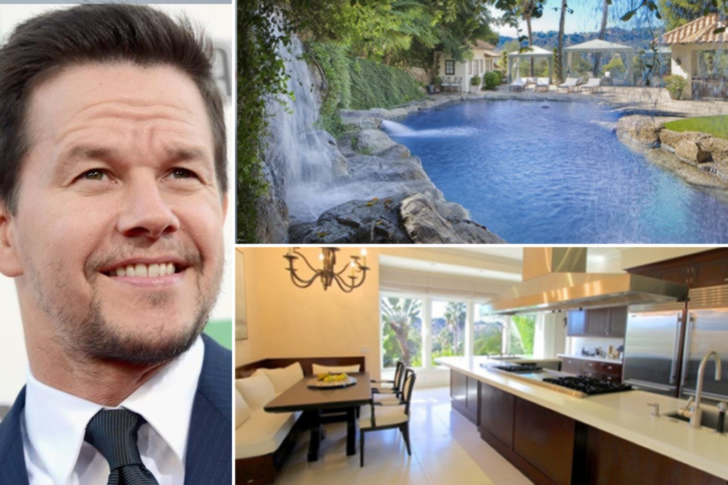 The Departed star, Mark Wahlberg, lived in his palatial Beverly Hills mansion for almost a decade before putting it on the market. Sure, it came with the hefty price tag of $30 million, but it's worth every penny given its size, and all the cool amenities it comes with.  The home sits on over two acres of land and has seven luxury bedrooms. One of the mansion's coolest signature features would be the airport hangar that allowed him to create a spacious two-story gym.
He also established a boxing ring on that spot, which he created explicitly for practice for his 2010 film The Fighter. As we all know, Mark Wahlberg is an avid fan of the Celtics, and the basketball team's logo can be seen in his private court. If you think that's all, guests can also dip into the pool with its elegantly cascading 12-foot waterfall. His investment planning worked, and Wahlberg now resides in a more opulent home in Beverly Hills.
Joe Jonas | $3.7 Million | Sherman Oaks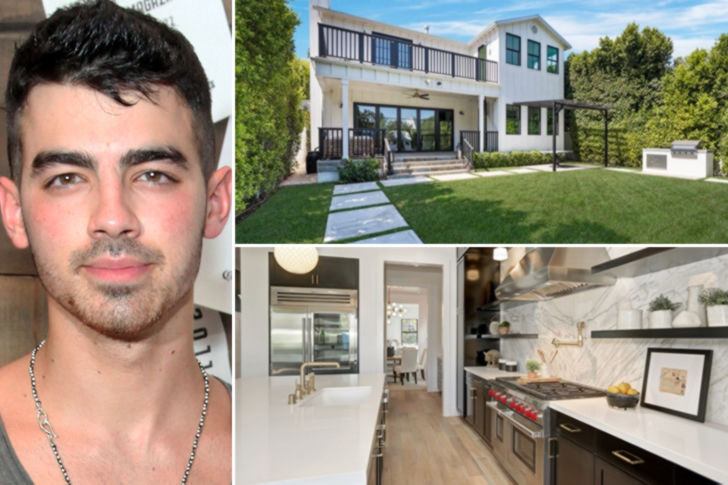 Joe Jonas has established quite a successful amount of fortune and reputation. Things went even crazier for him when he and his other brothers, Kevin and Nick, formed the boy band the Jonas Brothers. Now, Joe Jonas is married to Game of Thrones actress Sophie Turner and they have one child together. It seems that it's time to move on to bigger things in life, and we are talking about family investment and a place that they can call home.
He started off by selling his Sherman Oaks property for $3.5 million – which is the same price he bought it for a couple of years ago. It has 5,600 square feet of living space and houses five posh bedrooms. It also sports five and half baths, which would be more than enough to accommodate everyone. It also has cool features such as a fireplace, a walk-in closet, and a soaking tub. Many would agree that it is perfect for bachelors looking to add real estate to their investments.
Jenna Jameson | $2.7 Million | Los Angeles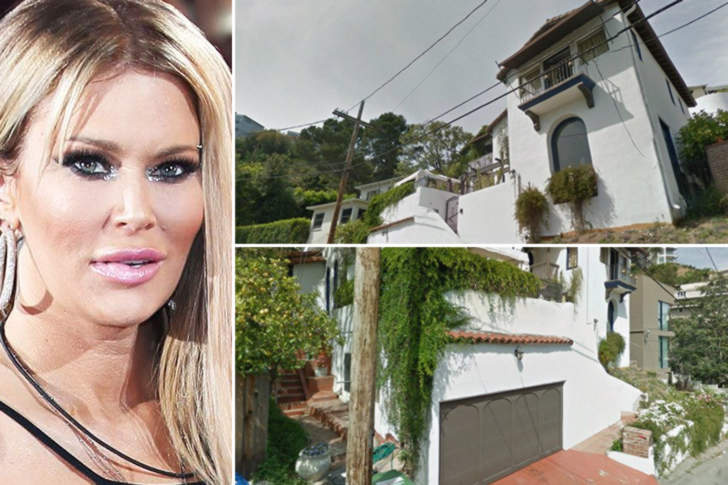 Real estate can sometimes be a hit or miss as proven by some celebs on our list. One prime example of that would be the case with Jenna Jameson's former mansion. A couple of years ago, Jameson became the talk of the town after defaulting on her mortgage payments for her gorgeous Los Angeles mansion. The house ended up on the auction block, which is a bad sign for anyone selling anything. She first bought her mansion for $2.7 million, but it only sold for $1.8 million, barely covering half of its original price.
From the looks of things, the actress has since managed to recover and she's currently on the right trajectory when it comes to her finances. Nowadays, Jenna is living a comfortable and quiet life with her Israeli partner Lior Bitton and their daughter Batel Lu. We hope she's better at managing her money these days.
Mark Zuckerberg | $7 Million | Lake Tahoe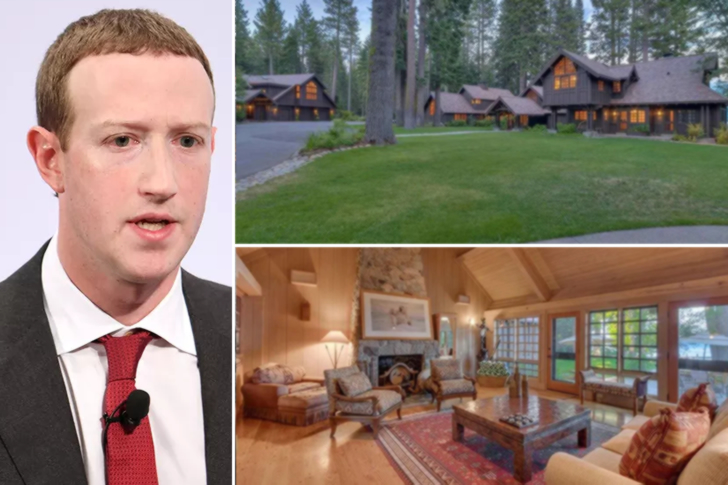 As the creator of Facebook, the biggest and most powerful social media platform today, Mark Zuckerberg has proven himself to have a sharp mind when it comes to making profitable investments. Among his best investments would be his purchase of a $7 million property in Lake Tahoe. Financial advisors might frown at the amount, but the tech genius knew better. Around the same time, he purchased a couple of properties that surround the estate, one of which sits on a 10-acre land that is now valued at $59 million.
It comes with fifteen bedrooms and other wellness amenities. However, the coolest things present in the estate would be the 'custom-made artificially intelligent assistant' that he fitted explicitly for the property. There is little to no information available for the public about what might be hidden in this mysterious property of his. What we know for sure is that his credit score didn't even take a hit, despite the huge purchase.
Anderson Cooper | $4.2 Million | Greenwich Village, New York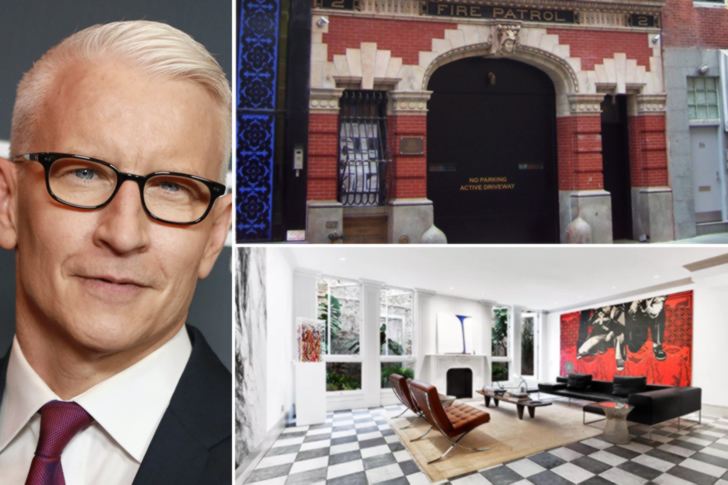 Anderson Cooper is one of the top journalists in today's media and is a respected figure in American broadcasting. Aside from his broadcasting presence, he has also steadily increased and expanded his real estate portfolio over the years. All of that points towards his smart decisions and timely investments. However, there is a property that we can confidently say, has a huge place in Anderson Cooper's heart, and that would be the firehouse he owns strategically located in New York City's Greenwich Village.
While it's no longer in service, he retained some of the intriguing details that give life and personality to his property. He bought the estate in 2010 for $4.2 million, and that's a steal considering the amenities and features it houses. It came with 8,240 square feet of living space and was once featured in an H&M ad campaign that features the wacky Kevin Hart and the football superstar David Beckham.
Rachel Maddow | $1.5 Million | Massachusetts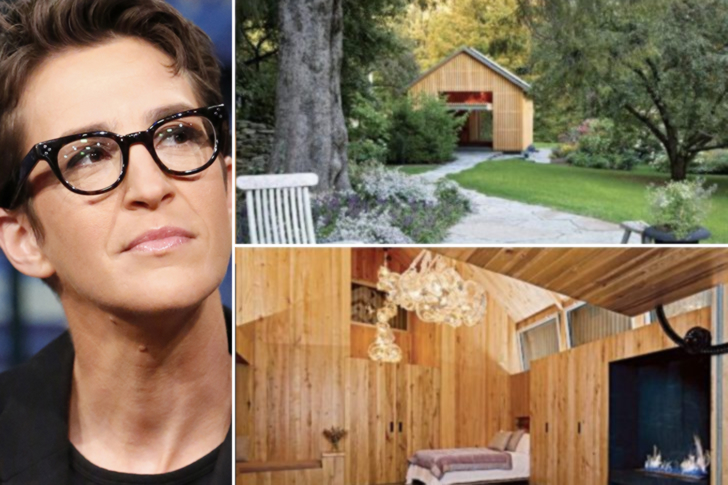 Rachel Maddow has been a prime figure in various television and radio shows over the past couple of years, which help build up the majority of her fortune and her top-notch credit score. You might be surprised that her property is a little different from the rest in our list. Many opt for modern-looking houses complete with all of the newest amenities. In contrast, others opt towards century-old houses with recently-renovated fixtures that bring out the modern touch on a classic home.
Rachel Maddow breaks that trend with her gorgeous pre-civil war era farmhouse located in Massachusetts. It might not have the same amenities compared to more modern houses, but it definitely has that old school charm.  Maddow purchased it for $605,000 and it comes with two bedrooms. The estate sits on 11.86 acres of land and as farmhouses go, it is also surrounded by greenery and lots of space. Maddow also added a modern bathhouse and entertainment center to the space, making the most out of her investment money.
Sam Elliott | Price Undisclosed | Willamette Valley, Oregon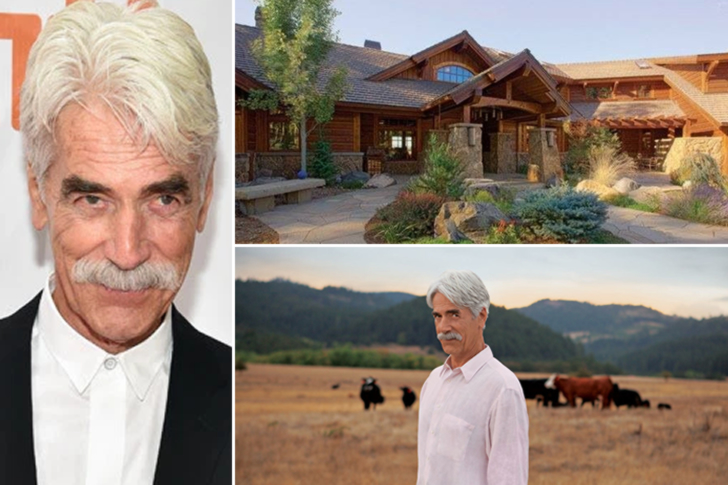 If you are talking about some of the greatest actors in Hollywood, a lot of people will definitely say Sam Elliott. After all, he wouldn't get all the awards and merits he has to his credit if he hasn't proven his prowess in the craft. Thanks to his successful career, he has also managed to earn quite a significant net worth. This allowed him to purchase a gorgeous property in Willamette Valley, Oregon. However, there's no written record showing just how much he shelled out just to get this prime piece of land.
This property might be a seasonal retreat for Sam Elliott and his wife Katharine Ross, but it certainly doesn't lack in creature comforts. Located in Oregon, their residence's architecture is very cabin-like and also offers stunning mountain views. The couple also have a home in Malibu, where they stay most of the time. Aside from the Willamette Valley property, the actor also took ownership of his childhood home in Portland.
Floyd Mayweather | $25 Million | Los Angeles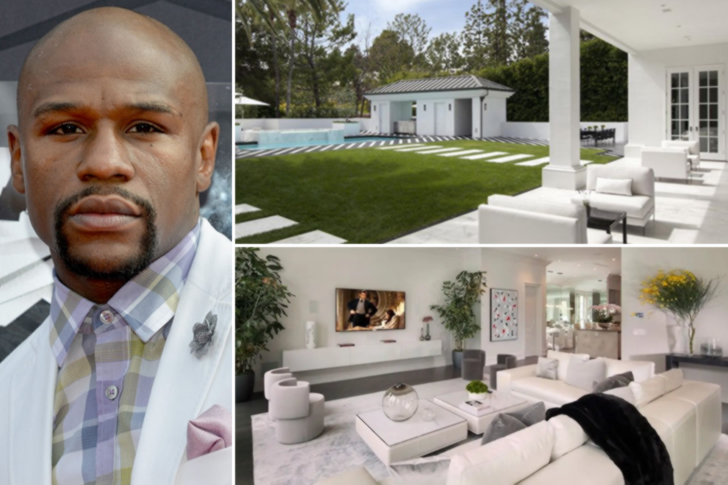 Floyd Mayweather Jr. He crossed fists with some of the best fighters in the world and came up on top using a combination of his wits, speed, power, and techniques. Because of that, he has managed to earn millions of dollars every fight, which he uses to purchase various luxuries. Floyd Mayweather certainly knows how to enjoy the fruits of his labor. To prove a point, check out his $25-million mansion in Los Angeles.
The boxer's home comes with its own candy shop, mini-theater that can accommodate 20 people, and a wine cellar with over 200 bottles of wine for all types of occasions. Chandeliers illuminate the two-story main complex. If you think this is the only property he has, you might need to update your info. He owns a couple of posh properties in Miami and in Vegas. Although he's since retired from boxing, Floyd "Money" Mayweather expands his wealth through various investments in business ventures.
Little Richard | $1.878 Million | Los Angeles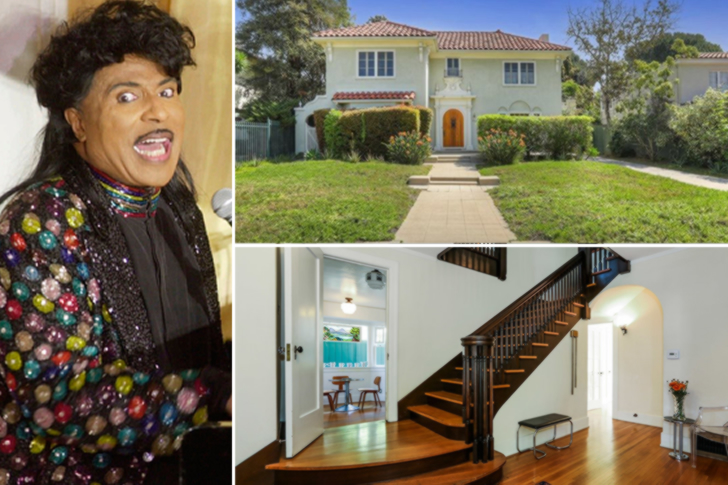 Little Richard was best known as the "The Innovator, The Originator, and The Architect of Rock and Roll." That was a big title to carry, but he had definitely proven his worth. Just look at all of his contributions to the music industry in his seven-decade career. Like any other rockstar, he meshed well with a city full of stars and angels, Los Angeles. He spent much of his time in Los Angeles' Lafayette Square neighborhood. People of the community have dubbed the estate as the Tutti Frutti, which is named after one of his hit songs.
His home was built in 1923 and follows a Spanish Revival style on the exterior, while maintaining a homey in the interior. The icon bought this investment during the 1950s for him and his mother, Leva Mae Stewart. He even used to offer his home as the go-to place for his fellow entertainers who might need a place to stay in at night. As one would have expected from the talented artist, right?
Dolly Parton | $400,000 | Tennessee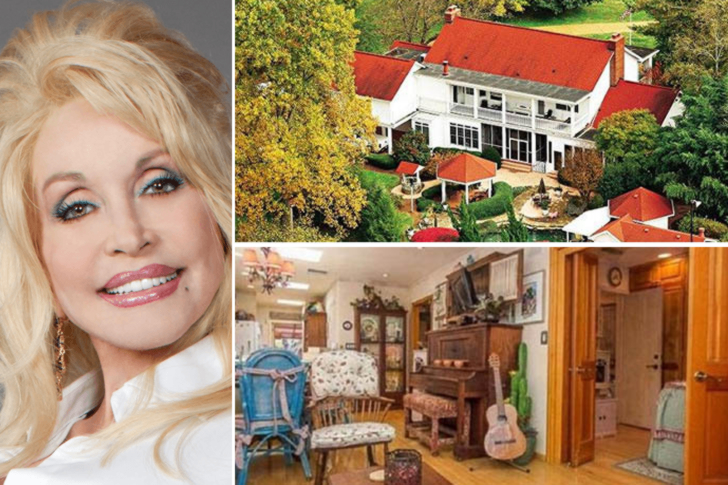 Dolly Parton is a Tennessean through and through, and the country music icon refused to leave her hometown and live outside the state. Dolly Parton grew up in Locust Ridge, Tennessee, and she had a lot of fond memories in the area. Currently, she resides in Brentwood with her husband, Carl Thomas Dean. The place suits them well since both of them treasure seclusion and peace of mind. Their humble abode is just outside Nashville. Parton bought it for only $400,000 back in 1999, which is a steal by today's standards.
It comes with 3,234 square foot of living space, and has ten distinct structures such as a gazebo, a tennis court, and a spacious swimming pool. While she's been in the public eye for so long, Parton keeps her private life—private. We're sure she has installed the best home security systems to keep her home safe and secure. After all, while celebrities can afford grand mansions and all sorts of luxuries, privacy is still their main priority.
KEANU REEVES | $8 MILLION | HOLLYWOOD HILLS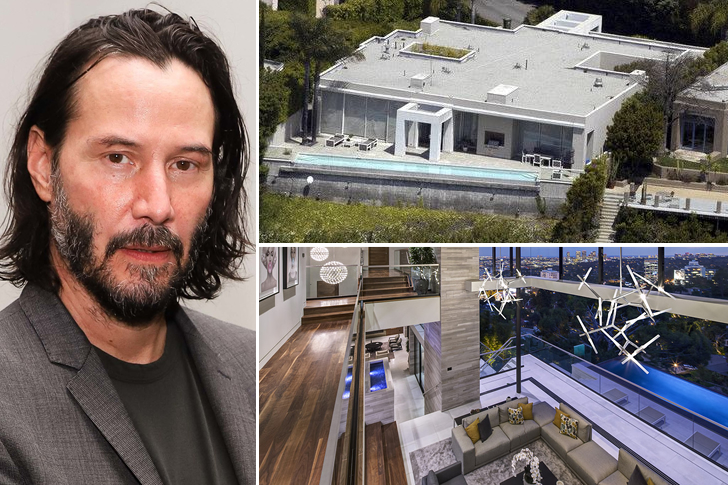 Keanu Reeves has had a lucrative resurgence over the past decade after starring in the John Wick franchise. The film series exemplified his on-screen charisma, packaged in relentless action-packed fight sequences. What some of you may already know is that Reeves is a real-life John Wick. The actor is a skilled martial artist, a formidable gun operator, and has a love for fast cars and motorcycles. Moreover, he owns ARCH Motorcycle, a custom production motorcycle company.
Reeves resides in an $8 million mansion in Hollywood Hills. Those in the know report that he purchased the investment property back in 2003. The 5,607-square-foot Hollywood pad hosts two bedrooms and three bathrooms. It also includes a pool and a three-car garage. Despite the level of fame and success that Reeves has, he lives a very private life. He remains humble, which is why we all love and support his ever-growing career.
DWAYNE JOHNSON | $7.5 MILLION | GEORGIA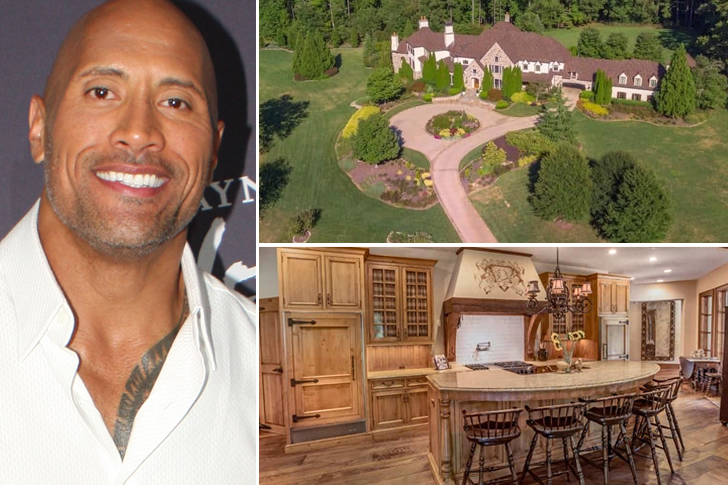 Dwayne Johnson is one of the few pro wrestlers that has successfully crossed over to the film industry. He has effectively adapted his on-ring charisma and over-the-top personality into the big screen. His initial film success came with movies such as Scorpion King, Walking Tall, and  The Rundown. To his credit, The Rock has made a breakthrough to mainstream pop culture and made a name for himself as one of the most prolific action stars in modern cinema. With lucrative movie franchises such as The Fast and Furious and Jumanji, his acting career has been a box office success.
Being true to his larger-than-life personality, Johnson has a taste for the luxurious things in life. Such is the case in his massive 46-acre ranch home in Georgia. The action star bought the property in 2009 for $9.5 million. Within the property is a 14,000-square-foot mansion with eight bedrooms. Among its amenities are a wine cellar, a salt-water pool, and a sprawling backyard with lush greeneries. Sadly, the actor has listed the property at a loss with an asking price of $7.5 million. Although, a $2 million loss is a considerably small amount in comparison to his approximated net worth of $320 million.
VIN DIESEL | $1.4 MILLION | HOLLYWOOD HILLS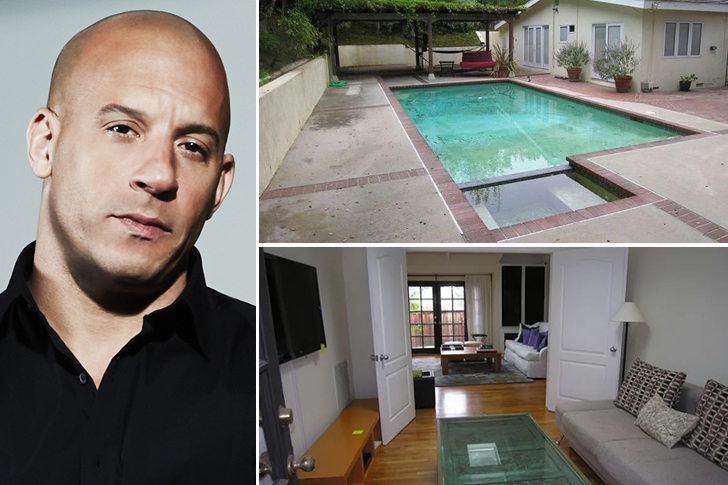 Mark Sinclair, popularly known as Vin Diesel, is one of the most famous action stars in modern cinema. He was a struggling actor during the 1990s until he decided to take it upon himself to write, produce, direct, and star in his own movie. His short independent film multi-facial finally earned him his breakthrough, catching the attention of Steven Spielberg. Ultimately, he would be cast by the accomplished director in the critically acclaimed movie Saving Private Ryan. Not long after, he would land his most famous role to date, Dominic Toretto for the movie Fast and Furious.
In the span of Diesel's long lucrative career so far, he is considered one of the highest-paid actors in the world. He has several investments which include One Race Films, Race Track Records, and Tigon Studios. Moreover, he has properties under his name, one of which is a $1,4-million house in Hollywood Hills. Reports say that the actor owned the pad for 16 years and had it rented out for $5,800 per month.
SHANIA TWAIN | $21.5 MILLION | NEW ZEALAND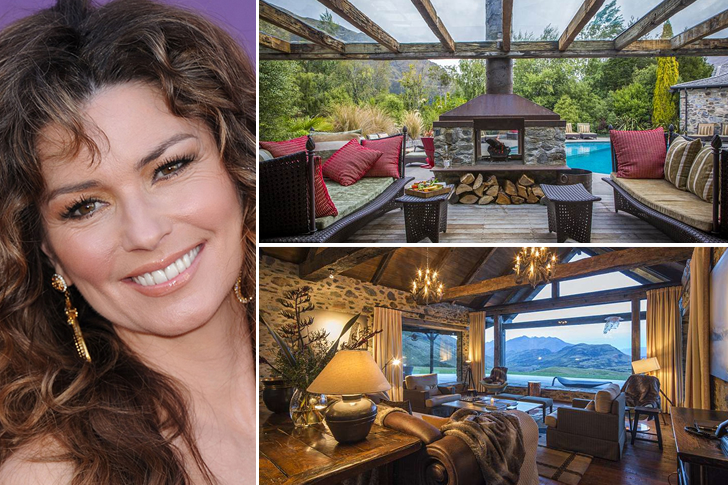 Eilleen Regina Edwards, known professionally as Shania Twain, is a country-pop star who rose to fame during the 1990s. She persevered through an unprofitable release of her debut album in 1993. Two years later, she made her breakthrough to mainstream music with the release of her second album, The Woman in Me. Moreover, she formed a lucrative partnership with her then-husband, producer Robert Lange. Together they would release commercially successful music until her unfortunate hiatus in 2004. Twain later revealed that her voice was deeply affected by illness. She would later make a resurgence in the 2010s with a string of tours across North America.
The singer's profitable music career earned her millions, which she would use in several property investments across the world, one of which is a luxurious New Zealand lodge worth $21.5 million. Reports show that the pop star bought the property with her former husband back in 2004. Nowadays, Lange has sole ownership of the luxury lodge and has turned it into a lavish hotel for $1,850 a night.
MORGAN FREEMAN | UNKNOWN | MISSISSIPPI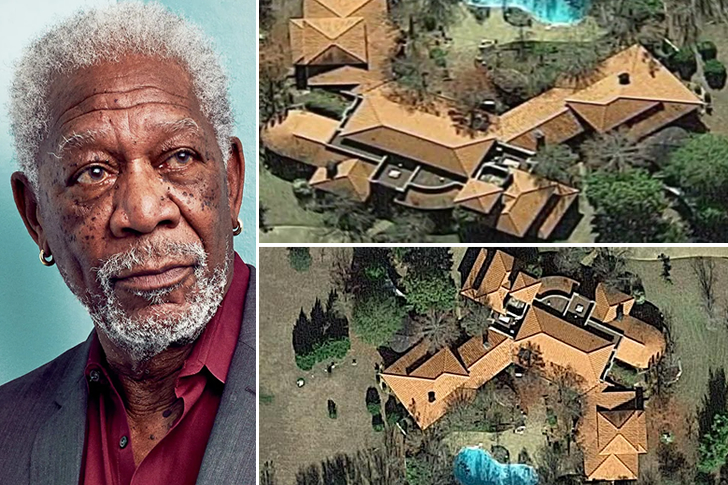 Those of you who have a love for documentaries probably love and cherish Morgan Freeman for his deep and compelling voice. He is a Mississippi native with multiple accolades, such as a Golden Globe, an Academy Award, and a Screen Actors Guild Award. He gained attention during the 1970s for his performance in the children's TV show The Electrical Company.  He then made a career breakthrough for his role in the film Street Smart in 1987.
With a celebrated and lucrative career spanning more than five decades, Freeman lives a quiet life back in his hometown of Mississippi.  He resides in a massive 124-acre ranch and has frequently voiced his love for the Magnolia State. In a talk show interview in 2014, the actor fondly shared his newfound love for bees. He had converted his sprawling ranch into a bee sanctuary for environmental purposes. During that time, he imported 26 beehives from Arkansas and has cultivated bee-friendly vegetation across his ranch. This was definitely a worthy investment for the actor!
MICHAEL J. FOX | $4.25 MILLION | CONNECTICUT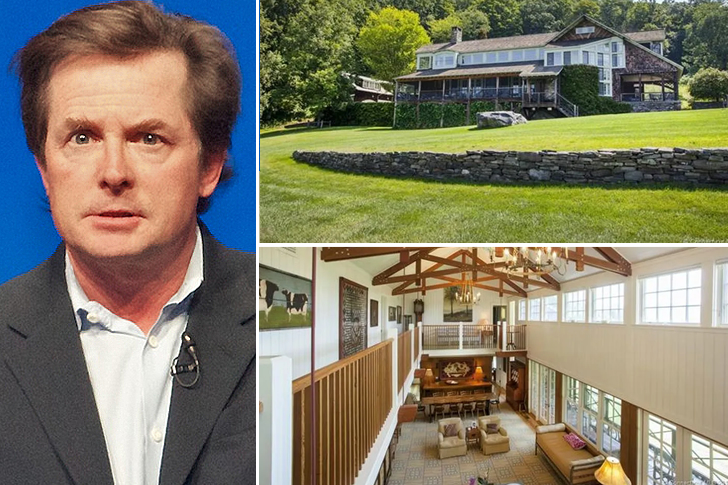 Michael J. Fox began his journey to success in the sitcom Family Ties back in 1982. Riding the success of the sitcom, he landed his most iconic role to date as Marty McFly in The Back to the Future franchise. Throughout the 1980s, he solidified his grasp on his success with movies such as Teen Wolf, Casualties of War, and The Frighteners. Throughout his acting career, he received several accolades such as five Emmy Awards and four Golden Globes. During the 1990s, he disclosed his struggles with illness. Fox then devoted his time and some investment money to establish the Michael J. Fox Foundation. It spearheaded aggressively funded research to find the cure for the disease.
Back in 1997, Fox and his wife, Tracy Pollan, built a house in Connecticut. It was a perfect home for the couple to raise their children. The 5,000-square-foot mansion sits on 72 acres of land and hosts six bedrooms and five bathrooms. It's an idyllic place to relax and unwind for the actor and his family. The property also includes a pond and a fishing shack surrounded by lush greeneries – an ideal countryside retreat.
DREW BARRYMORE | $6.35 MILLION | SANTA BARBARA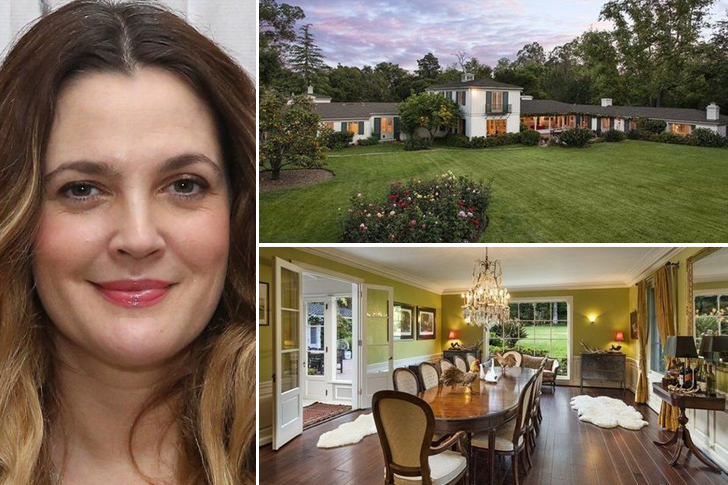 Drew Barrymore was a child actress back in the 1980s, whose film E.T. the Extra-Terrestrial catapulted her to stardom. She then cemented her claim to fame in a commercially successful series of films. Among them were Batman Forever, 50 First Dates, Wedding Singer, Charlie's Angels, Music and Lyrics, and Grey Gardens. Her acting career boasts of accolades such as a Golden Globe Award and a Screen Actors Guild Award. Barrymore also has a diverse source of income with several investments in other ventures. Among which are the production company Flower Films, cosmetic products, and clothing lines.
With the hefty wealth that she has earned, it shouldn't be a surprise that the actress lives in luxury. She once owned a massive estate in Santa Barbara worth $6.35 million. The sprawling 6000-square-foot mansion, which hosts six bedrooms and seven bathrooms, sits on a 2-acre lush property. It's a picturesque abode with a vibrant kitchen tiling design contrasted with rustic wooden-themed living areas.
SOFIA VERGARA |$26 MILLION | BEVERLY PARK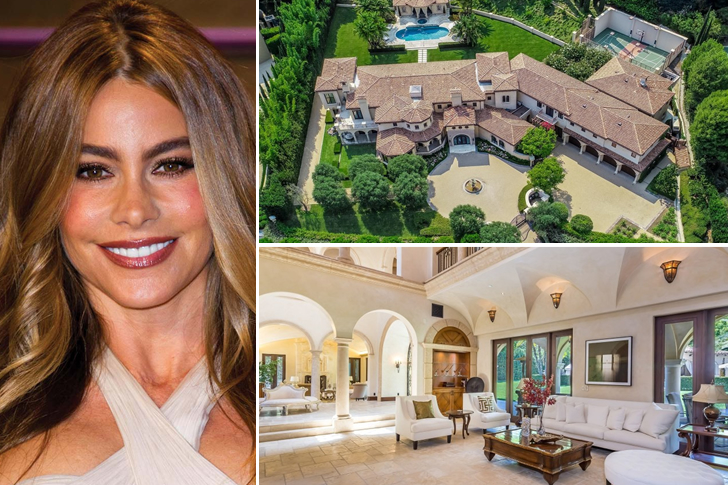 Sofia Vergara achieved her fame and wealth with her role as Gloria Delgado-Pritchett in the comedy series Modern Family. The commercial success of the series made her one of the top-paid TV American actresses for four consecutive years, beginning in 2013. She began her career in the industry in the 1990s in the Spanish TV network Univision. Her rise to fame in Hollywood was her roles in films such as Four Brothers, Medea Goes to Jail, and Meet the Browns. She also has her fair share of voice acting credits in movies such as Happy Feet 2, The Emoji Movie, and Escape from Planet Earth.
In 2020, she shelled out some serious dough on a $26 million mega-mansion in Beverly Park. The 17,000-square-foot luxury house hosts 6 bedrooms and 10 bathrooms. The 2-acre property also includes a guesthouse and a poolside cabin, lush lawns, olive tree gardens, and stone fountains.
DANIEL CRAIG | $6.75 MILLION | NEW YORK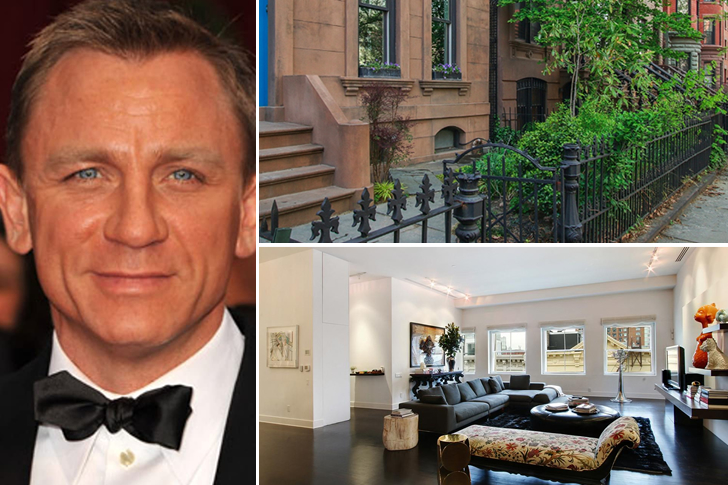 Daniel Craig earned his international fame in playing the iconic character James Bond. His first film for the role was in Casino Royale in 2006. Viewers saw a complete rebranding of the franchise with his grittier portrayal of the British special agent. The commercial success secured him four more releases from the franchise, with the latest, No Time to Die, set to release this year. Moreover, the role broadened his acting opportunities earning him parts in critically acclaimed films such as Girl with the Dragon Tattoo and Knives Out.
Nowadays, Craig's lucrative career has earned him an estimated net worth of $170 million. A massive wealth with plenty of room for investments. One of which came in 2018, when the decorated actor along with his wife, actress Rachel Weiss, reportedly purchased a $6.75 million Brooklyn brownstone. The New York pad is five stories and 6,600 square feet in size. It includes six bedrooms and five bathrooms. Among its amenities are an elevator, a roof deck, and a patio.
JASON STATHAM | $18.5 MILLION | MALIBU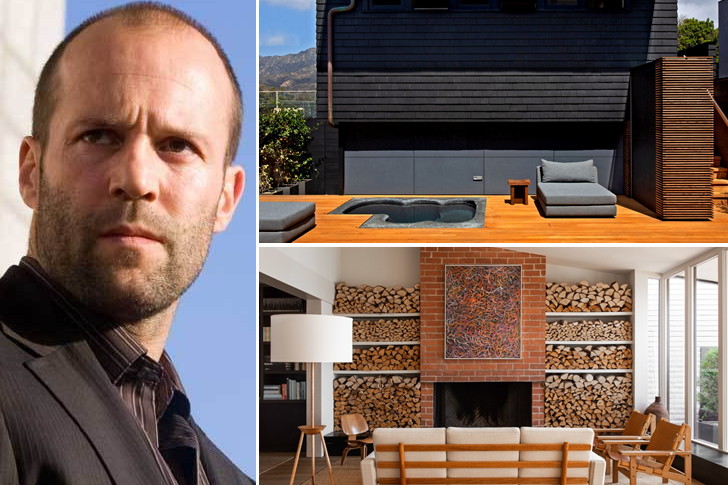 Jason Statham is one of Hollywood's most prolific action stars in modern cinema. His brand of heavy-hitting martial arts type of action has earned him a very profitable acting career. He has earned his spot among the likes of Sylvester Stallone, Arnold Schwarzenegger, and Bruce Willis. Statham even starred alongside these action giants in The Expendables franchise. Moreover, he has also joined the commercially successful Fast and Furious franchise in its three recent releases.
With a hefty amount of investment money to spare, Jason has purchased several properties throughout his career. In 2020, it was reported that he cashed in on his Malibu mansion. The 2-story contemporary house is 3,909 square feet in size. It includes four bedrooms, four bathrooms, a living room with a fireplace, and a spacious family room. Those in the know, say that the property sold for a whopping $18.5 million.
TOMMY LEE JONES | $11.5 MILLION | FLORIDA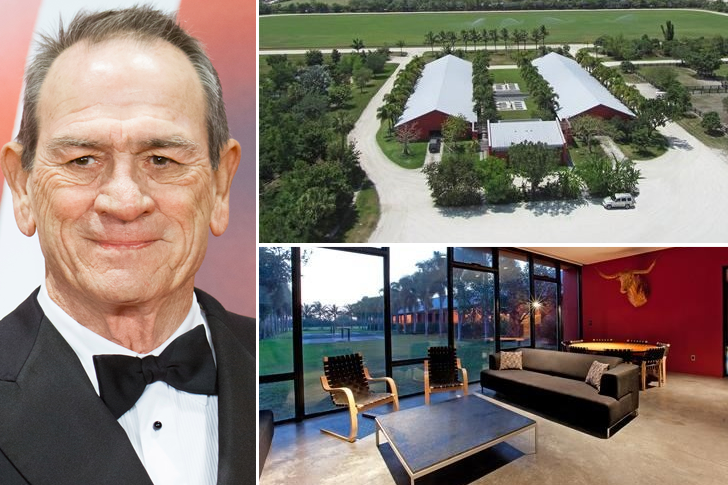 Tommy Lee Jones has a career spanning more than five decades. He has several accolades including an Academy Award to his credit. Some of his most well-known films are Batman Forever, No Country for Old Men, Captain America: The First Avenger, The Fugitive, and Lincoln. For some of us, we all love and enjoyed his performance in the Men in Black franchise. The film series effectively catapulted Will Smith's career to greater heights. Their on-screen chemistry was one of the primary reasons for the franchise's success.
In 2019, Jones was reported to have sold his $11.5 million equestrian estate in Florida. The property served as the actor's home retreat for his love of the equestrian sport. The 55-acre estate includes a four-bedroom main house, a four-bedroom staff house, laundry facilities, and two barns. It also includes two polo fields, which serve as the focal point of the whole estate.
CINDY CRAWFORD | $7.5 MILLION | MALIBU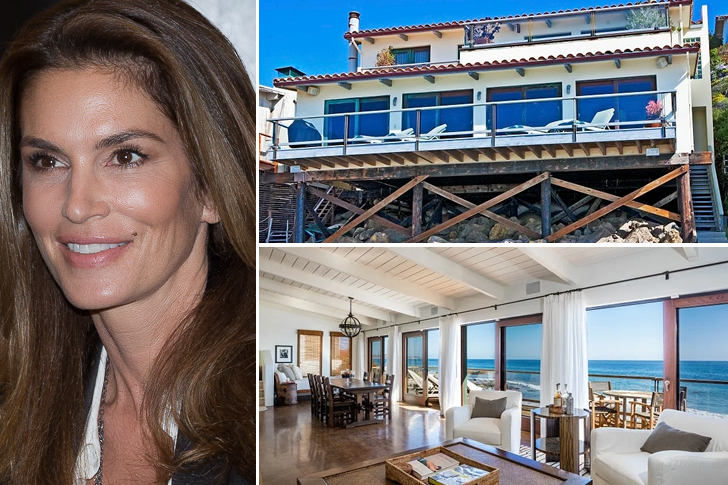 Cindy Crawford is one of the most popular supermodels in the world. In the 1980s, she entered college to earn a degree in chemical engineering, but later dropped out to pursue a career in the fashion industry. One of her early appearances was in the film The Secret of My Success, starring Michael J. Fox. A few years later, she was featured on the 1990 edition of British Vogue alongside top models such as Naomi Campbell and Christy Turlington. Throughout the 1990s she would be featured in magazines such as Elle, Cosmopolitan, and Allure, among others.
Nowadays, the 55-year-old model enjoys her lifestyle in her heavenly Malibu home. Her social media followers got a glimpse of the $7.5-million estate in a string of shares on Instagram. The house boasts of a lush garden and an extravagant infinity pool with a picturesque view of sunrises.
VANESSA BRYANT | $2 MILLION | CALIFORNIA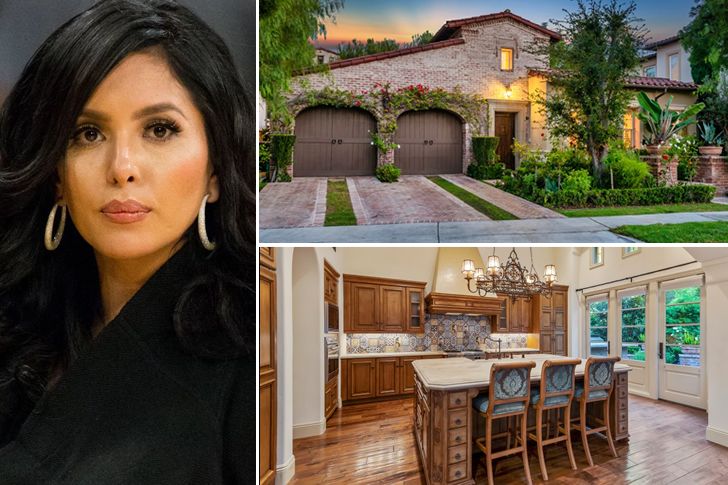 Vanasse Bryant is the widow of the late basketball great, Kobe Bryant. Though the former basketball star has passed, he has cemented his legacy in the history of sports. Having won five NBA championships, Bryant is considered to be one of the best players to have ever graced the court. His career earned him millions not only through basketball but also through several endorsement deals. A career that ultimately gave his wife Vanessa and their children the insurance of a financially secured future.
In 2020, it was reported that Vanessa sold one of the properties she owned with Kobe. Those in the know say that the property was sold for $2 million. The 2,300-square-foot Spanish-themed house has three bedrooms and two bathrooms. It was built in 2003 and is located just a few miles away from their main estate. It also includes a spacious living room with a fireplace and an in-ground spa.
DIANA ROSS | $7.3 MILLION | CONNECTICUT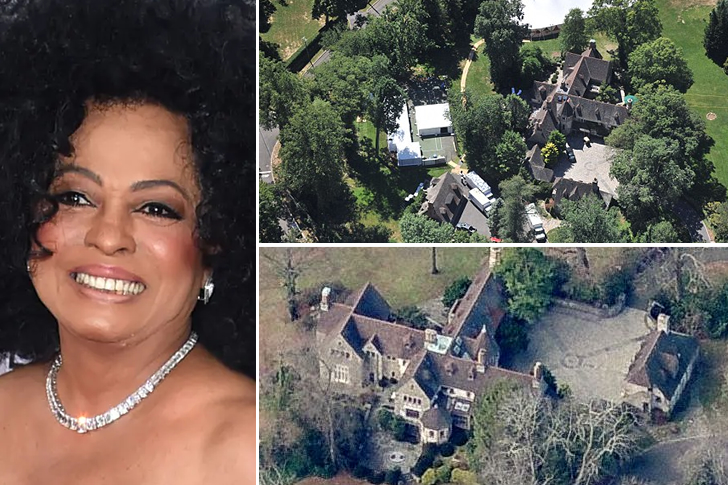 Diana Ross was primarily known as the lead singer of The Supremes. They were the most successful group among Motown's signings during the 1960s. Their hit songs include Baby Love, Love Child, and Where Did Our Love Go, among others. The group remains to be the best-charting female vocal group in US history. In 1970, Ross parted ways with The Supremes and pursued her solo career. Her debut album was an instant commercial success, featuring the song Ain't No Mountain High Enough. She then followed it up with successive albums, which all received the same degree of critical acclaim.  Apart from her profitable music career, Ross has also ventured in the film industry. Her films include The Wiz, Lady Sings the Blues and Mahogany.
Diana's lucrative career earned her a fortune. She owns a $7.3 million mansion in Connecticut. It hosts 11 bedrooms and six bathrooms. In 2010, she put the 12,562-square-foot mansion for sale with a price of $39.5 million. She later changed her mind and instead put it up for rent.
JOEL OSTEEN | $10.5 MILLION | HOUSTON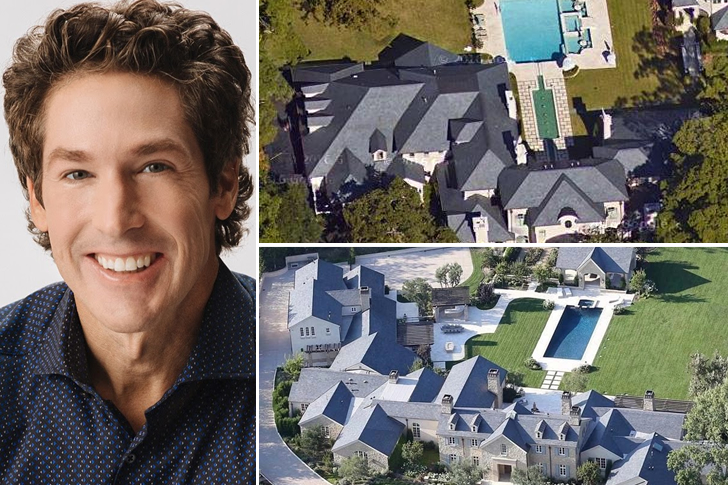 Joel Osteen is a famous televangelist and a best-selling author based in Houston, Texas. He is a senior pastor at Lakewood Church. He quickly earned his success by live-streaming his sermons. To his credit, his videos get an average of 20 million views per month from international viewers. Osteen has also released 17 books and appeared in three documentaries.
The success of his live sermons have earned him a hefty amount of wealth. To date, Osteen has a net worth of $100 million. You'd be surprised to know that the televangelist lives in a $10.5 million mansion in Houston. The massive mansion hosts six bedrooms and six bathrooms. Among its luxurious amenities are five open wood fireplaces, a pool, a pool house, and three elevators. The estate also boasts massive entryways with stone pillars. The property is also surrounded by lush trees for privacy purposes.
SIMON COWELL | $24 MILLION | MALIBU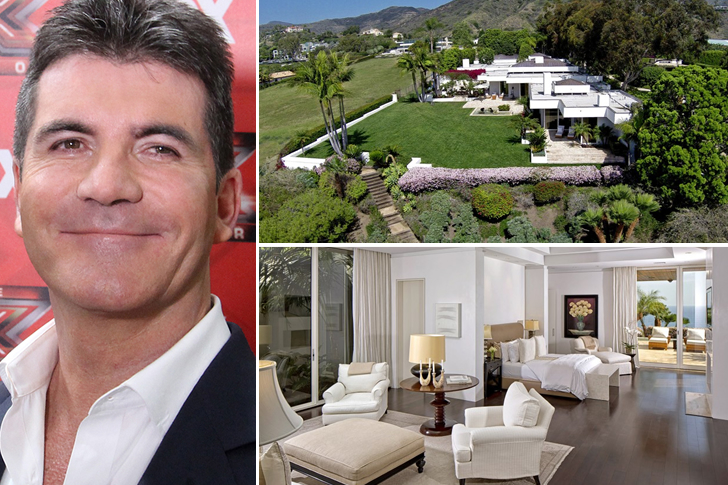 Simon Cowell is a well-known British television producer. Over the last 30 years, he has been one of the most successful personalities in media of both television and music. Moreover, Cowell has earned millions of dollars from producing and judging three shows: The X-Factor, America's Got Talent, and Britain's Got Talent. Today, he has an astounding fortune worth $600 million and is one of the highest-earning celebrities with an annual income of $95 million.
With tons of cash flowing in, Cowell is no stranger to living a luxurious and lavish life. In turn, he makes it a point to use his millions to acquire several real estate investments across the US and the UK. One of the most beautiful and most expensive properties under his name is his sprawling $24 million-mansion in Malibu. It comes with six bedrooms, seven bathrooms, and a massive 1.63-acre garden that's situated just meters from the coast. Cowell's Malibu pad also has a tennis court, six fireplaces, and other luxurious celebrity-grade amenities.
CHRIS CUOMO | $2.9 MILLION | HAMPTONS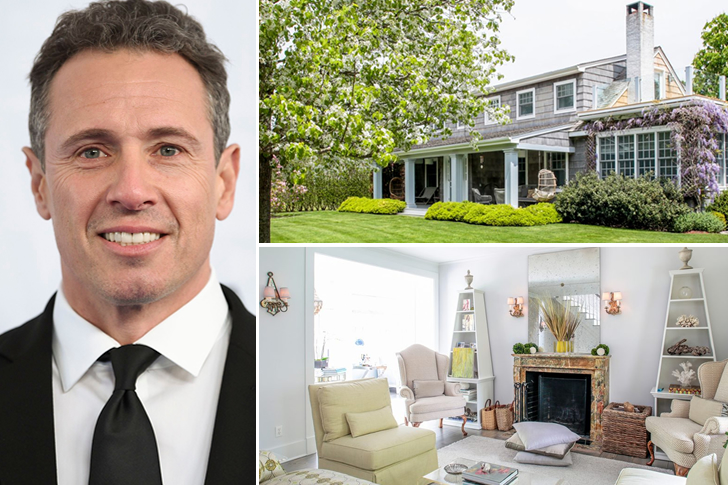 Chris Cuomo is a well-known American television journalist who is best known as the presenter for Cuomo Prime Time. Whenever he's not in front of the camera, the anchor comfortably relaxes in a beautiful Hamptons home that he and his wife bought back in 2005. Cuomo and his wife Christina reportedly paid a cool $1.3 million for this sprawling Hamptons property.
The couple recently listed this Hamptons property, and it could be yours for a bargain price of $2.9 million. Just make sure that you have enough cash in the bank to cover all the maintenance and insurance costs that'll come when you purchase it. This sprawling Southampton property features five bedrooms and four bathrooms in over 3,000 square feet of living space. The lot runs almost an acre, and it features a nice swimming pool with a lovely cottage vibe.
SHAQUILLE O'NEAL | $19.5 MILLION | FLORIDA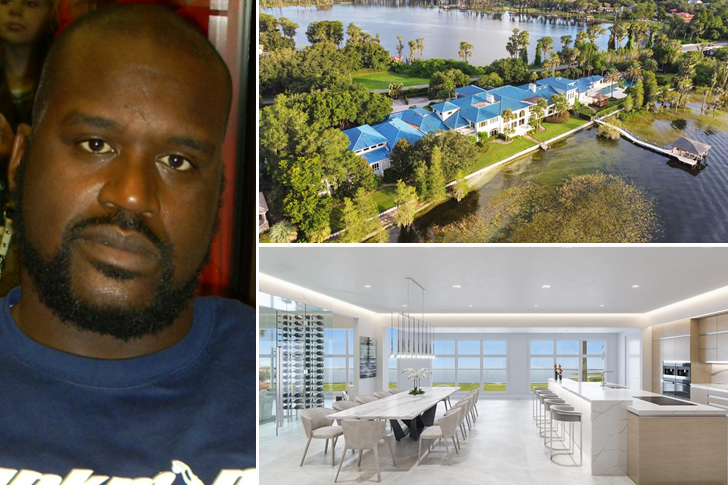 Standing at 7-feet tall, Shaquille O'Neal is one of the most dominant forces ever to play basketball. Just like his stature, his home is also incredibly massive! The famous athlete owns a sprawling mega-mansion near Orlando, Florida, and it has all the dreamiest amenities that one could ever ask for! Interestingly, "the big Aristotle" recently listed this mega-mansion for a whopping $19.5 million.
If you have an extra $19.5 million in your bank account, then Shaq's sprawling mega-mansion could be all yours! Given that it's a pretty vast property, expect that the insurance and maintenance costs for this property would be a bit expensive. Nonetheless, you'll be able to enjoy this palace-like house as it features twelve bedrooms and 15 bathrooms in over 31,000 square feet of living space! Shaq's shack also sports around 700 square feet of lake frontage, a 6,000 square foot indoor basketball court, a swimming pool, and other extravagant amenities.
JEFF BEZOS | $165 MILLION | BEVERLY HILLS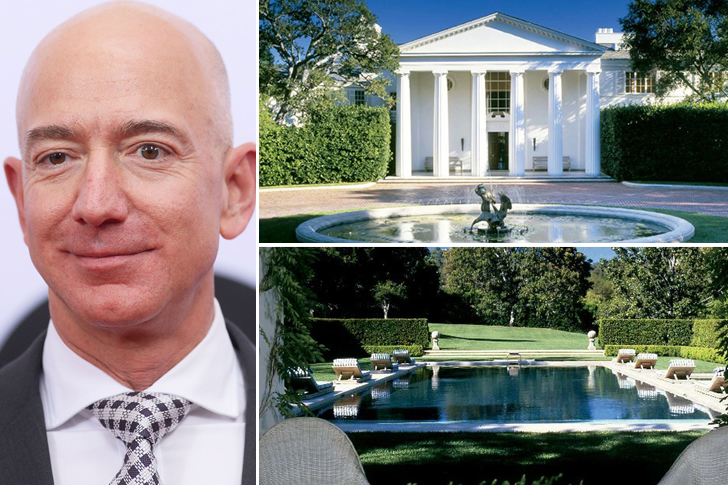 Jeff Bezos is undoubtedly one of the wealthiest people on the planet. There's certainly no doubt that he spends his fortune on anything that he likes. One particular thing that the Amazon founder likes is acquiring real estate properties, and he owns a ton of them. Bezos' real estate empire is said to be worth upwards of $500 million. We can only imagine the insurance and maintenance costs that he must be paying for all of his properties. However, we're confident that he can cover those costs with his astounding fortune.
One of the properties under Bezos' ownership is an astonishing $165 million-mansion located in Beverly Hills. He purchased his sprawling Beverly Hills property from his fellow billionaire, David Geffen. The home features eight bedrooms and several bathrooms in over 12,254 square feet of living space. It also comes with a luxurious interior design, a massive swimming pool and spa, a courtyard, a tennis court, and several other luxurious amenities.
AL PACINO | $34 MILLION | HOLLYWOOD HILLS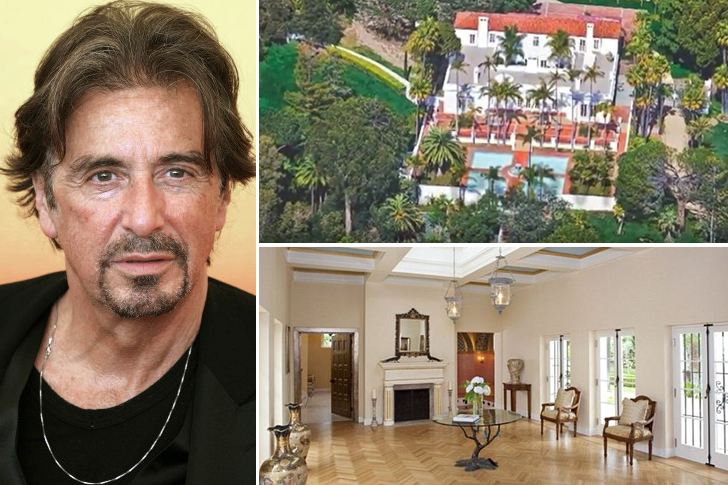 Some Hollywood icons prefer to live in modest homes tucked away in remote locations. Al Pacino certainly isn't a part of that list as he owns a pretty price property that's located in an area that is crawling with celebrities. The Scarface actor's sprawling mansion sits in Hollywood Hills, California. Pacino reportedly paid $34 million for the property, and we're sure that his financial advisor gave him the green light to buy it.
$34 million is certainly a lot of money to drop on a residential home. However, the actor has an astounding net worth of $120 million, so we're pretty sure that he isn't even worried about it. It is also pretty evident that it comes fully equipped with celebrity-grade amenities for someone of Pacino's caliber. The property even sports a ton of palm trees for the full luxurious California-living experience.
LIZA MINELLI | $2.33 MILLION | BEVERLY HILLS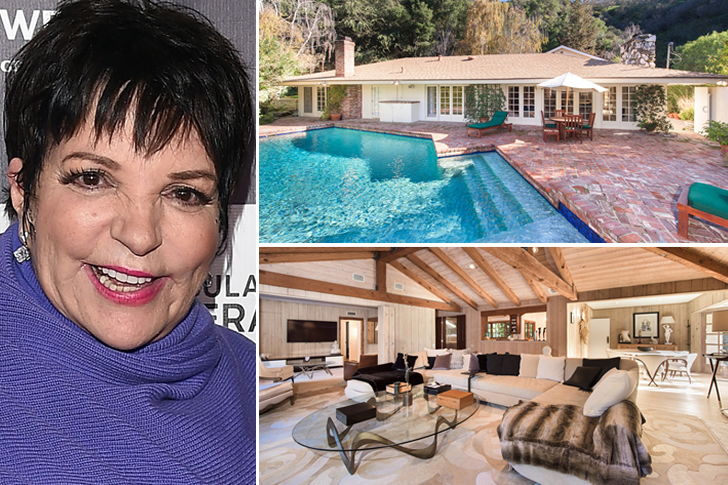 Liza Minnelli is a well-known American actress, dancer, and singer. Besides being a successful actress, she is also known as the daughter of renowned actress Judy Garland and director Vincente Minnelli. When her father passed away back in 1986, he left behind a beautiful Beverly Hills home. The late director left his daughter Liza in charge of his estate.
There was a bit of turmoil between Liza and her step-mother, Lee Minnelli. Liza wanted to sell the house back in 2000 but to no avail, as Lee took the matters into court. Lee Minnelli eventually got to spend her last days in the property until her passing in 2009. Liza successfully found buyers for the property, but it remains abandoned to this day. The new owners seem to be a bit indecisive towards their investment as they are unsure whether to renovate it or demolish it.
MELANIA | UNDISCLOSED | MANHATTAN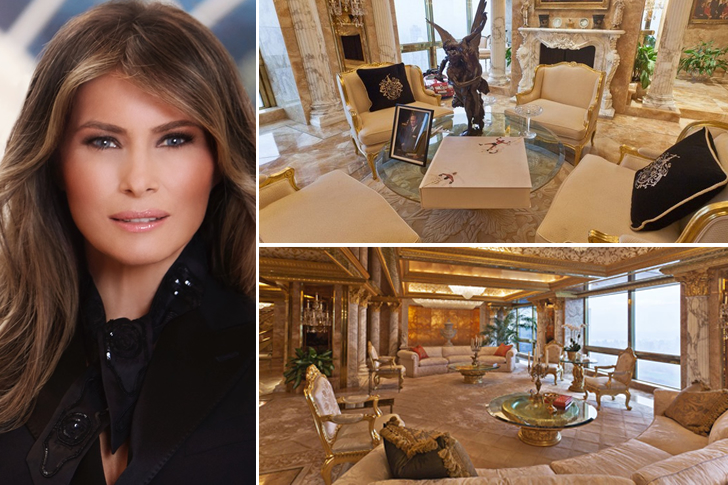 Melania Trump is the well-known wife of former US President Donald Trump. With the fact that she's married to Donald Trump, it's not surprising that she lives in a palace-like apartment mansion in Manhattan. The former first lady surely is living in style as her Manhattan residence is the epitome of perfection, luxury, and elegance. The property has an exceptional interior design with a few hints of 24K gold and marble designed by Angelo Donghia, a renowned designer.
Mr. and Mrs. Trump certainly didn't need any money loan upon their purchase of this opulent Manhattan Penthouse. It's undoubtedly a palace that sits atop the Trump Tower. Along with the elegant and luxurious interior design, the property also boasts breathtaking views of the Manhattan skyline and Central Park. Now that her husband isn't the President anymore, Melania can have all the time in the world to relax and unwind in their incredibly lavish and extravagant Manhattan residence!
KELLY CLARKSON | $7.5 MILLION | TENNESSEE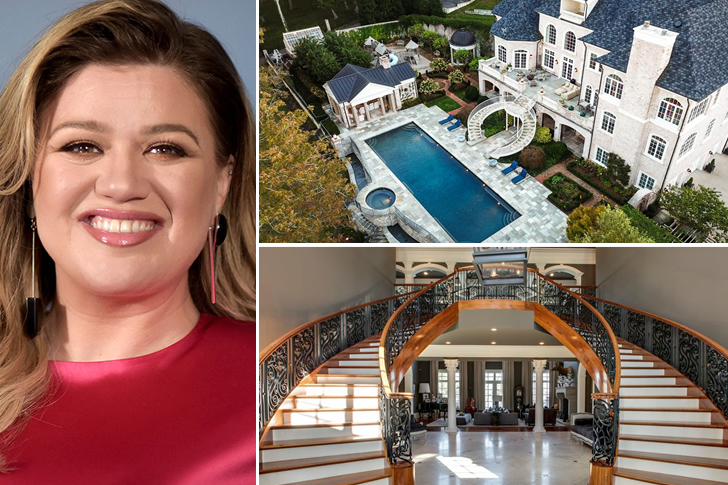 Kelly Clarkson achieved massive success after winning the first season of American Idol. Since then, she's become an award-winning recording artist releasing numerous studio albums in over 18 years since her victory. With Clarkson's success in the entertainment industry, it's not surprising that she lives in a stunning home in Tennessee. What's surprising is that she's listed this property for $8.75 million, and it can be yours for a bargain and discount price of just $7.5 million!
The singer decided to chip off a few hundred thousand dollars off the original asking price for her sprawling Tennessee mansion. It's undoubtedly an excellent real estate investment as it features seven bedrooms and ten bathrooms in over 20,000 square feet of living space. It also has a complete package filled with picturesque staircases, complete living and dining areas, a wet bar, a gorgeous swimming pool, and more celebrity-grade amenities.
RON HOWARD | $27.5 MILLION | CONNECTICUT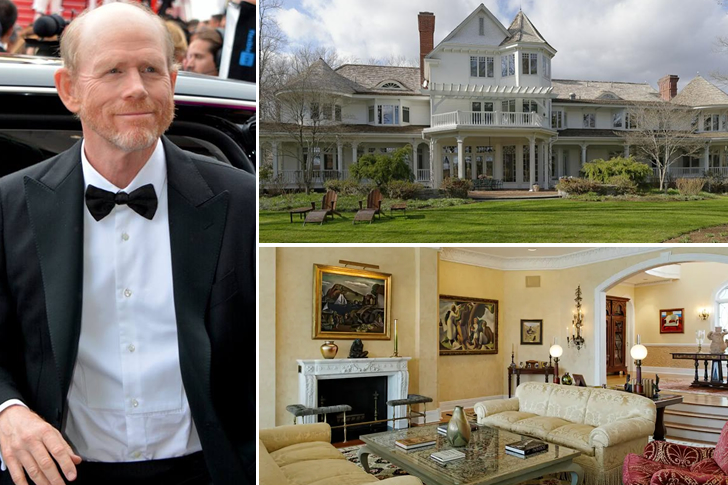 Ron Howard is an incredibly successful Hollywood director whose film credits include Rush, A Beautiful Mind, Apollo 13, and Cocoon. His movies have grossed over 4.67 billion dollars, and he's been able to rake in a fortune worth $200 million in the process. It's definitely not surprising that he's owned several real estate properties throughout the years. Interestingly, he just sold his long-time home in Connecticut for a whopping $27.5 million.
Howard's former Connecticut estate sits between an enclave better known as Conyers Farm. He and his family have owned the property for over 20 years, which features six bedrooms, five bathrooms, and four partial baths. The home radiates a classic American vibe, and it also comes with formal rooms, a chef's kitchen, a game room, a library, and of course, a screening room. With 17,200 square feet of living space, this beautiful Connecticut home will surely provide all the space that you want for classic American living.
ELIZABETH TAYLOR | UNDISCLOSED | BEL AIR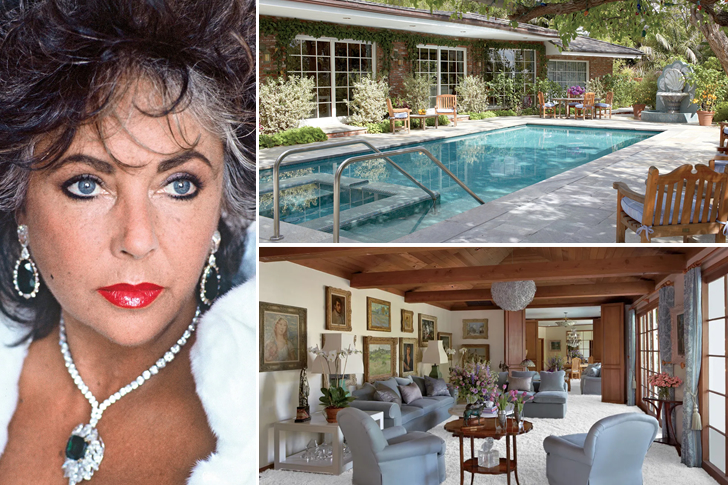 Elizabeth Taylor was a well-known English-American actress who was incredibly famous back in the golden age of Hollywood cinema in the 1940s and well into the 1950s. For several decades, this Hollywood icon called a sprawling ranch-style property located in Bel Air as her home. It's certainly a real estate investment that's fit for Hollywood royalty like Taylor, as it features a grand and luxurious lifestyle that's synonymous with her style and taste.
The late actress has been known to gravitate towards homes that made people feel relaxed and comfortable. There are certainly a ton of things that can make anyone comfortable in her house as it's littered with art and paintings by different renowned artists. The Bel Air home also features several memorabilia from well-known figures like Michael Jackson, Andy Warhol, and many more! One could only imagine how grand it would've been to be invited to one of the actress' house parties back in her heyday.
NATALIE WOOD | $2.5 MILLION | PALM SPRINGS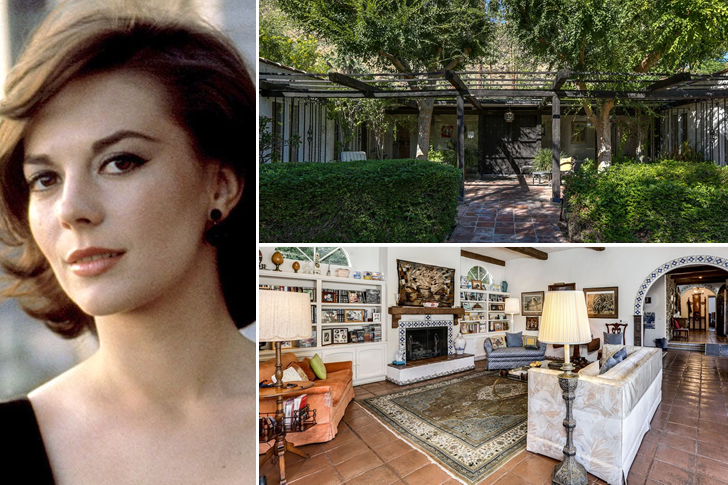 Natalie Wood and Robert Wagner's former Southern California residence was recently placed on the market for the first time in four decades. Wood was a Hollywood star during the Golden Age of Hollywood, having appeared in movies like Rebel Without a Cause, West Side Story, and Miracle on 34th Street. We are definitely not surprised that the actress' home is a piece of elegant and expensive real estate!
The asking price for Wood's former South California estate starts at $2,495,000. It's certainly an excellent investment as you'd get to own a piece of South Californian history. The property features a main rock house that sits in a 1.6-acre property. It also comes with six bedrooms and six bathrooms in over 5,000 square feet of living space. The home even has a sizable guest house with three bedrooms and two bathrooms and its own parking and entrance.
CATE BLANCHETT | $4.5 MILLION | UK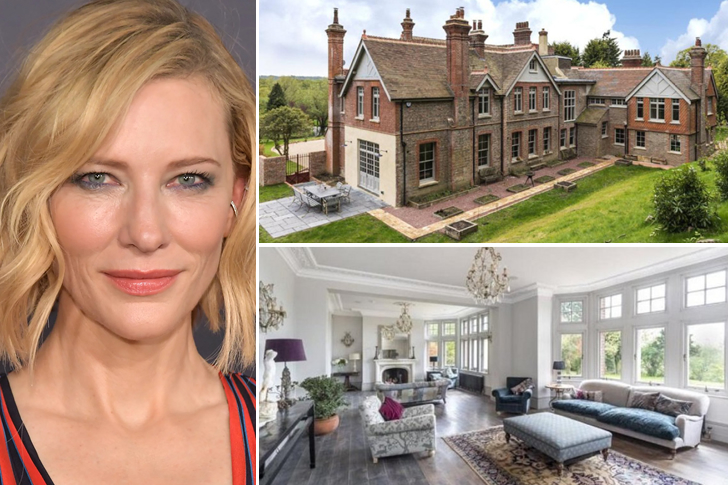 Cate Blanchett is a well-known Australian actress who has acting credits in numerous feature films and television shows. She also belongs on the list of the ten highest-paid actresses on the planet. In turn, we're not entirely surprised that she's got quite a diverse real estate portfolio. Interestingly, Blanchett just reshuffled her real estate portfolio. She recently listed and sold her Sydney residence for $14.1 million and purchased a new $4.5 million home in the UK.
The two-time Oscar winner's new residence is located in the countryside area of East Sussex, which is an hour's drive away from London. The home sits on a massive 13-acre property, and it features seven bedrooms, eight bathrooms, and five reception rooms. With over 9,000 square feet of living space, this sprawling property also features a family room, a games room, an eat-in kitchen, and numerous antique fireplaces.
JENNIFER LOPEZ | $27.5 MILLION | BEL AIR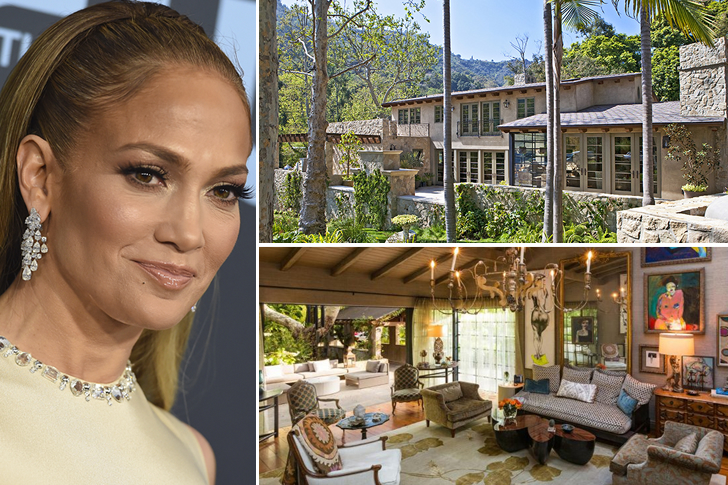 Jennifer Lopez is one of the biggest and highly recognizable celebrities today. Lopez also has a whopping net worth of $400 million, and she's been known to use her fortune to acquire several prized real estate investments. One of the palace-like homes under J. Lo's ownership is her $27 million mansion located in the Bel-Air neighborhood of Los Angeles. The home is certainly fit for an entertainment icon like Lopez, and it's incredibly envious and dreamy!
Bought in 2016, the lavish French-inspired Bel Air mansion features seven beautiful bedrooms, including a lavish master bedroom that has an impressive fireplace, canopy bed, and outdoor terrace. J.Lo's Bel Air home also sports luxurious and extravagant amenities such as an infinity pool, a full library, an outside bar area, and an amphitheater that can comfortably handle over a hundred people. Given that she has two young kids, we are sure that the property also has an excellent home security system.
LONI ANDERSON | $2.1 MILLION | SHERMAN OAKS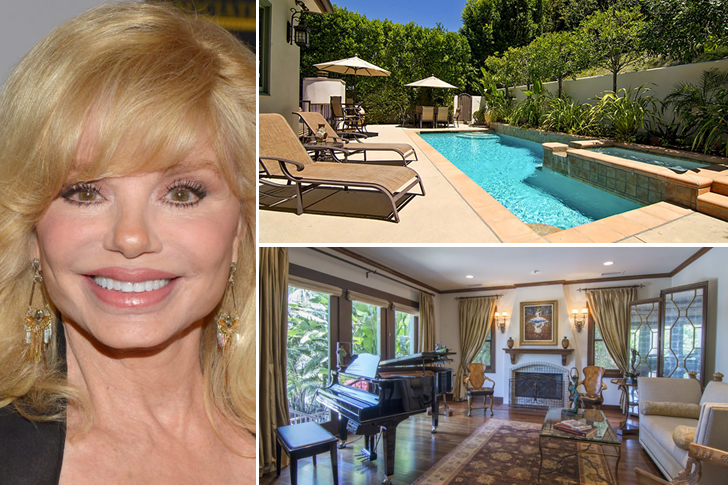 Loni Anderson is an American actress who's known for her acting performance in WKRP in Cincinnati. Her success as an actress helped her accumulate a decent net worth of $12 million. Using her fortune, she can acquire any residence or home that she wants, and she did just that when she purchased a beautiful home in Sherman Oaks for $1.9 million. Anderson is currently looking for a good return on her investment as she's listed this sprawling Sherman Oaks residence for a cool $2.1 million.
The Sherman Oaks home features a Santa Barbara-styled design, and the custom-built home comfortably sits behind tall gates on a sizable quarter-acre hillside lot. Anderson's home comes with five bedrooms and six bathrooms in over 4,630 square feet of living space. It also features numerous fireplaces, a formal dining room, and a top-of-the-line kitchen. The yard is also truly exceptional as it features a fountain, a barbecue, a spa, and a saltwater swimming pool.
RICHARD CHAMBERLAIN | $19 MILLION | MAUI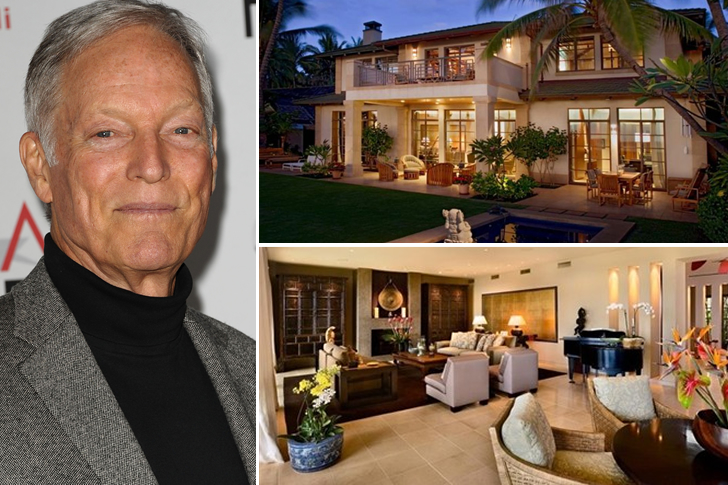 Richard Chamberlain is a well-known American stage and screen actor. He's earned over $20 million throughout his career, and he's used his millions on various real estate properties. Today, Mr. Chamberlain is now 76, and he's looking to add to his net worth by selling his oceanfront property in Maui for a cool $19 million. If you have an extra $19 million lying around, then Richard Chamberlain's Maui property is definitely an excellent choice for a home.
Chamberlain, who's known for his roles in Dr. Kildare, The Thorn Birds, and Shogun, spent four years building his beautiful oceanfront retreat in Maui. The property was completed back in 2005 and features six bedrooms, tile flooring, and high ceilings in over 6,000 square feet of living space. The Maui residence also features a spa, a screening room, a library, and a chef's kitchen. Outside, you have over 100 feet of beach frontage, which is the perfect Hawaiian outdoor living experience!
CHER | $88 MILLION | CALIFORNIA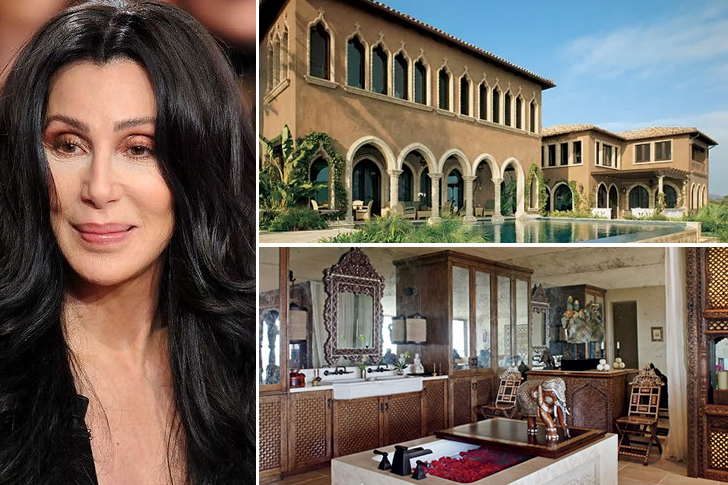 Cher has had numerous real estate properties that even other celebrities wish to own. Like her Malibu mansion, which is now rumored to be owned by Jay-Z and Beyonce, was purchased for $40 million. However, do you believe that Cher once lived in a grandiose house that was sold for $88 million? Cher and her then-husband Sonny Bono purchased it in 1974 for about $750,000, then sold it for $950,000 after their separation.
Robert Shapiro, the previous owner, initially listed the abode for $180 million, then reduced it to $115 million, until it was acquired by Calch Urban Investments late last year. The property known as The Owlwood Estate is located in Holmby Hills, Los Angeles. The Italian Renaissance-style home has nine bedrooms and ten bathrooms, sprawled in a 12,201 square-foot mansion. Other features on the property are a guesthouse, swimming pool with a pool house, tennis court, guard tower, and fountains, all sitting in a 10-acre lot.
KURT RUSSELL & GOLDIE HAWN | $13.5 MILLION | CALIFORNIA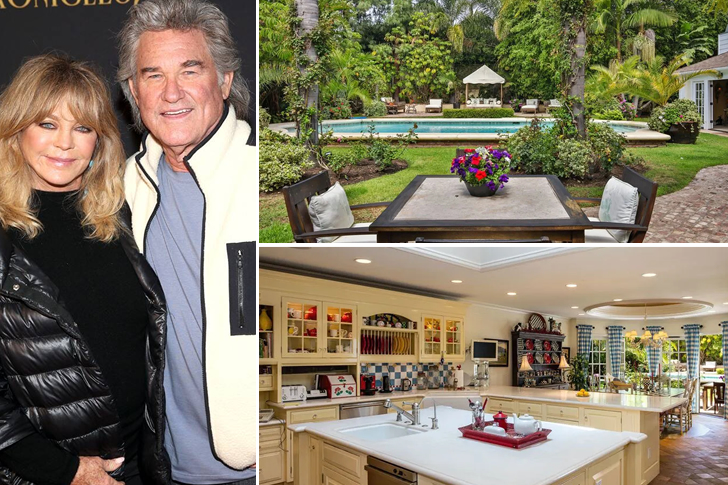 Kurt Russell and Goldie Hawn have been long fans of California. Although they have never tied the knot, they have lived a comfortable life together for more than 37 years. The couple has a mansion in Brentwood, and they previously owned a property in Malibu, which they dropped in 2013 for $9.5 million.
The 4,200 square-foot Malibu estate was purchased by Hawn in 1989. It is a Balinese-inspired beach abode that has four bedrooms, including the master's, four-and-a-half bathrooms, a foyer topped with a chandelier, a couple of balconies with an ocean view, a two-story room paired with floor-to-ceiling windows, custom flooring, and a renovated chef's kitchen. Somewhere in the house, there is a walk-in wet bar and an office. Outside, there is another kitchen, and a gazebo coupled with a fireplace. Six years after the sale, this sprawling mansion was recently listed again for $13.5 million.
BARBRA STREISAND | $11.25 MILLION | NEW YORK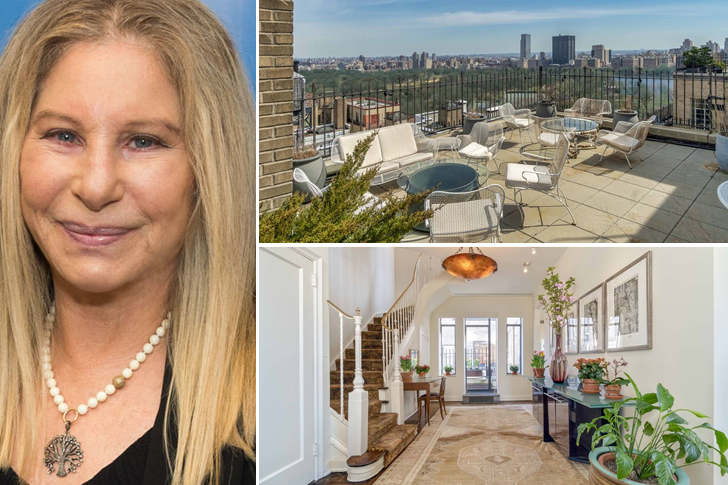 Just like her magnificent discography, Barbra Streisand has an equally impressive real estate portfolio. Recently, it seems that the singer must be putting her investment money towards other ventures. Aside from her Malibu homes, which she sold for a combined price of $100 million, she also listed her massive duplex penthouse in New York City for a hefty $11.25 million.
Streisand's 3,670 square feet abode houses three bedrooms, plus the private master's bedroom, and three baths, and a powder room. It also includes an inviting foyer, a decent sized kitchen, a library with a fireplace and oversized windows that offer a generous view of the city, a spacious living area coupled with custom furniture. The highlight of this penthouse is the 2,500 square feet open terrace, which is best to host a party or any form of gathering as it boasts an overlooking view of the Reservoir and Central Park. The property also has a children's room, a lending library, a fitness center, and tenant storage rooms.
ROD STEWART | $27.5 MILLION | CONNECTICUT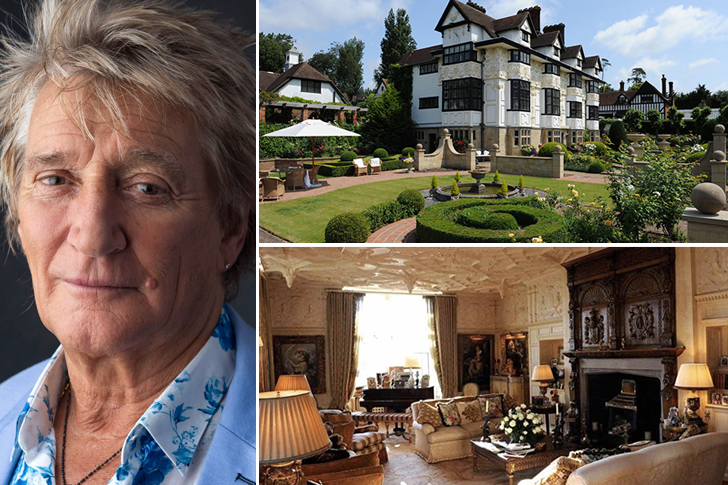 Another major hit from the rock legend Rod Stewart! According to Mansion Global in 2016, he listed this estate in Essex, England, for $9.84 million. It's called The Wood House, and it's a classic English-style 19th century home sitting on a 25-acre private estate just a short drive from Epping forest.
Stewart lived here for three decades, so it must have been hard for him to let go of this property. However, his new abode is still in Essex, particularly in Harlow, and he probably hired a moving company during the transfer. The 12,568 square-foot primary residence has six bedrooms, with their own bathrooms. It is also where he reportedly wrote his two last albums, Another Country and Time. It boasts a library, an office, and a game room couple with a bar. Elsewhere in the property, there is a fully equipped guesthouse, accommodation for the staff, a heated swimming pool, tennis court, and a full-sized pitch.
KEVIN COSTNER | $60 MILLION | CALIFORNIA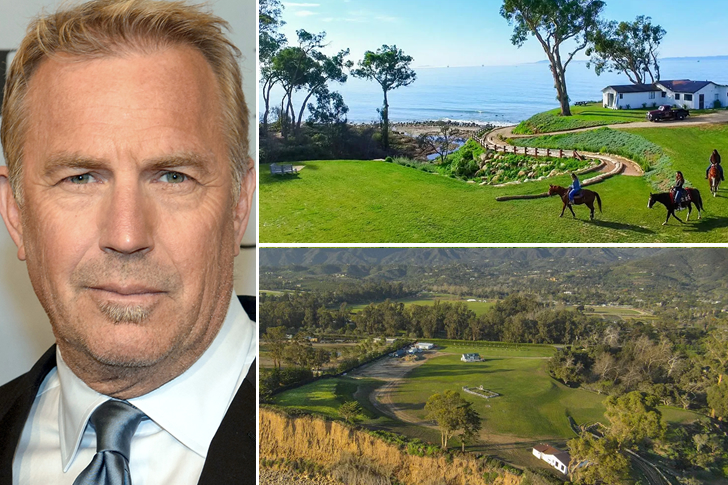 Kevin Costner has made a fortune of his own. This actor, who became known for his film The Untouchables, is worth $250 million in 2020, according to Celebrity Net Worth. Well, it's no surprise because he used to live in an estate in California, which he listed for $60 million.
The 10-acre property of Costner is located in Carpinteria, a small city that is 10 miles away from Santa Barbara. Coldwell Banker held the listing, but Architectural Digest mentioned that one could freely view the Santa Barbara mountains, the Pacific Ocean, and numerous islands nearby once you are on the property. The main residence only has two bedrooms and one bathroom, as Costner reportedly canceled the plan of constructing a bigger house, a pool, and a guesthouse in the area. The listing provided several pictures, but they only showed the exterior of the house such as the wall paint, roofing, and windows, because the location and the land are believed to be more important.
SOPHIA LOREN | $22 MILLION | ROME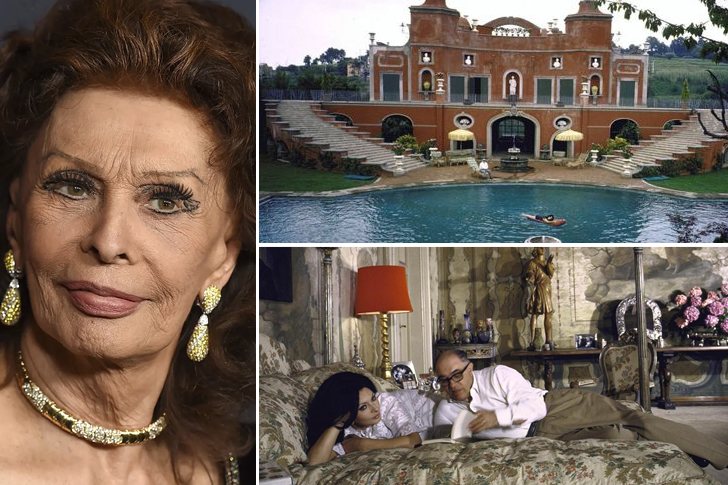 Carlo Ponti, the late husband of Sophia Loren, made a promise to give her wife the "most beautiful house in the world", and to his credit, he came through on his promise. The power couple previously owned a gorgeous estate in Appian Way Park in Rome.
The property comprises a two-story, 680 square-meter primary villa and an independent outbuilding. The former has a historical feature because it is located on the ruins of a basalt quarry, which was used to get the needed materials to finish the popular Appian Way, a Roman road. It also has five bedrooms paired with its own bathrooms, an elevator, a library with a winter garden, a swimming pool that can be heated, numerous independent apartments, and a garage. The whole property is surrounded by lush green trees, a manicured lawn, and a centuries-old park, spread in 1.5 hectares. This property, which is just 10 minutes away from the Colosseum, was listed for $22 million.
RAQUEL WELCH | $5.7 MILLION | CALIFORNIA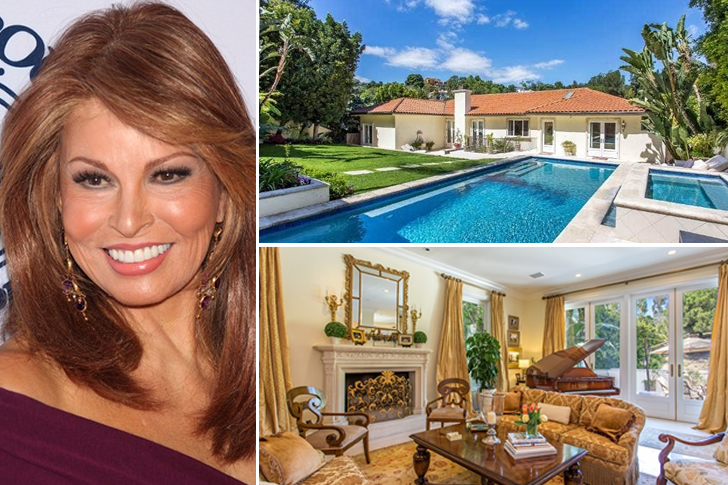 Raquel Welch is an award-winning actress who became known for her film Fantastic Voyage. In 2017, her name was all over listing websites after her former estate, around the Beverly Hills Post Office area was listed for NZ$8.13 million or $5.695 million.
We can say that the estate is quite a place to stay. It has six bedrooms, eight bathrooms, a formal living and dining room, and a five-car garage. The outdoors is the best part! You could easily feel a connection with nature, as it is surrounded by trees and manicured lawn. It also boasts an outdoor fireplace, which is perfect for deep talks and other gatherings. Of course, the pool is to dive in, it's just uncertain if this property has a world-class home security system, but it has extensive landscaping so worry no more about the paparazzi.
ANGIE HARMON | $4 MILLION | CALIFORNIA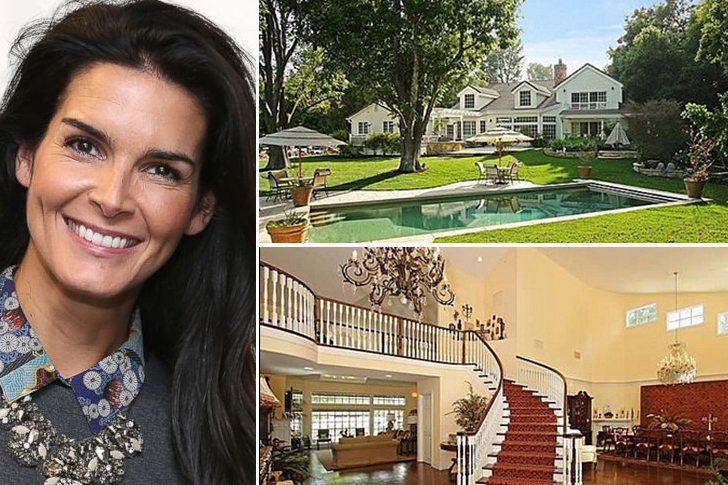 Before moving to an estate in Brentwood, Angie Harmon, who became known for her role as attorney Abbie Carmichael in Law & Order, used to live in the star-studded Hidden Hills, also in Los Angeles. However, she and her former husband, Jason Sehorn, listed the property in 2010 for $3.95 million.
The 6,872 square feet abode houses five bedrooms and four-and-a-half bathrooms. It also features a double-height foyer and a 12-seat dining room complete with a stunning fireplace. The formal living room boasts cathedral-style ceilings, multi-paned windows on the wall, sliding glass doors that lead to the backyard and patio, a fireplace, and a television. Outdoor, there is a sprawling swimming pool with gigantic trees erected on well-tended grass, a built-in BBQ, and a shaded pergola area. To add, Hidden Hills is a nice place for equestrians, but it's uncertain if Harmon and Sehorn had horses during their stay here.
MARIAH CAREY | $25 MILLION | BAJA CALIFORNIA SUR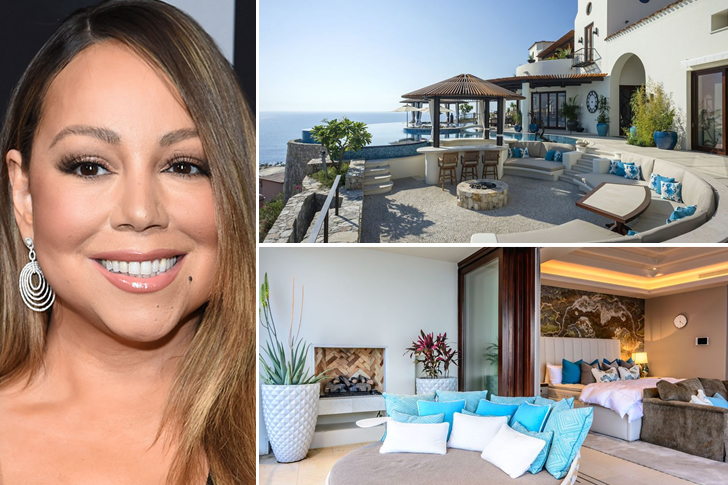 The price of Mariah Carey's rented property in Mexico is as high as her whistle. For her birthday celebration in 2017, the Songbird Supreme rented a $25 million estate with Bryan Tanaka and her twins Monroe and Moroccan, in Cabo San Lucas, Mexico, which is also considered as the most exclusive home rental in the city.
The 8,291 square-foot mansion house six bedrooms, ten bathrooms, a wine cellar, private theater, fully equipped gym, outdoor space sprawled in 27,000 square-foot, 2,000 square-foot infinity pool, and five full-time house personnel composed of a butler, a chef, cleaners, and a driver. The rental property is at the hilltop, and it is the highest in the area — boasting a jaw-dropping view of the Baja coastline and Cortez Sea. If you have a magnificent credit score and want to have a taste of the place where Carey was, you can book a reservation on Airbnb for $10,295/night, which goes up to $15,450 for weekend stays.
WARREN BEATTY | $7 MILLION | CALIFORNIA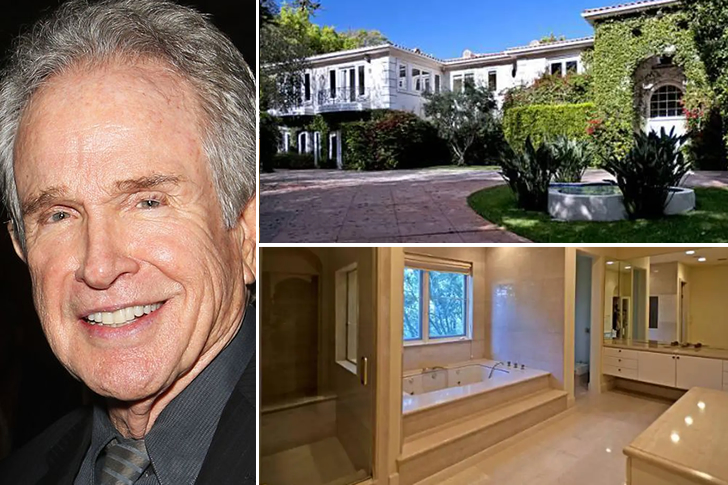 Warren Beatty is one of the most critically acclaimed directors and actors in Hollywood. In fact, he already received the highest honor that Academy Awards could give, the Irving G. Thalberg Memorial Award, and it might have been displayed somewhere in his home in Mulholland Drive, Beverly Hills.
Beatty and his wife Annette Benning's estate is a Mediterranean-style abode that was constructed in 1992. It boasts nine bedrooms and 12 bathrooms sprawled in a 10,000 square-foot of living space. Among the features of the property are a gym, office, servants' quarters, swimming pool, spa, and a detached guesthouse. Well, this possible investment was listed way back in June 2012 and presumably sold for $6.995 million. The couple initially had this for rent for $25,000, but they ended up putting it in the market and look for a new place for Beatty to put all his numerous accolades, including his Oscar for Best Director.
NICOLAS CAGE | $30 MILLION | CALIFORNIA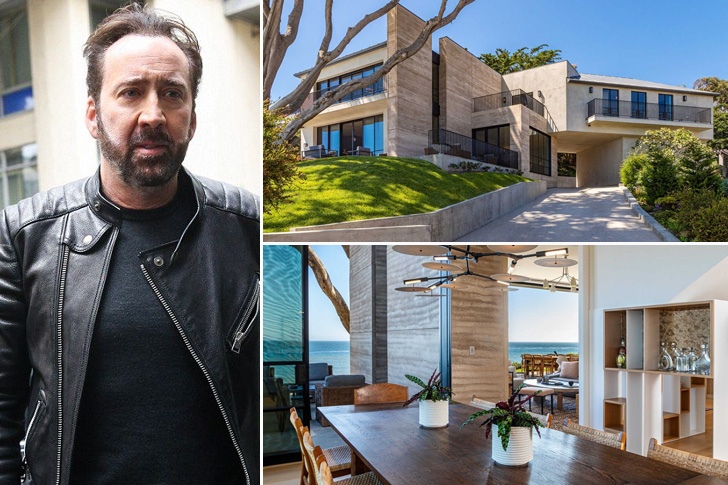 Nicolas Cage's former estate is everybody's dream house! It's located in Malibu, Los Angeles, and it is a perfect place to quarantine and binge-watch former movies of the actor, including Leaving Las Vegas and Ghost Rider.
Cage's 4,000 square-feet property boasts three bedrooms, four baths, and has a hanging price tag of $30 million. The master suite features a jaw-dropping view of the ocean, a fireplace, a private balcony, a walk-in closet, and a soaking tub. Mansion Global also stated that the estate is on the Pacific Coast Highway and it accentuates a 145 ft. of ocean frontage, a home security system, home automation, and a two-car garage. The swimming pool area, which is just an arm-stretched away from the Pacific Ocean, has a lounging area, cabana with a TV set and bathroom, plus an outdoor kitchen — all resembling a five-star resort.
ROBERT DE NIRO | $39.8 MILLION | NEW YORK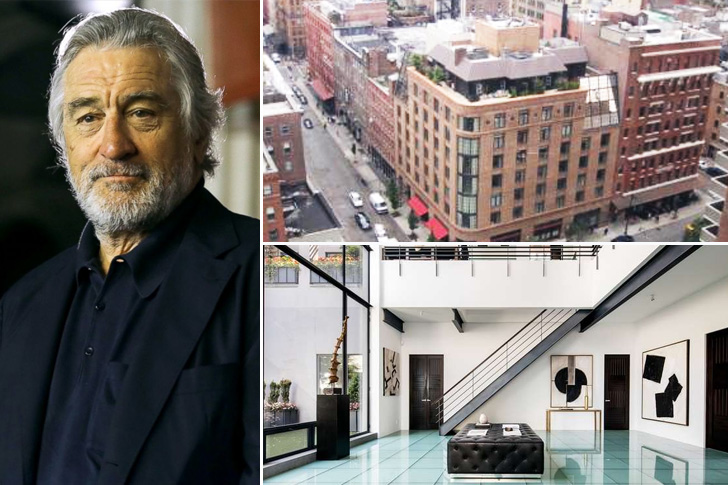 Robert De Niro made a fortune solely because of his job in the showbiz industry as a stage actor, producer, and director, but when he took a risk with a hefty investment in the hospitality industry, his net worth skyrocketed! Although his Nobu restaurant chain and other ventures have taken a hit in profits recently, De Niro's fortune still sits at $500 million, according to Celebrity Net Worth.
In 2015, his 11,000 square-feet penthouse in Manhattan, which he rented for less than two years, was put out for sale. It features five bedrooms, including the master's, which has two walk-in closets, four-and-a-half baths, a solarium, a library, and numerous outdoor terraces that give a scene of the Hudson River and a 360-degree view of the city skyline. Yahoo! Entertainment also mentioned that it has a seven-car garage that could fit 14 vehicles if the owner hired a valet, which could be all yours if you have $39.8 million.
MELISSA GILBERT | $1.2 MILLION | CALIFORNIA
Melissa Gilbert is an American actress, TV director, and producer who is notable for her projects such as the 14th season Dancing With the Stars and her Emmy-nominated performance in The Miracle Worker, where she portrayed Helen Keller. Aside from her acting projects, she also worked as the president of the Screen Actors Guild from 2001 to 2005. She was married twice to Bo Brinkman and Bruce Boxleitner, before she met her current husband Timothy Busfield.
In June 2020, Glamour Path featured the actress and mentioned that Gilbert has a net worth of $500,000 and lives under the roofing of a stunning $1.2 million mansion. The 4,609 square-foot, ranch-style abode was built in 1955, and has five bedrooms, five baths, and a swimming pool. There is also a self-contained guest quarter, which has a bedroom, bathroom, kitchenette, and open living space.
KIM KARDASHIAN | $60 MILLION | CALIFORNIA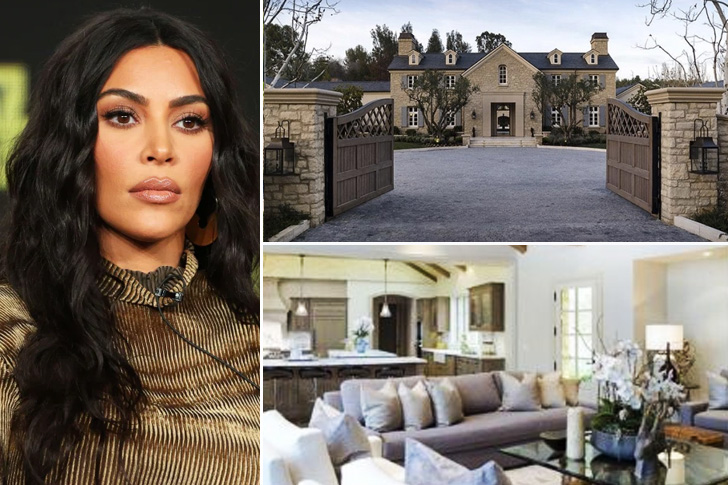 Some of Kim Kardashian's success as a businesswoman is owed to her influential husband, Kanye West. The reality star bested her youngest sister Kylie as the richest member of the Kardashians-Jenner clan with a net worth of $900 million, a $200 million margin from Kylie's $700 million. Well. it's not a surprise since her estate is way more expensive at $60 million. Surely, the couple acquired this without needing to take out a mortgage.
In Kardashian's participation in the popular "73 Questions" series on the Vogue YouTube channel, she showed their grand house! The front door boasts a generous entryway, along with a bedroom on the first floor that was described by Jonathan Van Meter of Vogue as "the size of an airplane hangar", though it's uncertain if that is the master bedroom. According to Velvet Ropes, the power couple bought the property for almost $20 million and put it under renovation afterward. The finished abode boasts eight bedrooms, 10 baths, a full-sized basketball court, and two swimming pools.
KYLIE JENNER | $36.5 MILLION | CALIFORNIA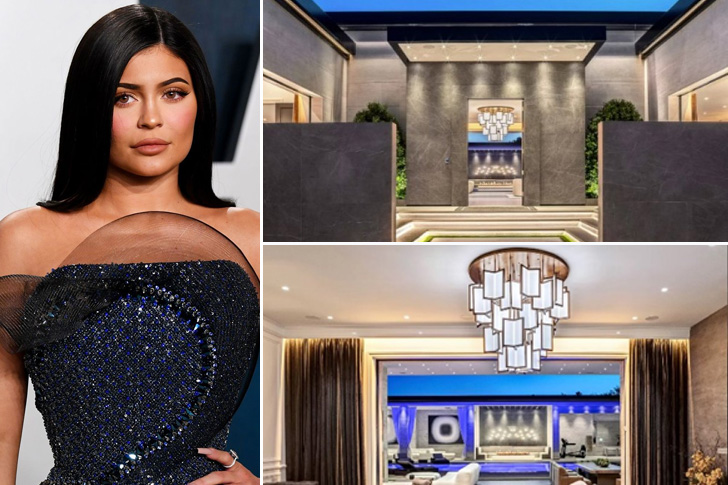 Kylie Jenner has made an impressive empire of her own. Her $250,000 investment money went a long way in building her now multi-million-dollar company, Kylie Cosmetics. Now, Jenner's current net worth is a whopping $700 million. Last year, she made a noise after purchasing a property in Holmby Hills, Los Angeles for $36.5 million, which was originally listed for $45 million, according to TMZ.
The 15,350 square feet resort compound finished construction in August 2019. It is a one-story abode with a custom-built guardhouse. It boasts seven bedrooms, 14 bathrooms, an indoor theater, numerous fireplaces, a chef's kitchen, an outdoor projection screen, a gym, a swimming pool, and club-style game rooms. There are also two guest apartments, in case she has friends who want to sleep over. The general style of the house is modern, with a neutral color scheme composed of grays, browns, beiges, and whites.
MARY-KATE OLSEN |$15.99 MILLION| MANHATTAN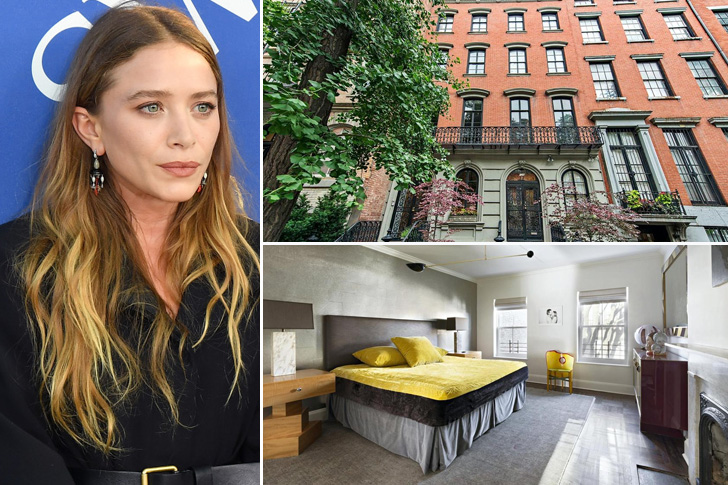 Who doesn't know the Olsen twins? With their numerous appearances on screen, it would be hard to miss the two. Mary-Kate Olsen makes up half of the famous duo. Despite their popularity, the two decided to go on their careers independently at some point. For example, Mary-Kate was in the romantic fantasy film, Beastly, without her sister. The star eventually left her acting career to pursue another dream.
Right now, she is one of the most prominent fashion designers out there. With all her achievements and investments, it wouldn't be surprising to know that she currently has a net worth of $250 million. By this point, you might be wondering where she puts all her money. Well, for one, she has bought two townhouses in Manhattan and has completely turned it into a mansion. It stands in line with Olsen's vintage-meets-grunge aesthetic. The place is just absolutely elegant, homey, and fashionable at the same time!
MATTHEW PERRY | $27 MILLION | LOS ANGELES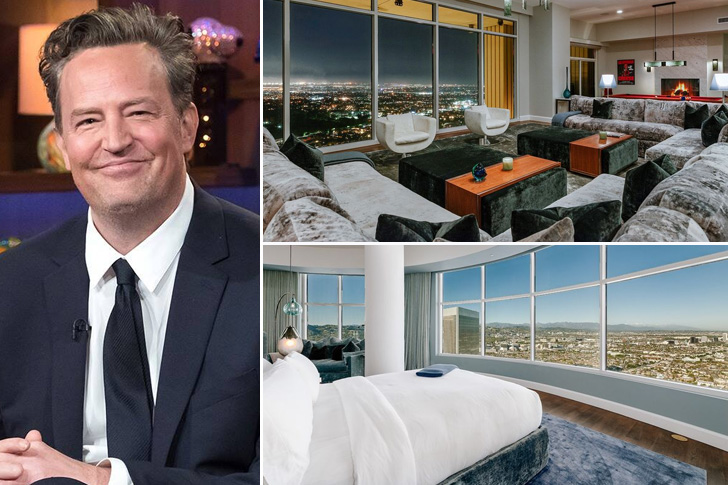 Who could ever forget our beloved Chandler Bing? He is one of the main characters from one of the most favorite sitcoms of all time, Friends. The credit for the roles goes to none other than Matthew Perry. Aside from his role in the series mentioned, the actor has also been in a myriad of other projects. He was in films such as 17 Again and Birds of America. His hard work and talents have also been recognized. In 2000, he got the TV Guide's Editor's Choice Award.
He has accomplished a lot, so it should not come as a shock that the star currently has a net worth of $120 million. Where has he invested all his money? For starters, the star has a few stunning properties – he owns a Penthouse in Los Angeles. The place has been dubbed as the Mansion in the Sky. Let me tell you, the whole place just spells "luxury" in bold capital letters.
EMMA STONE | $3.25 MILLION | MALIBU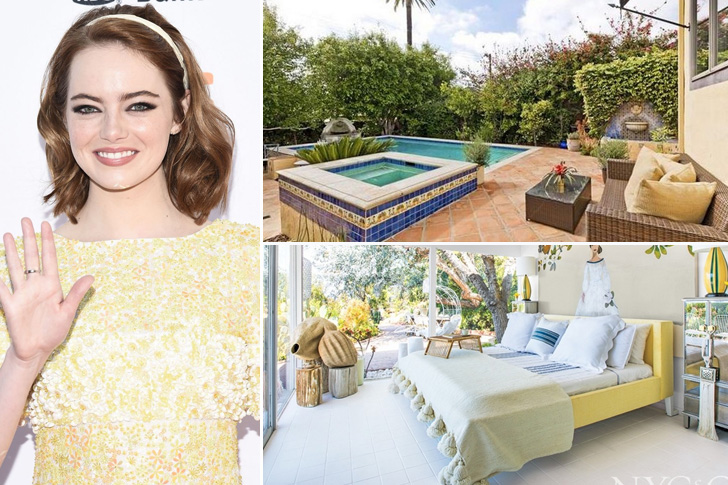 Emma Stone is undoubtedly one of the most prominent stars in the industry. Furthermore, she is also one of the most well-loved celebrities in Hollywood. Who can help but love the actress? She is both a darling on and off-screen. Furthermore, her talent and character delivery are just astonishing! Her involvement in a project can almost always assure you that it will keep you glued to your seat. Take the hit musical film, La La Land, for example.
Currently, Stone has a whopping net worth of $30 million. Furthermore, the star was named as the world's highest-paid actress of 2017. This fact is this ringing out and very much evident today. Recently, the American actress has bought not one but two incredibly stunning mansions in Los Angeles. Just like her personality, the place looks sophisticated, elegant, and cozy. Truly, some wonderful investments.
RACHAEL RAY | $2.6 MILLION |NEW YORK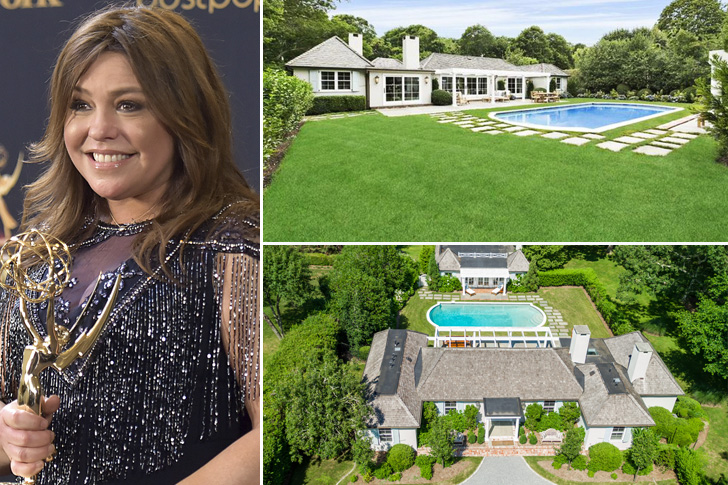 Are you hungry? Extending my apologies already. By the end of this article, you might find yourself starving. Why? That's because we're going to be talking about Rachael Ray! I don't know about you, but the first thing that comes to mind is her mouth-watering dishes. The star is best known as a celebrity cook and actually has several cooking-related shows. She's in the Food Network series 30 Minute Meals, as well as $40 a Day and Rachael vs. Guy: Celebrity Cook-Off. She is also an author of several cookbooks!
With all her projects and accomplishments, the star has managed to reach a net worth of $100 million. It's not surprising given that she has a salary of $25 million. If we had a salary like that, we would never need home loans to get our dream home – just like Ray. She actually bought a $2.6 million property in a 6-acre compound.
BOB BARKER | PRICE UNKNOWN | LOS ANGELES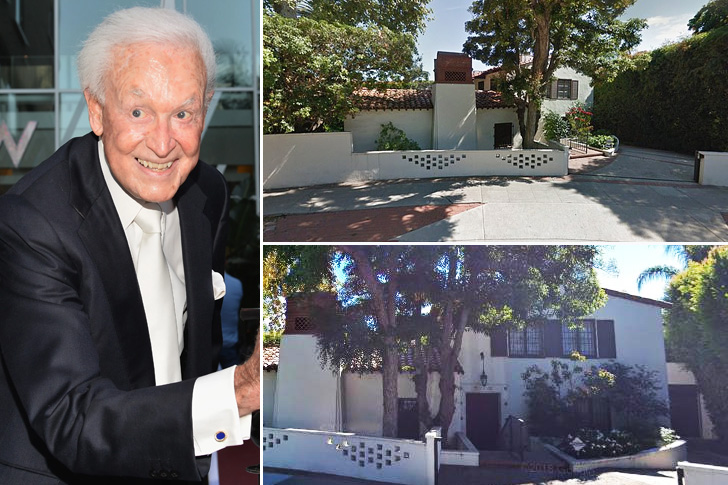 Don't you ever just binge-watch some of the old game shows when nothing good is on? Well, if you're looking for a game show to binge-watch, you might as well watch The Price Is Right. You probably won't run out of episodes as it's the longest-running daytime game show in North American television history. Of course, another reason to watch it is to see one of our favorite hosts of all time, Bob Barker!
Do you ever wonder how much the star is making? Currently, he has a salary of $10 million per year. Now, he has amassed a net worth of $70 million. That assures us that he didn't need any home loans for his lavish home in Los Angeles. His mansion is even considered to be part of one of the earliest luxury home developments in the area.
JODIE FOSTER | $2.85 MILLION | CALIFORNIA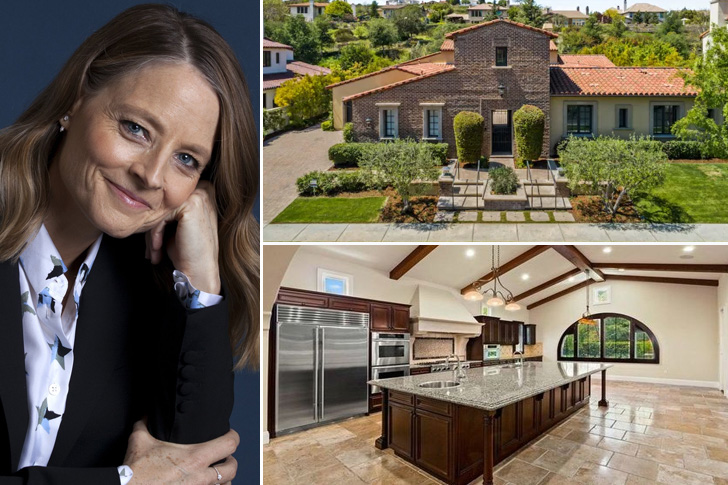 Jodie Foster was born on November 19, 1962, in Los Angeles, California. She is best known as an American actress. However, aside from her works in front of the screen, she has also worked behind the scenes as a director and producer. In her five decades in the industry, she has also gotten many awards and recognitions. Currently, she has a net worth of $100 million.
If you're wondering where the actress puts her money, then let me fill you in. For starters, the actress has a few impressive properties. She has made investments in some of the most luxurious homes for sale. Right now, she owns a house in Calabasas, California. The price of the home is believed to be around $2.85 million. Before, she even had a mansion that she was able to sell at $14.9 million.
MEGAN FOX | $1.3 MILLION | LOS ANGELES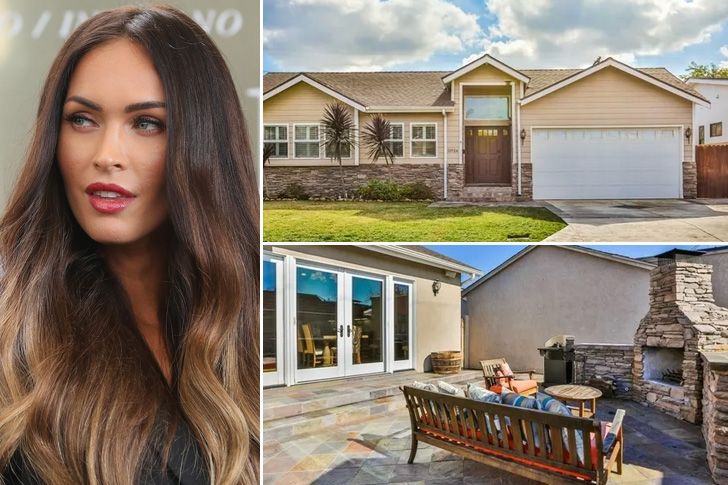 Who does not know the lovely and alluring Megan Fox? Her beauty is simply something that you can't just forget. Her looks are not all that there is to the actress though. Time and time again, the star has proven her prowess in the field of acting. Aside from acting, she is also in the fashion industry as a model. With that in mind, it should come as no shock that the star's net worth has managed to reach $8 million.
Speaking of Fox, have you seen her home? The star's home is one of the most elegant and coziest cribs I have ever seen! It is located in Los Angeles and currently amounts to $1.3 million. All of its rooms have something to boast to some degree. For starters, the master bath alone features two vanities, a soaking tub, and an incredible interior!
Brad Pitt | $1.7 Million | Los Angeles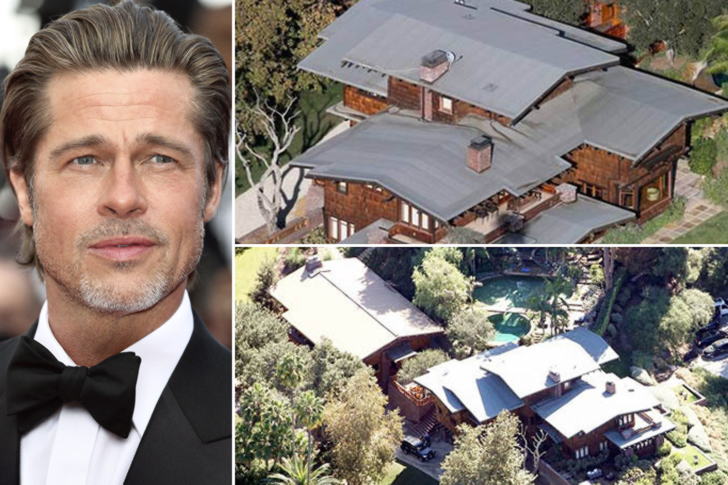 Brad Pitt is probably one of the wealthiest personalities in Hollywood, and a lot of people would agree that he's also one of the best actors in the industry. Just look at the long list of Hollywood credit he has to his name. With Brad Pitt's net worth, it's not hard to imagine how luxurious his home is, but imagination is nothing against reality. The actor lives on a massive compound in Los Feliz, Los Angeles. In fact, he's been slowly building this compound since 1994.
He actually got it for a steal, considering he only shelled out around $1.7 million for the whole property. Since then, he slowly transformed the estate into a full-fledged playground worthy of Hollywood's rich and famous. The property now has a skate park and a treehouse, along with five other building complexes inside the vicinity. All of these amenities fit within 80,000 square feet of living space, which is perfect for him and his six children.
You've Reached The End